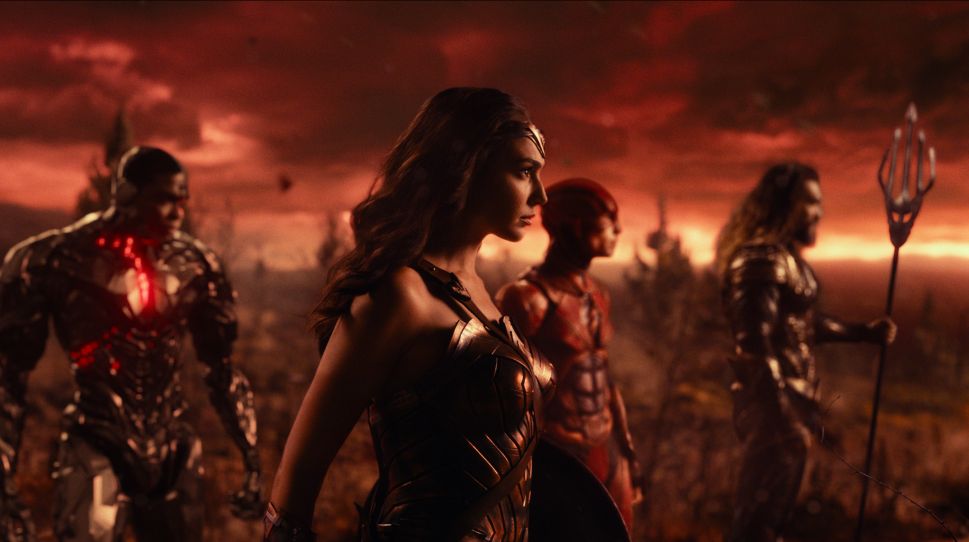 Ever since Warner Bros.' Justice League embarrassed itself at the box office and was met with a derisive shrug from critics and fans, a certain sect of DC Extended Universe supporters have been on a mission. Their aim: convince Warner Bros. to release original director Zack Snyder's version of the film, which may or may not even exist. It's an effort that has taken on the social media battle cry of #ReleasetheSnyderCut. The filmmaker departed the project in March of 2017 and Joss Whedon (The Avengers) was brought on to oversee the remainder of production, which led to conflicting tones and styles when Justice League finally hit theaters last November.
This division of cinematic crusaders is made up of both toxic DC fans that hurl vitriolic harassment at any and all opposition, and supportive moviegoers that genuinely enjoy Snyder's style and are just hoping to see the conclusion of his trilogy that began with 2013's Man of Steel. As with any contingent, there are both extremists and level-headed individuals in its ranks. But the studio is likely never to release the Snyder Cut, if it exists at all.
But what if Snyder and the studio never parted ways and the final product was actually his intended vision? What would have the industry results looked like?
Subscribe to Observer's Entertainment Newsletter
At nearly $658 million worldwide, Justice League unfortunately holds the dubious distinction of being both a global blockbuster and a financial flop. It is the DC Extended Universe's lowest-grossing film to date. Against a budget estimated to range from $250 million to $300 million thanks to significant and costly reshoots, Warner Bros. is believed to have lost anywhere from $50 million to $100 million on the film. Industry analysts debate whether or not Snyder's version would have performed better.
"I honestly don't think Zack Snyder's vision would have been that much different," Jeff Bock, box-office analyst at Exhibitor Relations, told Observer. "Look, his Batman v Superman: Dawn of Justice was a train wreck of a film, and that was all on him. So, with that as a barometer, I don't have much faith that there was anything inherent to his vision that would have pushed this past $1 billion."
Others are more optimistic, but not by much.
"It's possible that Snyder's full version of Justice League would have fared a little better at the box office given it would have more of a singular vision to it," Gitesh Pandya, found of Box Office Guru, told Observer. "It's hard to say if the film would have come out much better, but the resulting numbers for the film were below even the lower end of expectations."
Snyder initially left Justice League in the wake of a family tragedy, though it was later reported that Warner Bros. might have fired him. Though divisive, his run in the DCEU produced some darker counter-programming (a modified version of which is still in the works at DC Films) to some of Marvel's lighter fare, a formula engineered over at Marvel Studios by Kevin Feige. Snyder's supporters would say he expanded the comic book movie genre while his detractors would argue he took advantage of it. Whichever side you land on, there's no argument that his three movies in the DCEU depressed enthusiasm in the brand critically and commercially overall, despite its supporters.
Further straining that perception was the ongoing fan wars between Marvel and DC fans that became fodder for think pieces and industry commentary. Coupled with the DCEU's track record of missing internal financial expectations, Snyder's exit seemed to be only a matter of time. But it's fair to wonder how his version of Justice League might have impacted his future with the studio, as well as the futures of Henry Cavill and Ben Affleck, both of whom are not expected to reprise their respective roles.
"I think what happened to Snyder personally would have put an end to his vision of the DCEU regardless," Bock said. "He put in a lot of years and DC has never come close to matching the unbridled enthusiasm of what Marvel dishes out on a consistent basis." Pandya also noted that "directors rarely stay with a comic book movie franchise after three films, so they may have parted ways."
The only undisputed success for the brand thus far has been Patty Jenkins' Wonder Woman. While a few hierarchical shakeups in the wake of Justice League's failure have set the studio on a new path, all eyes are still on December's Aquaman (and, to a lesser extent, April's Shazam!). Should the James Wan-directed feature fail to hit its mark, expect the DCEU to completely reshape around Gal Gadot's popular heroine—a Wonder Woman sequel is already slated to arrive in November 2019.
Long-term, both analysts believe that the revered properties under DC Films' banner are too beloved not to win out. As the studio sets off on its 2.0 version of this shared cinematic universe, they'll have to better balance appealing to mass audiences while still keeping the core fan base happy.
"Fans can be forgiving, especially when a quality film is delivered to them, so I don't think the DCEU has permanent damage," Pandya said. "These characters have been loved for decades."
But to ensure a comeback, WB is pinning its hopes on new DC Films head Walter Hamada to course-correct the direction of the franchise. That singular vision seems to fit with what Bock believes is the brand's single-most glaring flaw.
"Don't get me wrong, the upside is huge for DC—they will get it right, eventually," he said. "The amount of content they have at their disposal is staggering, and quite simply, is too big to fail. They just need to find the right orchestrator. They need to find their Kevin Feige."
Fair or not, Snyder wasn't the maestro Warner Bros. wanted to move forward with.