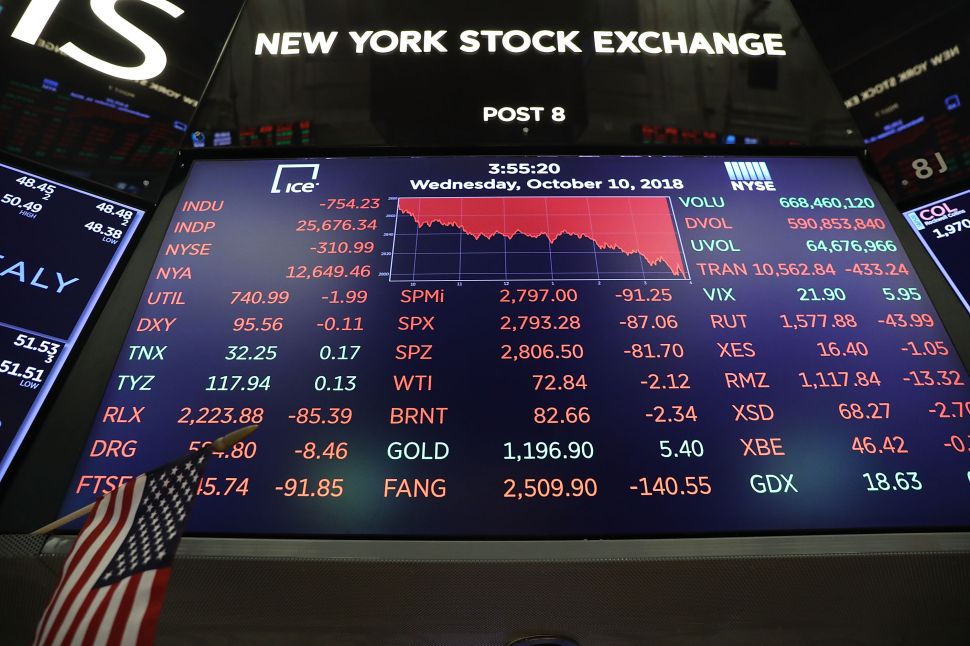 The U.S. stock market saw the biggest tumble since 2011 on Wednesday after a sweeping tech stock sell-off sent the Dow Jones Industrial Average and S&P 500 to tank more than three percent and the Nasdaq to fall four percent.
Is this just a temporary correction? Or is it the end of the bull market? There are many factors at play—the historically long growth of tech stocks; the Fed's recent interest hike; and the escalating trade tensions between the U.S. and the rest of the world.
Should investors wait for a rebound? Or should they cut and run? Here's what Wall Street's top analysts and investors think you should do.
Subscribe to Observer's Business Newsletter
Major tech stocks will likely see another five percent fall, except Apple. — Gene Munster, founder of Loup Ventures and former top tech analyst.
"Brace yourself" for more sell-off in tech stocks, Munster, a tech analyst turned venture capitalist, told CNBC's Squawx Box Thursday morning, after Facebook, Amazon and Netflix all opened lower after Wednesday's tumble.
But he singled out Apple as a safe bet immune to the broad market climate, as Wall Street analysts are expecting to see the average price of the iPhone continue to rise.
"I'm still bullish on the [tech] sector more broadly for other reasons," Munster said. "But the near term psychology has a way of playing itself out in historical patterns."
Sudden bursts of volatility are typically followed by several weeks of subsequent volatility.—Yung-Yu Ma, chief investment strategist at BMO Wealth Management
"We're likely to have a higher number than usual of 1 percent plus moves up and down in the equity market for the next month or two," Ma, chief investor of BMO Wealth Management, which has $49 billion in assets under management, told Observer.
He is optimistic about the big picture, however. "We do think the fundamental underpinnings of the U.S. economy and equity market remain strong," he said. Specifically, Ma pointed out the results of the NFIB Small Business Survey released on Wednesday that showed a big jump in capital spending and overall business sentiment in recent months.
Ma also noted that the dramatic stock movement was not so much a reaction to the Fed's recent interest hike as one to the jumps in 10-year Treasury yield.
"The economy can well digest the current level of interest rates, and it's more the recent 'jumpiness' of the long-term rates that have contributed to spooking the market," he said.
The stock market sell-off could last for another week. — Christopher Harvey, senior analyst at Wells Fargo.
"We don't think the stock market pain is over just yet," Harvey wrote in a note on behalf of Wells Fargo after Wednesday's market tumble.
Harvey predicted that a rebound won't start until major tech companies start reporting quarterly earnings in a week or two.
"If you can be patient and withstand some further pain, we think there will be better levels to de-risk or reposition for the future. That said, in the coming days, we do expect to see more market pain and forced sellers," he cautioned.
Ignore the noise and wait for prices go up, if you don't think the economy is teetering on the verge of a recession. — Jani Ziedins, finance columnist for Investing.com.
Ziedins, a full-time investor and finance writer for Investing.com, believes that Wednesday's three percent dip was nothing compared to the 20 percent market crash in 1987. And considering that the losses during the 1987 crash were fully recovered in the ensuing 12 months, there is nothing to worry about in the current situation.
"If I wasn't already fully invested in this market, I would be buying this dip with both arms," Ziedins wrote after Wednesday's market close. "If the market's volatility is keeping a person up at night, that is a sign they need to reduce their position sizes to something that is more manageable."
But considering the big picture, "If a person doesn't believe this economy is teetering on the verge of a recession, then they can ignore the noise and wait for higher prices," she wrote. "As crazy as it sounds, I still believe this market is setting up for a year-end rally. Come back in three months and we'll see who was right."
It's a signal of a recession. — Barry Sternlicht, founder and CEO of Starwood Capital.
Not everyone is bullish on the economy, though.
"The economy's not quite as strong as the number indicated," Sternlicht, founder of Starwood Capital, which manages $56 billion in total assets, told CNBC's Mad Money Wednesday evening.
Sternlicht cited the flattening yield curve in the bond market (the interest rate on two-year treasury notes is close to that of the 30-year notes), historically a warning sign of an upcoming recession.
"It's not what we're used to, but usually, it's a signal of a downturn," he said. "I think it is a signal of a downturn."