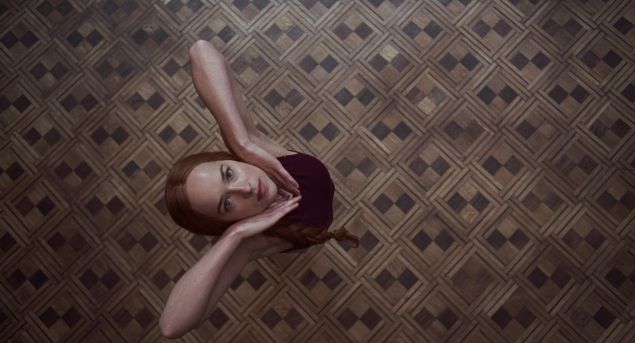 For the first of what it promises in a title card to be six acts and an epilogue, Suspiria portrays a desperate young woman (Chloë Grace Moretz) visiting her psychotherapist, the kindly old Dr. Josef Klemperer (Tilda Swinton, donning the masculine version of the senior citizen drag she wore in 2014's The Grand Budapest Hotel).
As the camera hurriedly jumps between objects in Klemperer's office, the patient details the horrors she has encountered at the famed Helena Markos Dance Company where she is a student. For her trouble, the good doctor calls her delusional. "They will hollow me out and have my cunt on a plate," the young dancer forebodes.
This first act hints at what the later ones make absolutely plain. From its stunt casting of Swinton as an old dude to its furtive camera work to its pointlessly crude expository, horror movies seldom come laden with more empty pretentiousness than this graceless art house reworking of the 1977 Dario Argento cult classic of the same name. What's worse, by being told in seven parts—not even Shakespeare would attempt such an unwieldy structure—the audience knows this overcooked rehash is not going to be over anytime soon.
Subscribe to Observer's Arts Newsletter
A stunning come down from Call Me By Your Name, director Luca Guadagnino's romantic classic that was one of the most accomplished films of last year, Suspiria displays a much keener interest in impressing its audience with what it perceives is shocking boldness than it is with connecting to people psychologically or emotionally—or for that matter, simply telling a compelling story.
While it proudly boasts a cast of featured actors who are entirely women, its feminist bonafides are undone by a central conceit which posits that the bold work of such groundbreaking choreographers as Mary Wigman and Pina Bausch was less an expression of modernist feminine identity than the work of a demonic coven of witches. Which is to say the film seems to see expressionist dance—which was pioneered by female choreographers—though roughly the same lens that Mike Huckabee views the Women's March: something to be feared.
---

SUSPIRIA ★
(1/4 stars)
Directed by: Luca Guadagnino
Written by: David Kajganich; based on the screenplay by Dario Argento and Daria Nicolodi
Starring: Tilda Swinton, Dakota Johnson, Mia Goth, Jessica Harper and Chloë Grace Moretz
Running time: 152 mins.

---
The tale, so far as there is one, is as old as time—or at least as old as "Little Red Riding Hood." Susie (an overmatched Dakota Fanning) is a Wisconsin-born Mennonite who has decamped to Cold War Berlin to study with the dance genius Madame Blanc (Swinton again, because, of course). A kind of modern dance Kobe Bryant, Susie quickly snatches away the lead role in the troop's most famous dance, Volk, from a lesser rival (Elena Fokina), who is later tortured by invisible forces for her failings. In the process, a strange symbiosis develops between Susie and the mysterious Madame Blanc, who is able to implant her students with horrible nightmares that look like the sort of short films cooked up by art college freshman, and can even erase their memories, Superman-style. (Unfortunately the trick doesn't work on the audience.)
After his first act patient goes missing and the police are no help, Dr. Klemperer investigates and, for his trouble, becomes part of a demonic ritual that resembles what you imagine might have happened after 4 a.m. at Studio 54 in 1978. The closest that Suspiria comes to displaying something useful, or for that matter actually horrifying, is in its portrayal of how psychoanalysis has been dismissive of women. ("Delusions are lies that tell the truth," the doctor says, condescendingly.) But this point is lost in the film's Grand Guignol.
Some of the visual horror will no doubt be of interest to genre fans, but even there the appeal is limited. In an age when we are awash in efficient and involving horror movies—from Halloween to A Quiet Place to even The Nun (which is not that great but is at least short)—Suspiria comes off as bloated and disconnected.
As Madame Blanc tells Susie after a particularly exhausting rehearsal of Volk, "Occasional collapse is an occupational hazard." To that, we paraphrase the poet Frank O'Hara: oh Luca Guadagnino we love you get up.