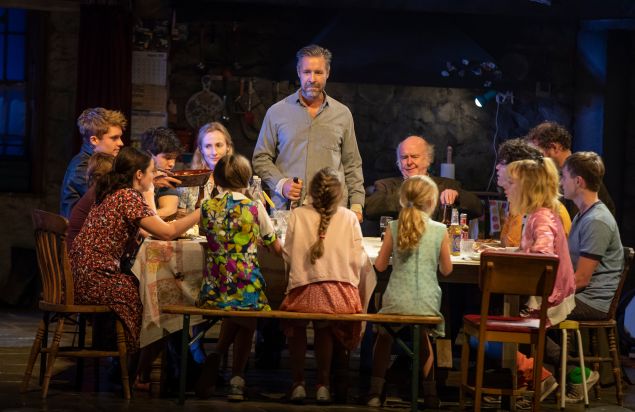 "Sure yer a feckin' eejit, now give us a wee drop of Bushmills and…um, Éirinn go Brách!" I don't think this exact line occurs in The Ferryman, but given the three hours of peaty blarney troweled up in Jez Butterworth's family epic, the law of probability says we can't rule it out.
For there is talking—much, much talking—in The Ferryman. That includes joke-slinging, ditty-warbling, future-seeing, myth-spinning and verbose anecdotage that conveniently underscores the evening's theme of justice versus revenge. It's a play of reckless overabundance. Twenty-one actors onstage (plus a bemused baby), three acts and countless speeches to serve a somber tragedy about Ireland's internecine cycles of violence, matched by the agrarian cycles on the farm where it takes place. In scale and ambition, the work models fecundity and plenitude; so why does the final harvest feel so scant?
I'm as shocked as you are, since The Ferryman arrives on Broadway trailing bright banners of adulation from London's Royal Court and a West End run. I've gladly heaped praise on Butterworth's earlier transfers: the punk-pastoral omnibus Jerusalem and his weird fisherman idyll, The River. On paper, the new piece combines the writer's fondness for anarchic communes and mytho-grunge storytelling with the gangsterism of the Irish Republican Army during the Thatcher era. It's all wrapped in a bucolic, multi-generational package, an allegorical microcosm of Ireland: The best bits of Martin McDonagh and Conor McPherson, filtered through Butterworth's rock & roll vibe. I ought to adore this play.
Subscribe to Observer's Arts Newsletter
Well, I wasn't bored. Sam Mendes' firm, generous direction and a spirited cast keep each scene crackling with physical business and roiling humor. You'll spend most of the first hour sorting out who's who in the teeming Carney household. At the nominal head, there's Quinn (Paddy Considine), a former IRA man who grows barley and wheat for export. Quinn's wife, Mary (Genevieve O'Reilly), is estranged and suffers from a chronic, possibly psychosomatic illness. Still, viruses haven't kept Mary from birthing a brood: tweens Nunu (Brooklyn Shuck), Mercy (Willow McCarthy) and Honor (Matilda Lawler); hard-working lads JJ (Niall Wright) and Michael (Fra Fee); and restless 14-year-old Sheena (Carla Langley). The older generation is represented by kindly Uncle Pat (Mark Lambert), crabbed Aunt Pat (Dearbhla Molloy) and Aunt Maggie Far Away (Fionnula Flanagan), who—as her name suggests—is mentally not all there. Uncle Pat is a jolly tippler (first dram at 6 a.m.!) and quoter of mythic trivia (hence the title's allusion to Charon). Aunt Pat is a fanatical, bitter Irish republican following the hunger-striking prisoners in the Maze (the play is set in 1981). Aunt Maggie achieves lucidity now and then to sing, prophesy and amuse the girls with tales of fairy wars.
Notably absent from the Carney clan is Seamus, Quinn's younger brother, missing for ten years and assumed dead. Probably executed by his IRA comrades, Seamus's fate haunts Quinn, who blames himself for his brother joining. The play opens with a brief scene in which one Father Horrigan (Charles Dale), the Carneys' shifty priest, is confronted by IRA chief Muldoon (Stuart Graham) with news that Seamus's body has surfaced in a bog. The past won't stay buried, but Muldoon wants to make sure the blackened corpse doesn't turn into bad PR for the cause.
The plot of The Ferryman—surprisingly slender for such an over-populated work—is set in motion by that body. For the past decade, Quinn, his wife and their seven children have shared a roof with Seamus's widow, Caitlin (Laura Donnelly) and her moody, fearful son, Oisin (Rob Malone). There's romantic tension between Quinn and his sister-in-law, unconsummated. It's harvest time, and a banquet's planned for the Carneys and three lads from the Corcoran family. Also attending is live-in farmhand Tom Kettle (Justin Edwards), a slow-witted giant of an Englishman who produces apples and the odd (live) bunny from his capacious trench coat. Both the Corcorans and Kettle figure heavily into the third, climactic act, as forces of the past and the present collide in a foolish quest for justice.
This all unspools engagingly, and Butterworth's language is rich with bravado, rough-hewn lyricism and profane musicality. At times, The Ferryman reminded me of August Wilson's best work, packed with a novelistic level of data and local color, with meticulously constructed back stories that directly impinge on the present. So what's the problem? There are a couple.
First is that despite the ensemble's fine work, one can't shake the feeling that this is an elaborate pile of Stage Irish clichés. The whiskey flows, rainbows are spotted, tall tales are told and there's a frickin' Riverdance sequence during the dinner party. Sure, Irish stereotypes were good enough for O'Casey and Synge, but Butterworth (who is English and wrote the role of Caitlin for his wife, Donnelly), seems a bit too fond of the Celtic ready-mades. It's a fine line between myth and minstrelsy, a border the play doesn't always tread so nimbly. (Side note: With this and Girl from the North Country we now have two London imports that feature mentally impaired men and matriarchs with stage dementia—the kind that conveniently lifts when that character is required to move the plot along.)
The second issue is one of inertia. It's clear that Butterworth has architected the play on three levels—domestic, national and mythic—but it doesn't resonate equally strongly on all three, and in fact, falls flat on the second two. In Jerusalem, the narrative drive and mythological undertones all centered around the enormously fun swagger and yarn-spinning of Johnny "Rooster" Byron, the forest-dwelling lord of misrule unforgettably incarnated by Mark Rylance. But here, despite a warm and charismatic turn by Considine, Quinn is not developed or active enough to anchor the strands of the play in a persuasive reality—psychological or pulp. Aunt Pat, with her toxic worship of the IRA, is a more exciting figure than practically anyone onstage. Caitlin's resurgent grief is briefly gripping, and the lurking IRA goons provide noirish frisson, but three hours pass, and it feels like wind-up. Which makes the bloodletting in the final minutes seem like a tacked-on, unearned bid for Greek tragedy. All plays are contrived, but the good ones disguise their contrivances, not revealing seams and joints every five minutes.
There's an extravagant feast at the Carney farmhouse, a table heaving with roasted goose, mashed potatoes, whiskey and stout, good music, great company, and everyone's invited. For those who find The Ferryman a pure theatrical joy with no reservations, it's a party they will happily attend. But some of us linger in the doorway, unable to join.