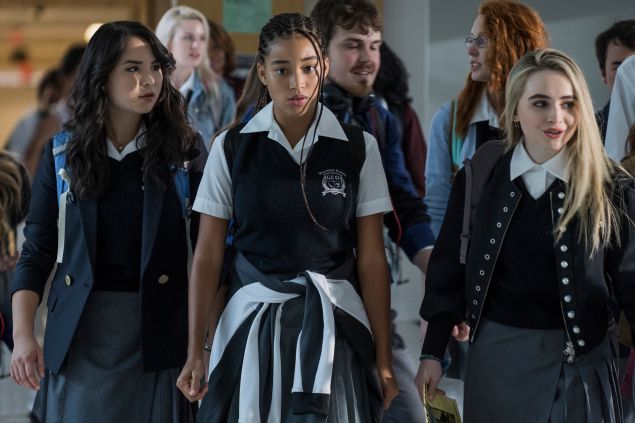 What is the right age talk to your child about systemic racism in America and the devastating toll it has placed on its citizens? Twelve? The teen years? Does it depend on the kid?
For Maverick Carter, the father in The Hate U Give, played with fervent authenticity by Russell Hornsby (Fences), there isn't much choice in the matter. (Without question, making the choice to talk about it at all is not a privilege all parents of color can claim.) Explaining to his daughter Starr and son Seven exactly how to deal with the police when they are eventually pulled over—keep both hands on the dashboard at all times, follow instructions and don't talk back—is a matter of life or death. His kids get "the talk," as it is known in African-American homes across the country, when they are 9 and 10, respectively. For good measure, Maverick makes sure his kids also memorize the Black Panther Ten-Point Program.
For some young Americans, this film, as well as the Angie Thomas' best selling YA novel on which it is based, may be their first in-depth exposure to the problem. Fortunately, it is a nuanced, intense and utterly involving look at how racist policies shape judicial and economic outcomes for families like the Carters, and it doesn't dumb things down one bit. In the process, it tells a young woman's powerful coming-of-age story at a time when that process involves code-switching and discovering political agency as much as it does finding the right dress to wear to prom.
By the time she is 16, Starr (actor-musician Amandla Stenberg, The Darkest Minds) has worked hard to suppress much of the black identity her father was trying to foster in her so she can fit in at her predominantly white school. (Her parents saved up to send her there because her local high school is where "you go to get high, pregnant or killed," explains Starr in voiceover.) While her friends, including her boyfriend Chris (Riverdale's KJ Apa) and best friend Bailey (Disney Channel star Sabrina Carpenter), constantly quote rap lyrics, Starr never does; she fears it would make her white friends uncomfortable.

But when a white officer pulls over a vehicle in which she is a passenger late one Saturday in her predominantly black neighborhood of Garden Heights, she remembers her father's speech, and it saves her life. The driver, Khalil (Algee Smith), a childhood friend she used to play Harry Potter with, is not so lucky. His shooting at the hands of police shatters the barrier she had carefully built up between her two worlds and forces her to speak up, even while it means putting herself and her tight-knit family in the crosshairs of a local drug lord (Anthony Mackie).
---

THE HATE U GIVE ★★★
(3/4 stars)
Directed by: George Tillman Jr.
Written by: Audrey Wells, Tina Mabry (screenplay), and Angie Thomas (book)
Starring: Amandla Stenberg, Russell Hornsby, Regina Hall, KJ Apa, Algee Smith, Issa Rae, Common, Sabrina Carpenter, Lamar Johnson, Dominique Fishback and Anthony Mackie
Running time: 132 mins.

---
There is much ground to cover in the film, and The Hate U Give (the title is taken from a Tupac song) develops an uneven quality as it lurches from one dramatic event to the next. It runs a bit long, and after a while each new earth-shattering development—most involving guns or gunfire—feels overwhelming to a point that it begins to dull the impact.
Still, despite the film's penchant for melodrama, The Hate U Give provides important context for certain issues—like why saying "I don't see color" or "all lives matter" can be hurtful and negating—that can otherwise feel nebulous, even for adults, when they are explained in an internet meme or even an NPR news story.
So what age is too young? I took my (white) 11-year-old daughter on a school night, and she cried through most of it. That the threat of violence, both from police and criminals, hung over every happy moment of the Carter's life was overpowering to her, as it should be. When I asked if it was too much, she pinched her fingers together: Yes, just a little. But the emotional turmoil was the cost of understanding, and in the case of The Hate U Give, the price was well worth it.