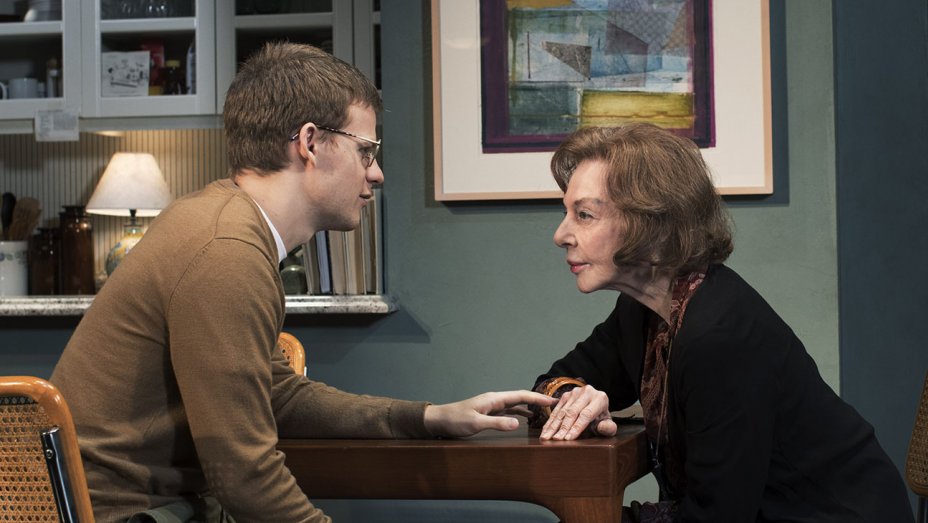 Returning to the Broadway stage for the first time in decades, beloved funny girl Elaine May does a startling about face as an elderly eccentric dying of Alzheimer's and diabetes in a revival of Kenneth Lonergan's sad but carefully documented play The Waverly Gallery. First produced off-Broadway 18 years ago with the great Eileen Heckart winning raves and awards in the starring role, the play, now in a limited run at the Golden Theatre, is a challenge to both the actors and the audience.  Death and disease are not popular box-office draws. But it's still worth seeing for the superb writing, the perfect ensemble cast, and a valiant standout performance by a lady with a lot to give, giving it all she's got.
This is a gentle, unsentimental memory piece based on his grandmother's final years by a kind, caring and idealistic young man named Daniel, who acts as a surrogate for Mr. Lonergan. Daniel's remembering is outlined—and explained to the audience—by that gifted and remarkable young actor Lucas Hedges, who was Oscar-nominated for his first film role in Lonergan's highly regarded Manchester by the Sea, which won the author his own Academy Award for Best Screenplay of 2016.
It's a fine reunion, because Hedges has a naturalistic way with the dialogue as real and unassuming as boiling an egg. The grandmother he remembers with an understandable mixture of affection and annoyance is the indomitable Gladys Green, a feisty independent force who owned a small, second-rate Greenwich Village art gallery on Waverly Place that provided a home for struggling painters in need of tea, sympathy and encouragement. After 28 years, the paintings are many, the customers are few, and nothing ever sells for enough income to pay the rent. Worse, the owner wants to knock down the walls and turn the space into a cafe. The central conflict shared by the family is how to explain her fate to Gladys.
Subscribe to Observer's Arts Newsletter
The boy is torn between his ailing grandmother, who doesn't understand what's going on, his mother Ellen (Joan Allen, who polishes exasperation into a fine art), his stepfather Howard (a fine, sturdy David Cromer, who acts as a conduit for their various frustrations) and a mediocre young artist from New England named Don (Michael Cera) who, thanks to the old lady's generosity, is living on a sleeping cot in the gallery's spare room.
As the octogenarian slipping into the punishing early stages of senility, Elaine May is frail, birdlike, half-blind, hard of hearing, in a constantly losing battle with her hearing aid, but still holding onto her ideas, opinions and rugged willfulness.  She repeats things endlessly. She misplaces and loses everything. She asks the same questions until she drives her family to the border of madness. As dementia gains on her, we suffer along with her grandson as she rings his doorbell at all hours of the night and lapses into rambling, one-sided conversations during painful dinners at his mother's apartment on the Upper West Side. Later, she winds down, like an old cylinder—her steps faltering, her speech altered. Refusing to go gently into that good night, the confusion, obstinance and courage grow until Elaine May lights up the stage with wit and charm and alarm-clock ticking.
Kenneth Lonergan writes bravely about the tragedy of a mind that leaves the body too soon, as well as the ordeal faced by caregivers and loved ones who are just as hopelessly afflicted as the patient. The actors are all tremendous, but it is Elaine May who makes the injustice of growing old more than a routine journey of despair. For a role as a woman growing increasingly more addled by the minute, she is remarkably focused. Balancing several conversations at the same time is very hard to act, and the overlapping thoughts are like the sound track to a Robert Altman movie.
The writing is delicate and full of pathos, but if I feel the play lacks force it's because as Gladys' mental state disintegrates, her exchanges grow from amusing to confusing. Gaffes in communication become less sympathetic as they increase in frequency, and by the end I, for one, grew impatient. But Lonergan is a patient writer and Lila Neugebauer is a leisurely director, so if it was their intention to make the audience feel the same unsettling agony as Gladys' long-suffering family, they succeed without mercy. I saw a few tear-stained faces during the curtain calls, but in my opinion The Waverly Gallery tugs at the heart but never really shatters it.