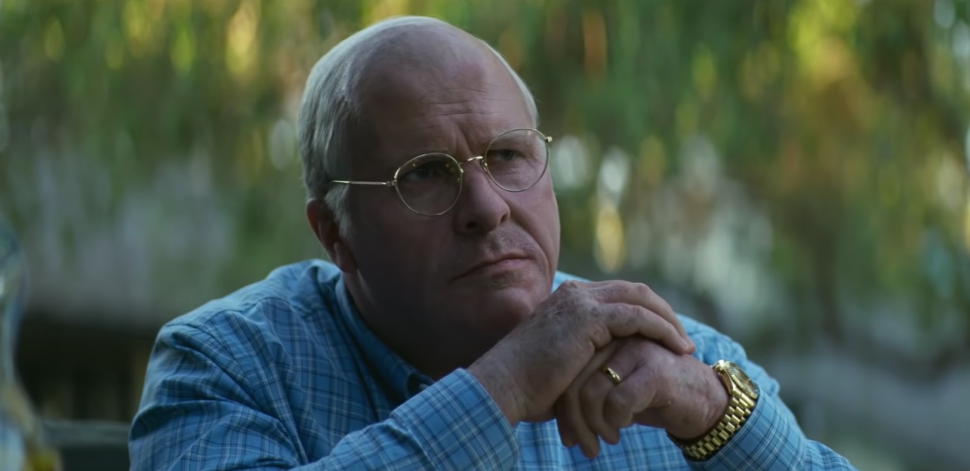 Director Adam McKay's upcoming film Vice will follow Dick Cheney's rise to notoriety as he becomes America's most formidable vice president. Now the first trailer has surfaced, revealing what is sure to be the movie's biggest draw: Christian Bale's performance as Cheney, for which the actor, once again, underwent a startling transformation.
How can this government heavyweight sporting wire-framed glasses and an ostentatious gold watch be the same man who radiated peak physical fitness and beauty in a Valentino suit and an ostentatious gold watch as Patrick Bateman? In American Psycho, Bateman was a petty sociopath who brandished business cards like rapiers; Bale's Cheney is a monster with global ambitions.
Subscribe to Observer's Entertainment Newsletter
Bale's radical alterations to his body in the name of cinema (he dieted down to emaciation for 2004's The Machinist and blubbered up for 2013's American Hustle) always manage to work, even if they've become a bit of a gimmick.
But Cheney, who perpetuated misinformation that helped lead to the war in Iraq, could only be played by someone fearless to the point of absurdity—and that's Bale.
Starring opposite him is Sam Rockwell as President George W. Bush. Rockwell, wearing subtle costume makeup, doesn't totally resemble Bush, but his mannerisms and gestures (smirking, waving his hands in surrender) are so well rendered they might send some viewers spiraling back to Bush's televised post-9/11 statement.
The trailer—which is brief and doesn't reveal much in the way of plot beyond a pre-election discussion between Bush and Cheney in which Bush persuades Cheney to be his running mate—also shows glimpses of Amy Adams as Dick's wife, Lynne Cheney; Steve Carell as former secretary of defense Donald Rumsfeld; and, maybe best of all, the incomparable Tyler Perry as former secretary of state Colin Powell.
McKay is most famous for directing 2015's The Big Short, about the close-knit teams of investors and upstarts that anticipated and ultimately profited off the financial collapse of 2008, and Step Brothers, in which Will Ferrell and John C. Reilly play man-children who team up to tear their newly married parents apart.
He's a filmmaker who specializes in revealing the self-indulgent, ill-advised and confounding things men can do when they join forces, so the Cheney-Bush relationship seems right in his wheelhouse.
Vice hits cinemas December 25.