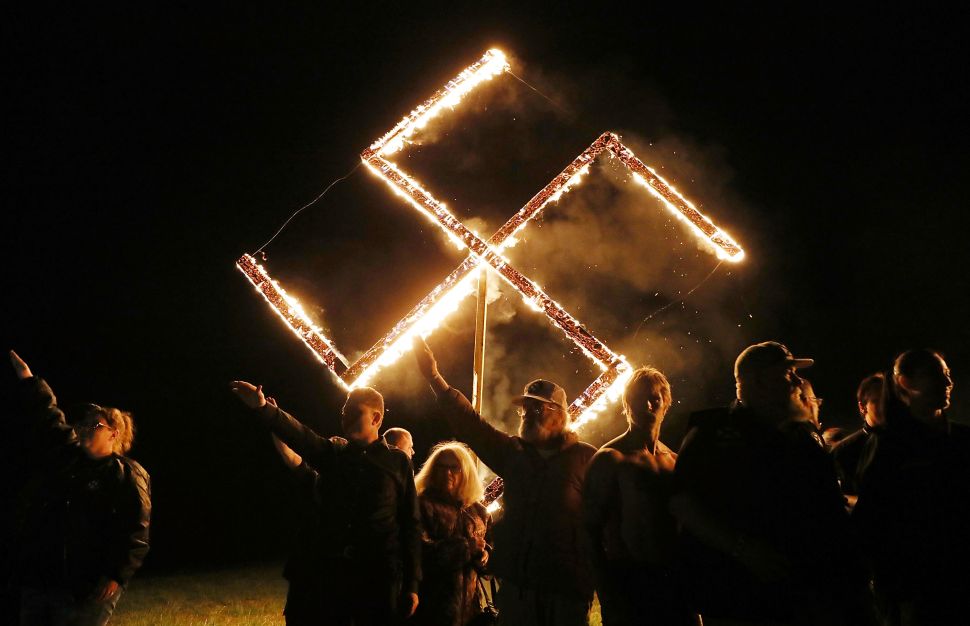 When President Trump declared himself "a nationalist" during a Texas campaign rally Monday night, the apparent dog whistle was heard loud and clear by white supremacy groups and their online networks.
The chatter pulsing through the digital pipelines of the white nationalist movement on Tuesday seemed to confirm as much: Known Neo-Nazis and white supremacy sympathizers are touting the president's self-proclamation as an endorsement of their cause.
"He is /ourguy/," wrote Andrew Anglin on the Neo-Nazi flagship website he founded in 2013, The Daily Stormer. "He is pushing the edges of the limits."
Subscribe to Observer's Politics Newsletter
"Well he is the president of the United States, not the president of Globalist Pangea," tweeted Henrick Palmgren, who marched during Charlottesville's first "Unite the Right" rally and currently runs the white nationalist radio station Red Ice from Oregon.
The alt-right podcaster who hosts Fash the Nation—a shorthand reference to fascism—tweeted "THE FIRE RISES" after Trump declared himself a nationalist, according to Right Wing Watch. Fash the Nation has hosted many members of the white nationalist movement, including Wisconsin congressional candidate Paul Nehlen (whom Breitbart was covering favorably until it severed ties following his appearance on the program).
Although the Trump administration is working on an "America First" agenda, its officials have been careful to avoid rhetoric openly promoting nationalism, especially as white supremacists rebrand themselves as part of the movement.
"Following the violence that took place in Charlottesville in 2017, it became apparent to many Americans that alt-right was just a euphemism for violent white supremacy," Michael Hayden, an open source intelligence analyst with Storyful, told Observer. "Some people in the movement even pushed to rebrand the alt-right as an 'American Nationalist' movement, and referenced archaic documents like the American Naturalization Act of 1790 as a justification for the change. Obviously, these same people are very excited today to hear the president identify himself as a nationalist. They think it gives their weather-beaten, extremist ideology a greater air of legitimacy."