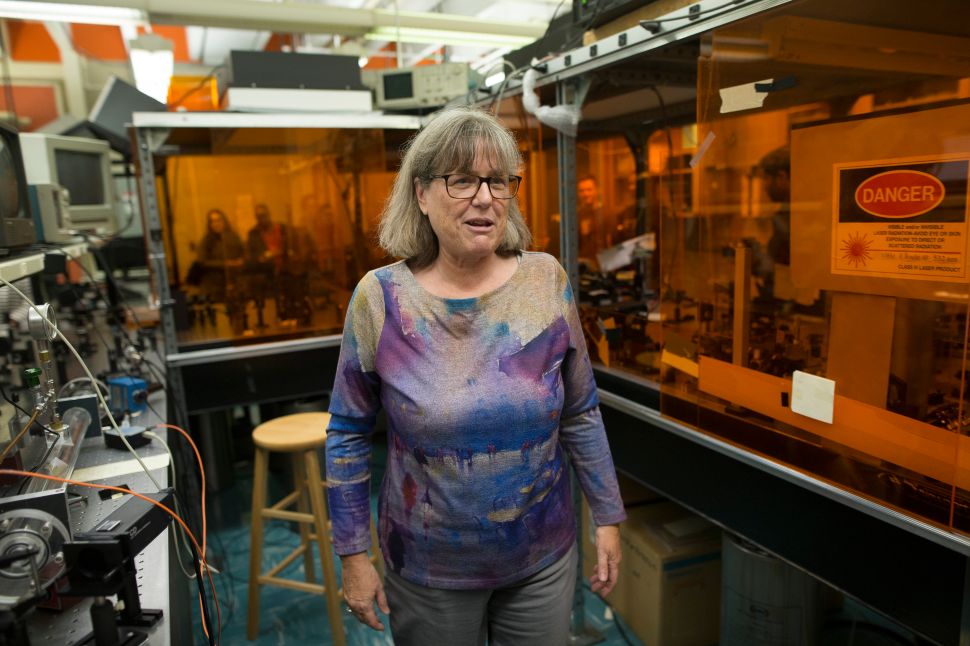 What does a female scientist have to do to get her own Wikipedia page? Literally win the Nobel Prize.
Dr. Donna Strickland, an associate professor at the University of Waterloo in Canada, won the Nobel Prize in Physics this week for her research on laser amplification. She shared the prize with her doctoral adviser Gérard Mourou. Strickland is only the third female Nobel laureate in physics, and the only living one (the others were Marie Curie and Marie Goeppert-Mayer).
The Royal Swedish Academy of Sciences said Strickland's work had "revolutionized laser physics." It also revolutionized her Wikipedia profile—previously she only had a passing mention in Mourou's entry.
Subscribe to Observer's Business Newsletter
Strickland's online encyclopedia page went live about 90 minutes after her win was announced. It included her complete biography, personal life and career accomplishments.
The page is fairly exhaustive given the speed with which it was seemingly created. That's likely because some in the Wikipedia community have been actively trying to get Strickland on the site for months.
User Campbpt0 created a page for Strickland in May, which detailed all of her accolades and accomplishments to that point (it's an impressive list even before the Nobel).
But an editor named Bradv declined the submission, saying its references didn't show that Strickland qualified for a Wikipedia entry.
"They do not show significant coverage (not just passing mentions) about the subject in published, reliable, secondary sources that are independent of the subject," Bradv wrote. "Before any resubmission, additional references meeting these criteria should be added. If no additional references exist, the subject is not suitable for Wikipedia."
Well, that changed quickly on Tuesday. And now that Strickland is a Nobel laureate with a Wikipedia page, fans on social media said she should apply to become a full professor.
But others pointed out that Strickland's internal issues with tenure and online issues with Wikipedia showed the continuing bias against women in science.
Only 18 percent of Wikipedia biographies are about women. But to its credit, the site has is trying to combat this problem. Wikipedia's "Women in Red" project is working to turn red links (which denote non-working pages) for women on the site into blue ones. Some editors are writing one to three Wikipedia entries for women in science every day.