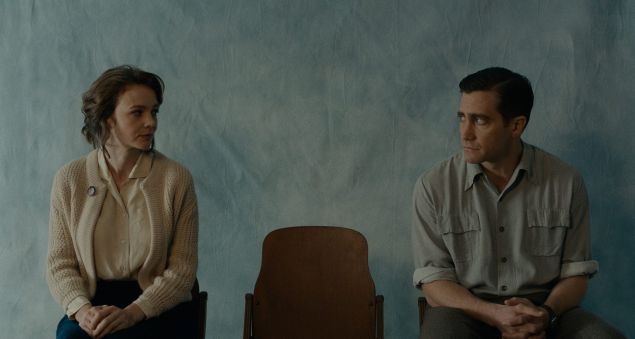 "I feel like I need to wake up," says Jeanette (Carey Mulligan), laid out on her bed like a cat, halfway through the film Wildlife. "But I don't know from what and I don't know what to."
Janette's lassitude perfectly encapsulates the period of the film, which starts in the summer of 1960 and ends in the spring of 1961, just as the country was itself waking up after eight years of Eisenhower and entering the new, unknown, and heady days of Kennedy. It also epitomizes the movie's mood and feeling.
Indeed, for a film that captures its time and place with such precision that its living rooms and grocery stores seem to have fallen out of your great aunt's photo album, there is a dreamlike quality to actor Paul Dano's debut film as a director, one where everyday things and places are imbued with otherworldly beauty and time seems to stand still.
Subscribe to Observer's Entertainment Newsletter
While that approach robs the film of some of its narrative momentum, it does befit a story that chronicles the dissolution of a family from the perspective of an only child, 14-year-old Joe (Aussie actor Ed Oxenbould, who played the title character in 2014's Alexander and the Terrible, Horrible, No Good, Very Bad Day). At first it unfolds through barely heard conversations that waft in from the kitchen of their small, newly rented ranch-style house in Great Falls, Montana; later it explodes right in front of him as he sits on the couch, bearing silent witness.
---

WILDLIFE ★★★
(3/4 stars)
Directed by: Paul Dano
Written by: Paul Dano, Zoe Kazan (screenplay) and Richard Ford (novel)
Starring: Carey Mulligan, Ed Oxenbould, Jake Gyllenhaal and Bill Camp
Running time: 104 mins.

---
The trouble begins when Joe's father Jerry (Jake Gyllenhaal), an amicable golf pro, looses his job at a local club and decides, perhaps foolishly, to join the ranks of the ne'er-do-wells earning $1 an hour fighting a massive wildfire raging in the mountains. For Janette, Jerry's choice registers as a kind of infidelity ("What kind of man leaves his wife and child in such a lonely place?" she ponders.) and she responds with an actual one, taking up with a philosophical local businessman (Bill Camp, from HBO's The Night Of) as her son looks on and tries to make sense of it all.
Does she flaunt the affair in front of her son out of indifference, or to prove some sort of point to both Joe and herself?
It is a credit to Mulligan's full-bodied, and deeply nuanced performance that the answer is never entirely clear. The An Education actress lays everything bare—her stymied sexual identity, her desire for a career, her dependence on a husband who is as unpredictable as the fires he has no business fighting—and yet somehow remains utterly inscrutable. Recalling Elizabeth Taylor's Gloria in 1960's Butterfield 8, Mulligan's Jeanette (she hates her name because it sounds like a waitress') is both a symbol of so many women whose passions had no place in that pre-feminist era and a wonderfully specific and a wholly new creation. The performance is a career highlight for Mulligan and one of the most memorable characters of the fall movie season.
But even her passion can't seem to infuse the hauntingly beautiful film with much urgency. Dano's directorial approach—studied and removed—can be chillier than the snow that finally arrives in the film's final act and allows Jerry to come back from the fire. (The resulting denouement is simultaneously violent and ruminative). His camera almost never moves, taking in both his troubled characters and Montana's mountains and endless sky with a breathless awe, when both call for a sharper and better-articulated point of view.
Still, while you wish that the director—who wrote the script with his partner, actor Zoe Kazan—had lent the proceedings with some of the heat of the fire that blazes in the story, what he has accomplished is nonetheless impressive. This is a truly handsome, fully adult exploration of the decline of the American family post-World War II, and in an age of overbaked cinema spectacle, that is a welcome reprieve.