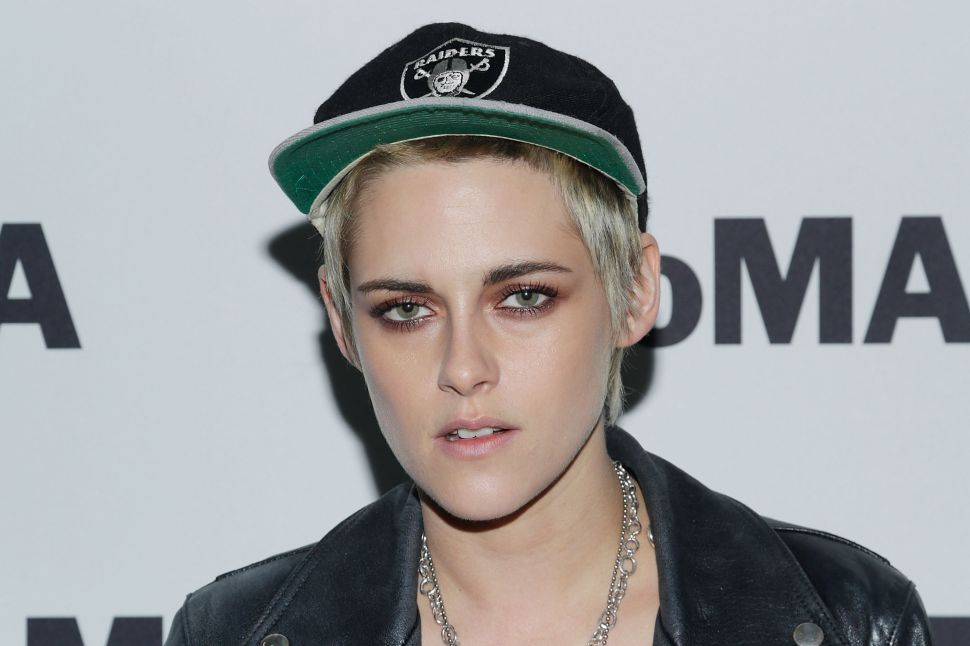 It's a weird time to be an artist. So much of pop culture can't help but reflect the chaotic Trump presidency and our wrenching national conversations about equality and sexual violence. The upcoming cinematic reboot of the 1970s TV show Charlie's Angels—which Kristen Stewart is currently filming with her co-stars Naomi Scott, Ella Balinska and Netflix heartthrob Noah Centineo—is no exception.
The new movie, set to be released on September 27, 2019, is being directed by the increasingly prolific Elizabeth Banks, who produced the runaway hit Pitch Perfect. If Stewart's recent illuminating comments about the film and Centineo's casting are any indication, the new Charlie's Angels will represent a canny encapsulation of two very powerful themes in contemporary pop culture: an adversarial energy sparked by the #MeToo movement and a collective nostalgia for good old-fashioned comedic love stories.
Stewart became famous a decade ago with Twilight, the first installment of a book-to-film YA franchise in which she played Bella Swan, a lovestruck teenage damsel in distress whose favorite hobby was doing her laundry. But now she's playing an action hero—because, for the most part, damsels have fallen out of public favor. Instead, Stewart's rebellious, commanding onscreen persona—which has come more into view over the past few years—stands to serve as the movie's avatar for take-no-prisoners women everywhere. Meanwhile, Centineo, who played the perfect boyfriend in Netflix's summer hit To All the Boys I've Loved Before, could contribute a certain quaint romanticism to balance things out.
Subscribe to Observer's Entertainment Newsletter
Think about it: Kristen Stewart appearing as the star of a movie about a national collective of tough, crime-fighting spies sends a very different message than when Cameron Diaz was cast in the 2000 film version of Charlie's Angels. In that version, Diaz played a lunatic goofball prone to dancing around her apartment and greeting the UPS guy at the front door with no pants on.
Stewart, a formidable talent with an idiosyncratic technique and style, likely wouldn't be caught dead shaking her ass for the camera, and she seems to have a sharp instinct for the way cultural movements shape movies these days.
In a shared Variety interview with Chloë Sevigny (the two star in Lizzie, a new take on the Lizzie Borden story), Stewart briefly summed up her Angels remake. "Not to make any comparisons to the first two [versions] that we had, that I loved and that are hilarious and [that] I've watched recently and [that] still are really, really fun…it's like a kind of woke version," she said. "There's a kitsch nature to the last ones that was super fun, but nowadays if you see a woman in combat, everything should be something completely and utterly well within their ability."
Stewart is essentially indicating that her version of Angels will be realistic and gritty, which is the case with more and more action hero movies on the market today (thank you, Christopher Nolan). And that's great. Projects with well-written, strong female characters should be more of a boardroom priority, and if those projects include big-budget action movies packed with special effects and violence, this ultimately just levels the playing field.
But the actress also clarified that her film will still be "fun," which is a very good thing given that fun is generally our first priority when deciding to spend our hard-earned money on a pricey movie ticket. We'll only truly appreciate the "message" of a more complex or true-to-life female-driven action hero flick if it's genuinely thrilling.
There's a difference between serious and self-serious. What made the original Charlie's Angel series work was that it didn't take itself too seriously, and while the two Charlie's Angels films starring Diaz, Drew Barrymore and Lucy Liu were far from perfect (and sometimes downright obtuse), they were also often delightfully silly. Yes, realism can shake us into action, but in these dark modern times a little escapism goes a long way.
Here's hoping we get a few laughs in this new Charlie's Angels. But if not, we'll at least have Centineo's classic charm to keep us watching.