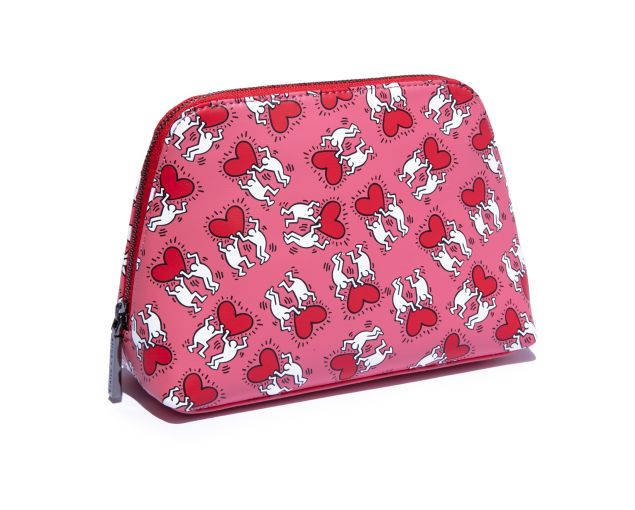 What should one do with a Keith Haring capsule collection, especially when Haring's work is already so ubiquitous on clothing and outerwear that his signature figures are, at this point, as familiar to American consumers as the Nike swoosh?
Specifically, what's the best way to interpret a Keith Haring clothing collection made in conjunction with the whimsical women's brand Alice + Olivia, which officially launched today?
One only has to perform a cursory scan of Haring's output to recognize the degree to which he wholeheartedly embraced the commodification of his art as a means to an end; namely, disseminating the explicitly political messages in his work. 
Subscribe to Observer's Arts Newsletter
During his peak years of output, many in the art world criticized Haring for copying his original designs onto pins, t-shirts, wristwatches, brick walls and even clothing, some of which was for sale at his New York City-based shop, Pop Up.
Sound familiar? Of course it does: pop-up shops are perhaps the most wildly popular option in existence today for post-Instagram brands looking to make their mark in the ever more transient and novelty-obsessed retail universe.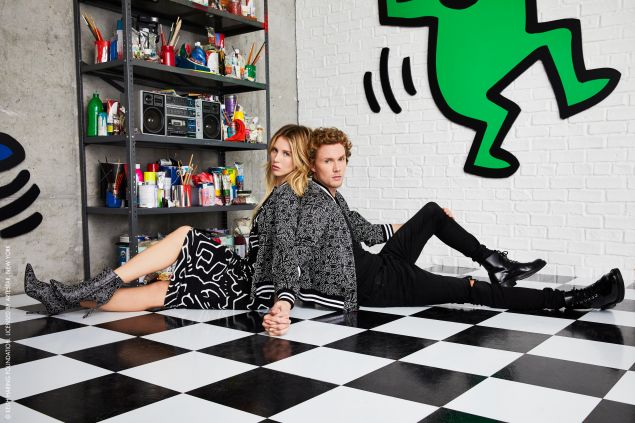 In any case, Haring paid no mind to dissenters. He was as famously kind and generous as he was unswervingly prolific.
A huge swath of the imagery in Haring's art reckoned with AIDS, which Haring was diagnosed with in 1988 and would claim his life two years later. Figures colored with dots, humans marked with an X and couples or groups embracing all carry messages about the effect this epidemic had on the world around him. But this was far from the only issue he tackled. Haring's work also comments on the Vietnam War, the role of religion in culture and any group or individual that was essentially "othered" by our society. The execution of his art, while ultimately a method of individual expression, also went hand in hand with the public's interest at the time in which he worked.
Haring, who studied semiotics at the School of Visual Arts in New York, was influenced by ancient Egyptian hieroglyphics and Disney cartoons. His bold depictions of crowds, dancing figures and cackling faces reverberated with a deeply nostalgic kind of symbolism: he wanted his art—and its message—to permeate the collective unconscious.
As a citizen, Haring always believed in pushing the nation in the right direction, no matter how debilitating the personal cost.
"Two years ago, Haring himself was tested HIV positive, and he has since developed Kaposi's sarcoma, a form of cancer that often accompanies AIDS," David Sheff wrote in Rolling Stone in August, 1989. "While KS can be fatal, his illness hasn't slowed Haring down at all. To the observer, the only noticeable effect is lesions, faint plum-colored splotches behind his ear and on his forehead." Haring died six months later.
"The use of commercial products has enabled me to reach millions of people whom I would not have reached by remaining an unknown artist," reads a quote by Haring that serves as a header to the Licensing page on The Keith Haring Estate's official website.
Clothing has played a huge role in Haring's ability to reach people after his death. Though it must be said that when an artist's work is translated or modified for consumption via a different form, something is always lost in the process, and it's often initially unclear what exactly this is.
Culturally, we've taken too many steps into the unknown ether wherein everything can become a t-shirt to turn back now, so it's useless to argue that something shouldn't exist when it already does. Instead, consider the possibility that Haring always wanted it this way.