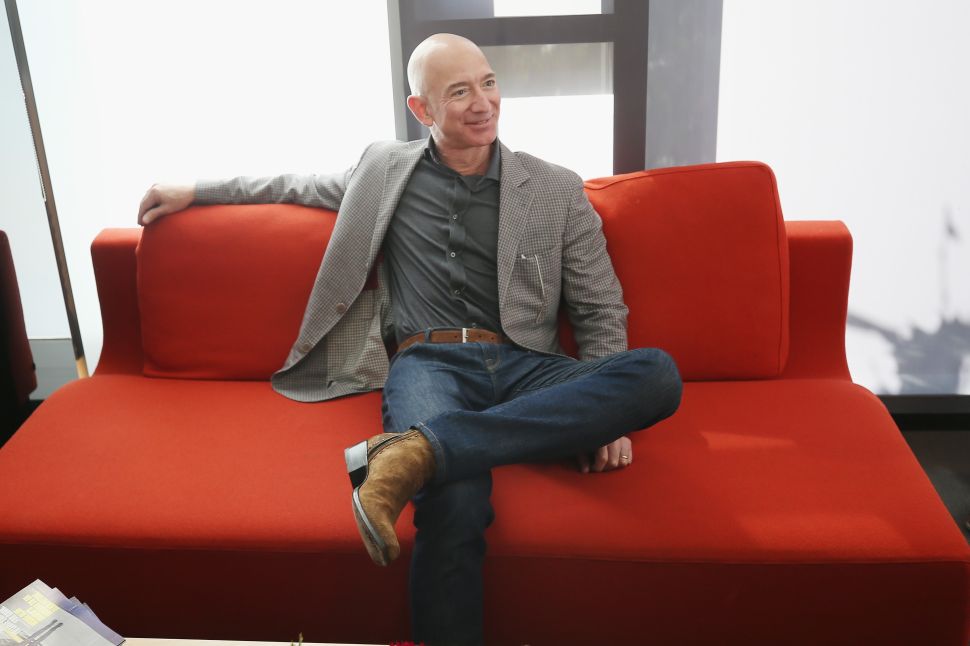 It has been almost a year since Amazon announced the shortlist of 20 cities where it might build its second global headquarters, dubbed "Amazon HQ2″—a $5 billion project expected to lead to the hiring of 50,000 tech workers and big enough to fundamentally change a city's economy.
On Monday, a surprising Wall Street Journal report revealed that Amazon could possibly split its HQ2 into two cities, each to house 25,000 new employees, citing a person familiar with the situation.
Possible sites included Crystal City in northern Virginia, Dallas and New York City, as the Journal reported over the weekend that Amazon had recently approached these cities for late-stage talks, also citing anonymous sources.
Subscribe to Observer's Business Newsletter
The Journal report was the latest speculation on top of dozens of predictions made by experts in demographics, urban planning and the labor market over the past 10 months.
Amazon hasn't responded to any of these outside guesses, but CEO Jeff Bezos is due to reveal his final choice by the end of this year—in other words, in less than two months.
As 2018 draws to a close, let's take a final look at all of the possible HQ2 winners predicted by studies and analyses over the past year.
Washington, D.C.
So far, Washington, D.C. is the No. 1 frontrunner in the HQ2 race—not only because it's home to Jeff Bezos' newly purchased 25-bathroom mansion, but also for its prime location from a business perspective. The capital city has a strong tech talent pool, a must-have on Amazon's original request for proposal (RFP); is steps away from international airports and interstate highways; and perfectly compliments Amazon's current headquarters in Seattle.
In addition, for what it's worth, Bezos' private jet landed in D.C. the day Amazon announced the 20 HQ2 finalists.
Boston
Another city that surfaced in Bezos' private jet travel log was Boston. According to an April report by The Puget Sound Business Journal, Bezos' plane was in Boston just before and after Amazon announced the HQ2 project in October 2017.
Similar to Washington, D.C., Boston also ranks high among the 20 finalists in terms of tech talent availability and proximity to highways and international airports.
Oatlands, Virginia
Although a metropolitan area would be an ideal location for Amazon to call home, about half of Amazon's 20 finalist cities are actually suburban towns.
Some urban planning experts have argued that a suburban area would better fulfill Amazon's construction needs for the HQ2.
By that logic, a recent study by location and demographic data site Sperling's BestPlaces zeroed in on Oatlands, Virginia, a semi-rural town about 35 miles outside of Washington, D.C.
Oatlands checks many boxes on Amazon's criteria list—proximity to an international airport, world-class universities, a rich pool of tech talent and, most importantly, ample land space for new development.
Amazon didn't specifically list Oatlands as one of the 20 finalists, but the town falls within the area of Northern Virginia, which Amazon included on the list.
Raleigh, N.C., Atlanta and Pittsburgh, Pa.
In May, a report by Attom Data Solutions, a firm analyzing national real estate data, named these three cities as the frontrunners in the HQ2 race based on a previously overlooked standard: the life quality of Amazon's future employees.
In concrete terms, that means the local home prices, average school test scores, crime rate, property tax rate and environmental hazard risk.
Experts from Attom Data Solutions argued that home affordability would be a crucial factor for Amazon, because 16 out of the 20 finalist cities have a median home price below that in Seattle, where Amazon's first headquarters is located.
New York City, Newark, N.J. and Chicago
But mega-cities came back to sight again per Amazon's latest hint.
Last month, Amazon reportedly paid second-round visits to these three cities as the company conducted the final round of site evaluations.
New York is particularly hopeful, because it has the best tech talent pool among the 20 finalist cities, according to a labor market analysis by career site Ladders in April.