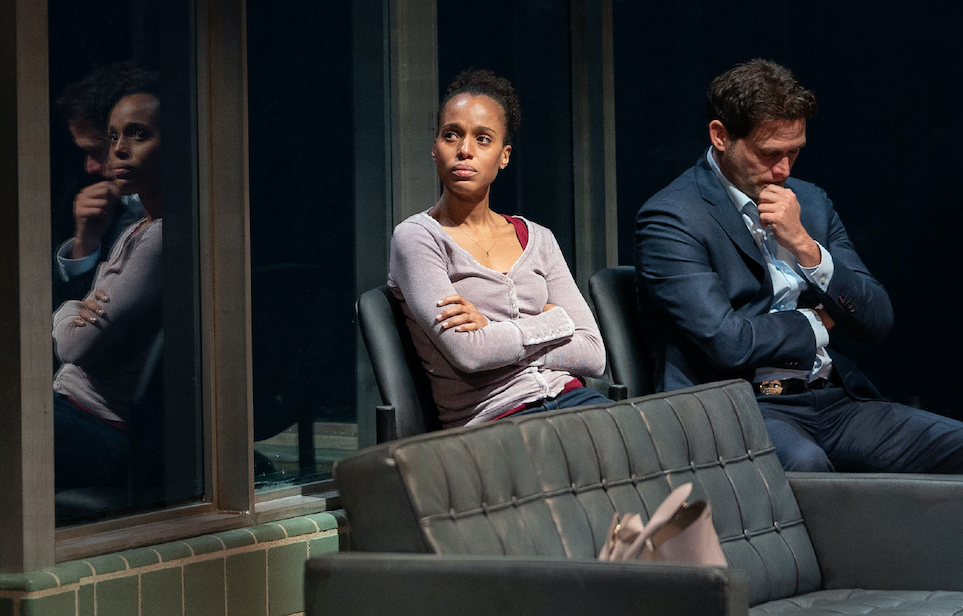 Pow! In the new Broadway play American Son, the hot ticket now lighting up the Booth Theatre, ideas about racism hit you between the eyes so fast you don't have time to blink. TV actress Kerry Washington is superb in a role that plunges her into every imaginable checkpoint on the emotional scale, but it's the ideas that come at you with a fast and furious frenzy that will escort you out of the theater dazed.
Talk about relevant. In the angry, divisive and angst-riddled world we currently inhabit with what seems like a fresh scandal every day, American Son turns over the rocks in the political climate to reveal Democracy-challenging toxins you might not have even considered before. The tension begins the second the curtain rises as pouring rain pounds against the glass windows of a Miami police station at 4 a.m.. Pacing the floor with anxiety that is clearly approaching hysteria, Kendra, a smart, successful black psychology professor and mother of a brilliant 18-year-old son who has gone missing, is trying to find out where her boy is and why the South Florida police are holding his car in the formidable criminal "system." Knowing too well what can happen to a young man of color when he's racially profiled and held in custody without representation, Kendra's nerves seriously fray more with each passing minute while she tries unsuccessfully to reach her husband Scott and extract information from a young, clueless white officer on duty who is no help at all.
Subscribe to Observer's Arts Newsletter
The play takes place in 90 minutes of real time without an intermission break. My kind of play, to be sure. But as the facts emerge, it's clear that American Son is a play concerned more with ideas than plot—valid and troubling ideas, with a finger on the pulse of the chaos we live in now. Too many ideas, perhaps, to keep the viewer in sync with the playwright's narrative trajectory. In the endurance test Kendra must survive in the police station to hold onto her sanity, she is confronted by all of them, begging and battling with people who do nothing to help. First, there's the young rookie cop who reveals so much of his own hidden racial superiority that he can't even bring Kendra a glass of water without mounting tension. (In a sober and beautifully timed change of pace from his usual starring roles in musicals such as Bonnie and Clyde and Newsies, Jeremy Jordan is excellent). Finally, Kendra's husband Scott arrives, bringing the audience the first in a series of shocks: Scott is not only white, but a highly ranked FBI agent. (Another versatile musical star, Steven Pasquale, from The Bridges of Madison County, thrillingly disappears into the role). And eventually, the senior police captain (a forceful, dynamic Eugene Lee) is caught in the middle. He is also an African-American, which adds double weight and controversy to the issues, opening the door to fresh debates about prejudice, the challenges inherent in interracial marriage, and the fading concept of justice for all.
Scott and Kendra are estranged and their split has seriously depressed their son, but they are still caring parents who share both guilt and responsibility for the emotional and cultural problems faced by their mixed-raced son. Everyone has a valid point of view, each expressed with articulate persuasion, although at some point they all stoop to playing their own twisted versions of the race card. Kendra sees racism everywhere, including the "white trash" diction Scott often uses to make a point. She accuses Scott of raising their son to deny his true identity, spending a fortune sending him to the best prep schools and planning his future at West Point. As a result, the boy has rebelled against his privileges with a surly new attitude—growing corn rows, smoking pot with newly acquired black friends and discarding his Guccis. Scott blames Kendra for raising their son "too black," including naming their baby "Jamal."
To the sergeant, it doesn't matter how bright or accomplished the boy is—anyone stopped in a Lexus that sports a bumper sticker that says "KILL COPS!" is still a thug. The message is that when races meet, for whatever reason, everything takes on a racial undertone, and the conflicts that result from ignorance, fear and the misunderstanding of misinterpreted social interaction have no easy solution. Scott is not an unreasonable father, and his desire to save Jamal from failing to fulfill his potential is understandable, but there is no way he could ever understand what it feels like to be black. Kendra, through the years, has experienced the kind of perfect education, beautiful home and enviable white status-symbol-husband her black girlfriends dreamed about growing up, but she can't erase the memory of her own father, beaten to death by vicious white cops when she was five years old and living on pork and beans, while Scott lived across town in luxury, dreaming of being a cop. Some resentments can never be erased, and that's a fact of life, too.
The audience sits transfixed, anticipating the eventual tragedy they know is coming, the parents face the price they've paid for raising a child to falsely believe the world is full of goodness and fair play, and the cops learn something about both the strength and weakness of the law. Acted with dexterity by a great cast, directed with economy by Kenny Leon, and written with knowledge and sobering humanity by Christopher Demos-Brown, a Miami lawyer who knows how to write realistic situations informed by naturalistic dialogue. The result of so much good work is American Son, a profound and unforgettable evening at the theater that challenges the mind, leaves the audience visibly moved, and enhances the Broadway season.