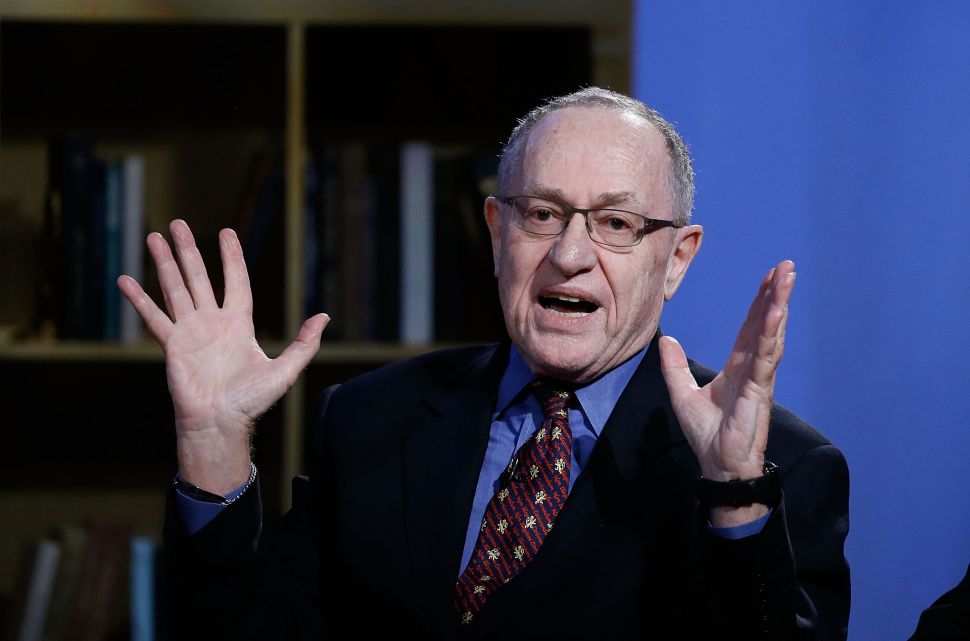 O.J. Simpson wasn't the only controversial benefactor to Trump friendly attorney Alan Dershowitz…
According to a Lobe Log report, Dershowitz received $120,000 in 2017 for serving on the board of the Gatestone Institute, a think-tank with a history of promoting anti-Muslim conspiracy theories.
"The website routinely portrays Muslim migrants and refugees as an existential threat to Europe and the United States, claiming that immigrants bring 'highly infectious diseases,' genital mutilation practices, and terror to any nation that accepts them," The Intercept wrote of the organization in March.
Subscribe to Observer's Politics Newsletter
Behind Gatestone's anti-Muslim vision are some of the most powerful players in Trumpworld. Before joining the White House as National Security Advisor, John Bolton served as the think-tank's chairman, receiving $130,000 for his efforts. The organization receives funding from Trump-allied megadonors Robert and Rebekah Mercer (who contributed over $250,000 to Gatestone between 2014 and 2016).
Lobe Log notes that, under Bolton and Dershowitz's leadership, Gatestone partnered with Rebel Media to produce twelve anti-Muslim videos on such topics as "the dangers of the Islamization of the West" and the European fight against Islamization. Rebel Media has faced accusations of anti-Semitism after a white nationalist associated with the company was arrested by D.C. law enforcement for appearing to encourage violence. Gavin McIness, who encourages followers of his nationalist gang The Proud Boys to assault leftist activists, is also a contributor to Rebel.
Dershowitz, however, denies any involvement with the far-right media outlet.
"I know nothing about Rebel Media. Gatestone pays me my usual speaker and writing fees," the attorney told Lobe Log.