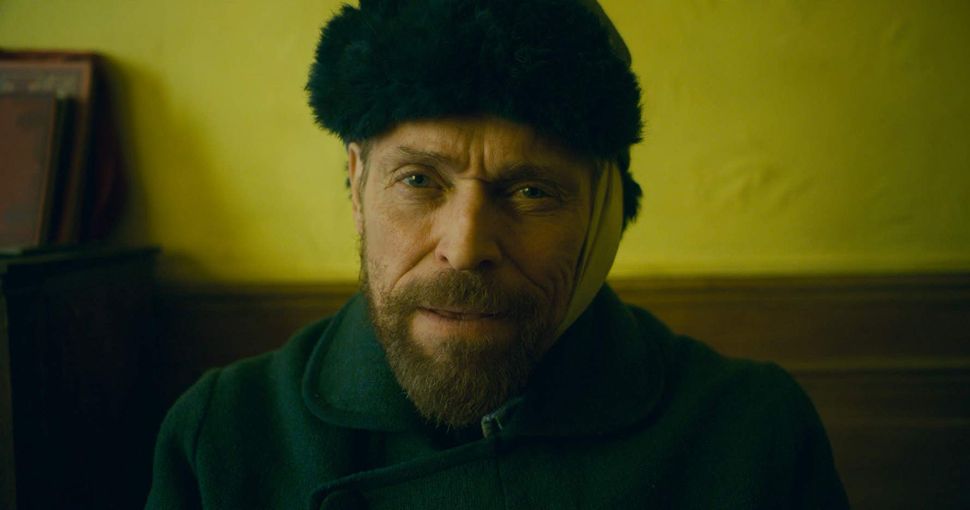 The most famous painter in history spent his final days confined to a mental asylum before dying a nobody. His paintings, which now adorn the halls of prestigious museums around the world, once decorated the walls of his cell.
With such powerful source material, it's a shame that Julian Schnabel's new film, At Eternity's Gate, manages to turn the remarkable story of Vincent van Gogh into just another lackluster biopic.
Over-dramatic, underwhelming, even boring, these are just some of the words that describe a typical biographical picture. Looking at some of the genre's major problems and pitfalls, we come to understand how filmmakers reduce the extraordinary to the ordinary.
Subscribe to Observer's Entertainment Newsletter
Biopics tend to revolve around the misunderstood genius figure whose unique abilities put him or her at odds with society. Often, they get so caught up in getting inside these people's heads and finding out what makes them tick that they forget the supporting cast. And when all the spotlights are set on one person, like in Eternity's Gate, the rest of the world is left in darkness.
But Willem Dafoe's depiction of van Gogh is, it must be said, another highlight in a prolonged career. Some worried the 63-year-old actor might be too old to play the 37-year-old Vincent, but in fact his age only helped him portray someone wise beyond his years. Dafoe's expedition down the depths of this enigmatic character was a success, even if he did not make it all the way to the bottom.
The same cannot be said for the other characters, both outshined by Dafoe's performance and underwritten by Schnabel's script. Even the two most important ones, Vincent's brother, Theo (Rupert Friend), and fellow artist Paul Gauguin (Oscar Isaac) feel more like plot points than real people, and their interactions with the painter are more convenient than realistic.
A single person cannot carry an entire movie. One biopic that recognized this fact was Amadeus, which tells the story of the legendary composer Mozart. Not only does Amadeus have a large and well-developed cast, its screenwriter, Peter Shaffer, also had a valuable insight when it came to the script. Realizing that was impossible for ordinary people to truly get inside the heads of anomalies like Mozart, he opted to tell the story from the perspective of his rival, the embittered but relatable Salieri, whose decades of hard work were rendered worthless by genius's natural talent.
Theo and Gaugin aside, the other characters of Eternity's Gate leave even less of an impression as they pop into Vincent's life randomly and unannounced, as if out of nowhere, much like his paintings. Since the film does not offer any explanation, the only way for you to find out who they are is to get on Wikipedia. What's more, because they don't affect the plot in any way, you cannot even call them plot points. In truth, they're just cameos that serve no purpose other than giving the snobs in the audience an opportunity to poke their neighbors, much like kids do when they catch a reference in a Marvel movie.
Biopics present filmmakers with the daunting task of making sense of life itself. But when you think about it, that's something every movie tries to do. If we judge biopics in the same way as any other film, we begin to see how poorly written they can be. In most cases, the plot is a collection of independent events that barely hang together.
A biopic like Eternity's Gate must be equally enjoyable (and understandable) for people who know everything about van Gogh as for people who have never heard of the guy, and in that respect the film simply does not hold. One film that got this right is The Social Network. Mark Zuckerberg (Jesse Eisenberg) and his supporting cast are explored thoroughly through Aaron Sorkin's clever, multi-layered dialogue. As a movie about a painter and not an entrepreneur, Eternity's Gate naturally doesn't rely as much on words, but even its visuals can't make up for the lack of communication.
In order to breathe life into the subject matter, a good biopic mustn't merely adapt but also interpret. And in order to interpret, filmmakers must take creative liberties. However, they must be careful to twist the fabrics of reality in such a way that it accentuates and clarifies the film's message, not dilutes it.
Eternity's Gate takes several creative liberties, but not all of them turn out equally well. One clever way in which Schnabel choses to represent van Gogh's internal conflict is through visual language, using a color pallet similar to the artist's own work, swaying from sinister and claustrophobic allies to lively and animated landscapes of the French countryside.
Another, less clever way in which Schnabel tries to get inside the painter's head is by shooting a good portion of the film in "van Gogh-vision." It's basically a first-person camera, one so shaky it might even make Michael Bay nauseous. Part of the screen is blurred, too, supposedly to symbolize Vincent's encroaching insanity. All in all, this technique is more annoying than profound. A much more artistic alternative can be discovered in last year's Loving Vincent, an animated movie about the painter's death made entirely in a copycat version of his artistic style.
Looking back on the film, one might recall a line spoken by a calm and happy Vincent towards the final act: "I think about my relationship to eternity." Accepting the cruel fate that's in store for him, the painter finds reassurance where he always has: in the everlasting beauty of nature. Just as this beauty will survive long after he's gone, so too will the beauty that he captured in his paintings. Yet At Eternity's Gate, and the lifeless biopics of the genre that fall prey to the same stylings, might not.