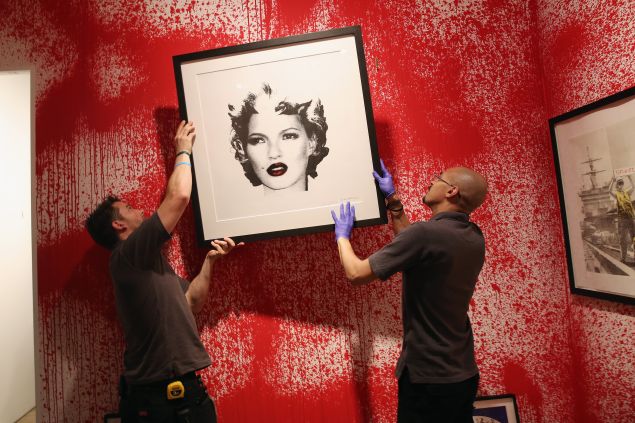 On December 1, a new exhibition called "The Art of Banksy" will open in Miami, and it's set to be the largest ever exhibition of Banksy's work with over 80 of the artist's most notable pieces. But there is one thing missing—the artist. Banksy is currently in no way involved with the show. Rather, it is being put on by Banksy's former art dealer, Steve Lazarides.
This is hardly the first time Lazarides has tried to capitalize on his former business dealings with the artist. "The Art of Banksy" has already appeared in different forms in Melbourne, Berlin, Amsterdam, Tel Aviv, Toronto and Auckland, and Lazarides staged a different show in Sotheby's London galleries in 2014.
Subscribe to Observer's Arts Newsletter
But Miami, the exhibition's final stop, marks its biggest outing by far. Lazarides is opening the show to coincide with Art Basel Miami Beach—arguably the U.S.'s most notable art fair—and the surrounding festivities known as Miami Art Week. So basically he's plopping it right down in the middle of one of the biggest art world gatherings in the world. Toronto brought in a crowd of roughly 50,000, and it would be a surprise if Miami didn't beat those numbers. But even though the general public seems to be loving the show, the artist himself isn't quite as enthused. Here's why:
The Ticket Prices
Adult tickets for entry into The Art of Banksy will cost anywhere from $49.99 to $35.99 (depending on the package and whether you purchase timed entry or general admission). Banksy, known for his anti-capitalist images, probably isn't thrilled about people spending around $50 to see his work. In comparison, when Banksy opened his art attraction Dismaland in 2015, tickets were just £3. And if that weren't clear enough, he himself said it jokingly but succinctly in an Instagram post this last August, "I don't charge people to see my art unless there's a fairground wheel."
Steve Lazarides is Running It
Banksy's website clearly states that: "Banksy is NOT on Facebook, Twitter or represented by Steve Lazarides." Lazarides used to represent Banksy, but the two split all the way back in 2008. There has been no confirmed reason for why they stopped working together, but seeing as Banksy has a warning on his website, it's probably safe to say the relationship did not end well.
It's definitely weird that Lazarides is still trying to capitalize off of Banksy a decade after the two stopped working together. Since ending his business dealings with Lazarides, Banksy has not been represented by any individual or gallery. Seems it went so badly Bansky was soured on dealers for good.
The Promotional Content
The website promoting the show includes a 45 second trailer which can generously be described as corny. The video cuts to different images of Banksy's art while rock music and police sirens play in the background. The show is clearly trying to make some kind of analogy to the rebellious nature of  Banksy's work. Safe to say, it fails.
It Buys Into the Art World—Hook, Line and Sinker
Nobody loves to make fun of the art world more than Banksy. If that wasn't obvious before, his latest, much-talked-about auction prank made it clear. Banksy made headlines all over the world as his famous image, Girl with Balloon, shredded itself right after it sold for $1.3 million.
The Art of Banksy is nothing if not a full-force, unironic participation in the art world. A 20,000 square-foot exhibition during Art Basel Miami Beach? It doesn't get less Bansky than that.