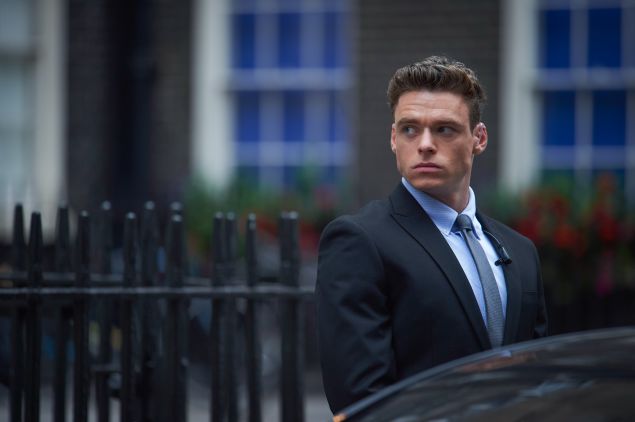 When the BBC's action drama Bodyguard, starring Game of Thrones veteran Richard Madden, premiered in Great Britain, it was an immediate sensation. Like the star's previous big budget, small-screen endeavor, it became the rare show to build a bigger audience week to week, thanks to its pulpy thrills and palpable tension. Now readily accessible to American viewers thanks to Netflix, Bodyguard has racked up a terrific 98 percent on Rotten Tomatoes while drawing comparisons to the U.S. version of House of Cards (for better and for worse).
Madden stars as David Budd, a war veteran-turned-security-expert assigned to protect a controversial British Home Secretary. As he attempts to reconcile his duty with his own personal experiences with war and trauma, David is thrust into a grand conspiracy that threatens national security. Creator Jed Mercurio puts the character through such a toxic hell that even Jack Bauer would be moved to sympathy.
Given the overwhelming response to the series, a second season seems all but assured. But where can the self-contained Bodyguard go next? Madden had a few ideas.
Subscribe to Observer's Entertainment Newsletter
*Warning: spoilers ahead.*
"I also thought, maybe it's going to be like American Horror Story, where in the second series it's a whole different incarnation of it, and I'm a royal and [co-star] Keeley [Hawes] is on my protection team," he told Deadline. "And you get all the rest of the actors back, and we all do different things. But who knows what's in Jed's mind. I'm very keen to hear."
He continued, "Also I think, you know, David Budd, he walks about London with a bomb on. I mean, everyone definitely knows his face now. He can't really slip back into police work again. What's his life like after that?"
Narratively speaking, it feels as if David's story is complete; Madden says as much in the interview. But in today's age of television, where zeitgeist-capturing limited series such as Big Little Lies and American Vandal are stretched to multiple seasons, Madden knows a continuation is likely. But he's open to a little experimentation.
"Yeah, [I can see this as] a really contained little adventure. I think that's a brilliant thing. It's great, you've gone on a big old journey during that. And you go, 'Right, O.K., that's great. Peace,' he said. "But I suppose it's the landscape of TV; maybe we're moving away from, 'Oh, it's good, let's make nine series of it.' Are we going, 'Oh, it's good, let's do something different next?' I'm just really glad it got people watching television, nationally. You know, lots of people watching the same thing."