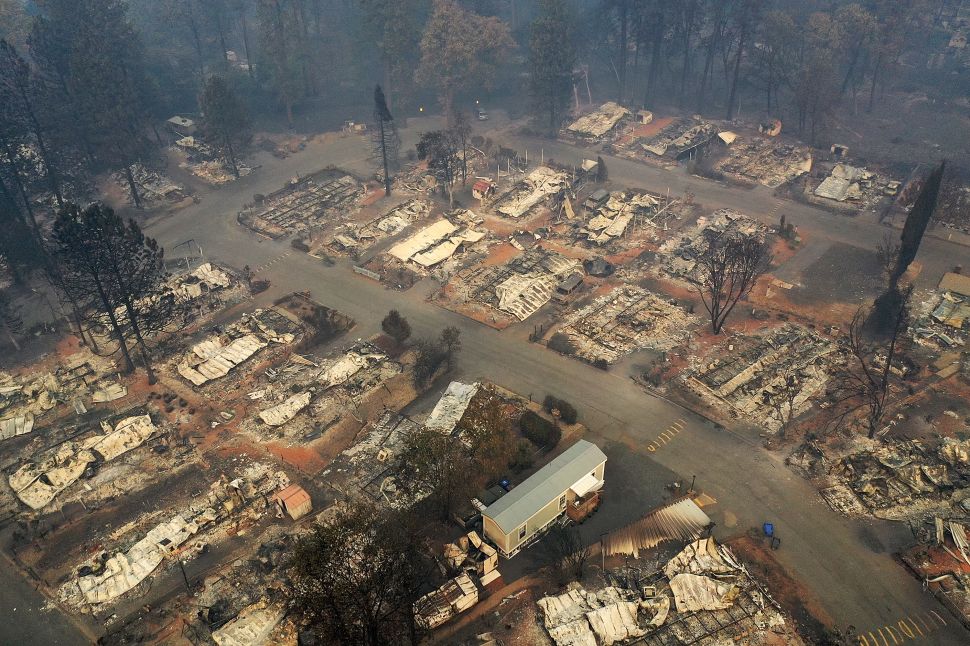 This past weekend, according to my social media feeds, almost everyone I know who lives in the San Francisco Bay Area took an impromptu weekend trip.
Reno, Nevada. Pismo Beach. Oregon, Orange County, Carson City. The destination didn't matter. Anywhere with air better than the toxic campfire blanketing Northern California over the past week qualified. And for a day or two, that included almost anywhere else in the world.
On Friday, air quality in San Francisco and through much of the Bay Area—still covered in smoke from the Camp Fire, the worst-ever wildfire in California history—had deteriorated to some of the absolute worst air around the globe. What was a tragic abstraction—76 people confirmed dead; 1,200 missing; almost 13,000 buildings destroyed, many of them homes, in a state that already has far too few—became a very real and very acute public health crisis.
Subscribe to Observer's Politics Newsletter
Schools and parks closed. Alcatraz Island and San Francisco's cable cars shut down. For those without the means to become a climate refugee for a weekend, libraries stayed open until 9 p.m., so the city's roughly 7,500 homeless people could have a place to breathe. For a few hours, anyway.
The photos posted from Pismo, Reno and all the other places where Bay Area residents fled followed what had been a sort of gallows humor fashion show. Most of the same people, posing with their children, their pets or their bicycles, modeling their new N95 respirator masks. Surgical blue, hardware-store white, child-friendly patterns, a runway show set to a backdrop of hazy ochre hiding the city's famous landmarks, the angry orange of a sunrise or sunset (who can tell anymore?), lending Instagram posts an automatic "doom filter."
Masks are the literal must-have of California's wildfire season, which, thanks to rising temperatures and vanishing precipitation—just two consequences of changes to our climate—is now 12 months long. (Or not: After the state ran out of masks to give out in Sacramento, county officials published a statement claiming the masks might actually make things worse, contradicting direction from elected officials like Sen. Kamala Harris. Talk to your healthcare provider, the advisories said.) They are also a symbol, a sign that life-threatening, life-ending and life-altering events like the biggest-ever wildfire—bigger than the wildfire last year which briefly claimed that title—are now increasingly banal.
On Friday, with California Gov. Jerry Brown and governor-elect Gavin Newsom in tow, President Donald Trump strolled around the sites of still-smoldering homes in Paradise, California, a town of just under 27,000 people, more or less immolated. Paradise is in Butte County, which is in the "other California." Twenty-one percent of the county lives below the poverty line, and incomes are below the national average—which in housing-starved California, makes everyone even poorer after making rent or the mortgage.
As the president, who has blamed the fire on poor "management," mumbled something about raking in Finland—something that has absolutely nothing to do with the crisis at hand—Brown and Newsom, both frequent Trump critics, stood by mostly silently. Brown attributed the fires to climate change. Whatever their cause, the fires will hand Newsom, who will be sworn in as governor in January, his very first crisis: Figuring out what to do with the thousands of fire refugees currently squatting in Walmart parking lots, on church lawns, sleeping in their cars and anywhere else a tent could be set up.
They are not the first climate-change refugees in America—98 percent of a town in Louisiana has vanished due to sea-level rise—but refugees from the Camp Fire are now the starkest and most undeniable signs that sudden human migrations triggered by changes to our surroundings are now a fact of life on earth.
Another fact is that we are very bad at handling such crises. The fire refugees—many of them old, or poor, or in poor health, or all three—need help they aren't getting right now. They will need it for years, and there's no guarantee they will ever get it.
A year after the Tubbs Fire destroyed 5,300 homes in Santa Rosa, fewer than 50 had been rebuilt, according to The Santa Rosa Press Democrat. An earlier study of homes lost to wildfires revealed than just under half of houses were rebuilt within six years after their destruction.
If what happened in Paradise keeps happening—and, according to climate scientists, forest-management experts and the politicians who bother to heed them keep telling us, it will—California's housing crisis, which in turn fuels its homeless crisis, will be exacerbated continuously by global climate change.
Amid this—the commuting to work in a mask, driving five hours so the kids could get through the morning without having to use an inhaler—there were grasps at normalcy. On his way back to the office from a meeting, San Francisco's police chief found time to break up a homeless encampment—an example of what the United Nations has called "cruel and inhuman treatment," and a "violation of multiple human rights," reported in the city's newspaper of record as an example of a hands-on leader rolling up his sleeves to get the job done.
This is a crisis unlike any we have seen, but there are still rules. On Sunday, a makeshift refugee camp set up at a Walmart near the Camp Fire closed after 10 days in operation, a move "meant to nudge" the shell-shocked fire survivors to relocate somewhere else.
If it weren't obvious, these wildfire refugees have no idea where to go or what to do. And neither does anyone else.