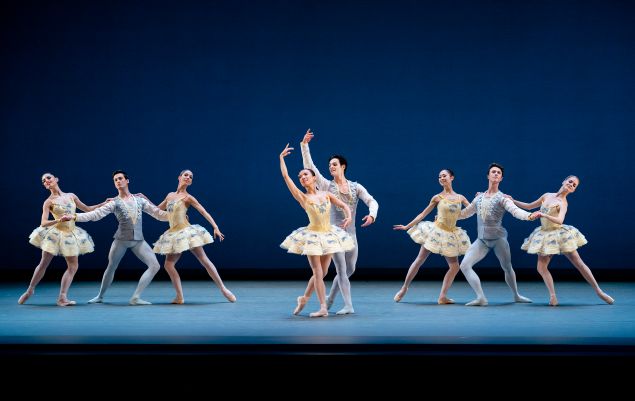 The festival this past week celebrating Balanchine's years at the City Center was held, appropriately, at the City Center. It was here that so many people first encountered him—in my case, in 1948—and saw our lives changed. The theater was fairly musty and dusty in those days (it's been wonderfully restored), but who noticed or cared? Up on that stage was heaven. The audience was sparse, which meant that we could sneak down from the top balcony ($1.20 a ticket) to the first ring or the orchestra. And there on the stage were Tallchief and LeClercq and Adams and Eglevsky, and soon came Hayden and Kent and d'Amboise and Villella and Verdy—and Robbins. (Where are they, now that we need them?) The seasons were short yet thrilling, not only for the level of performance but because masterpieces were popping up out of Balanchine's head what seemed like every minute or so. And we, soaking all this up, were the Happy Few.
This is not merely nostalgia for the old days. The dancers can be seen on film. The ballets are being performed everywhere, all the time. The first thing this festival confirmed, if it needed confirming, is that Mr. B was already a supremely great choreographer long before he moved on to the State Theater in 1964.
At the festival we were shown Apollo, Serenade, Symphony in C, Concerto Barocco, The Four Temperaments, Divertimento No. 15—every one of them a masterpiece. We saw snatches of other masterpieces—Agon, A Midsummer Night's Dream. We saw Scotch Symphony, Tchaikovsky Pas de Deux, Tarentella, and the charming (and demanding) Glinka Pas de Trois, a happy surprise for most of the audience, including some old-time critics, who had never seen it before. And if the festival had had more time—and more money—we might also have seen Prodigal Son, Orpheus, Bourrée Fantasque, La Valse, Firebird, Western Symphony, Stars and Stripes, Square Dance, Episodes, La Sonnambula, Theme and Variations, Liebeslieder Walzer, Swan Lake, Ivesiana, Allegro Brillante, and (remember it?) The Nutcracker. All of these, and more, were performed at the City Center between 1948 and 1964. Has there ever been a luckier audience?
Subscribe to Observer's Arts Newsletter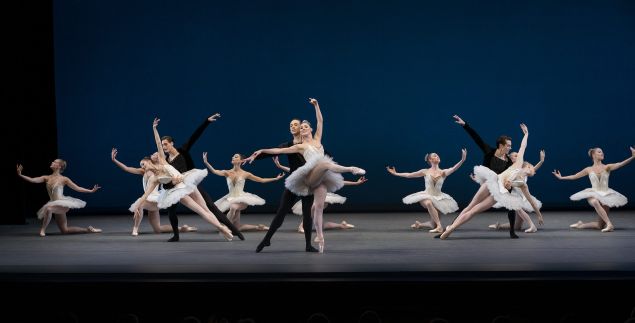 The festival brought in eight companies. Of course New York City Ballet was there, as well as its superb orchestra and two of its conductors. Concerto Barocco fared pretty well, although its two female principals—a very thin Maria Kowroski and a too peppy Abi Stafford—don't really look as though they're in the same ballet. (Russell Janzen was a modest and pleasing presence.) Symphony in C was a mixed blessing, reduced to 43 dancers from the traditional 52 to fit the City Center stage. But I remember the thrill of those 52 rushing on to the stage and having to squeeze into the wings—it made for a tsunami of excitement. This diminished version was more measured: City Ballet doesn't take big chances any longer. As for the principals, Tiler Peck's musicality and assurance prevailed in First Movement. Sara Mearns, for me, is totally unsuited to Second—she's all thrust and assertion, but this great adagio is about beauty and glorious phrasing. (I was spoiled by LeClercq, Kent, Farrell.) Something was off about Ashley Bouder in Third: she didn't seem happy, and she lacks the delicacy and easy fun Third demands—she's a First Movement girl. And Lauren King, whom I usually enjoy a great deal, doesn't have the command Fourth Movement requires. But Symphony in C is Symphony in C, and it was good to see all those thoroughbred corps dancers trying to hold everything together.
The Joffrey did a very respectable job with The Four Temperaments. The two casts of the opening three themes were excellent, and both Melancholic boys were fine dancers, although they were more lively than melancholic—where was that fog of depression they should be battling through? Neither of the Phlegmatics had the faintest idea of what he was meant to be doing. The Choleric was a dervish more than a temperament, but strong and stroppy. Alas, the crucial role—Sanguinic—was a disaster in both casts. One of the women gave us the only smiley Sanguinic I've ever seen. Both were bland and uninteresting in this role that demands fierceness—the four corps girls were wild maenads in contrast. Here's where I really missed Mearns.
The catastrophe of the season were the two offerings from the Mariinsky. Balanchine experts were having fun disputing who was more horrible, Viktoria Tereshkina posturing and simpering through Tchaikovsky Pas de Deux or Xander Parish (British) as Apollo. For me there was no question: Parish's performance was, to be blunt, vile. From the very first moment he was posing, flinging his head back, flaunting his sexiness…fine for a men's underwear ad, but for Apollo? No one had explained to him (or he just didn't listen) that when we first see Apollo he is newborn—a fledgling, barely able to walk; that he is tender with his muses, not scornful; that at the end he is a noble god, not a conceited emperor. The muses were reasonably accomplished—the very young Maria Khoreva outstanding. But so what? An Apollo without an Apollo is a non-event. This was a sacrilege. Bring on the Hague International Court of Justice—or at least the Balanchine Trust.
The two dancers the Paris Opéra Ballet sent over to do the pas de deux from Agon knew what it was meant to be, and were highly effective. Alas, another Paris couple, performing the great second-act pas de deux from A Midsummer Night's Dream, were underwhelming. But this pas de deux should never be extracted from its setting, where it's an island of beauty and calm in the midst of happy turbulence. Alone, it's a naked orphan.
The Royal sent only one couple, to perform Tarentella and Tchai Pas. They needn't have bothered.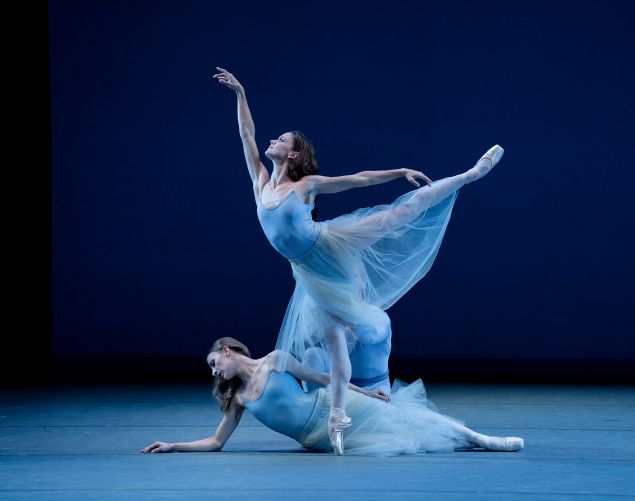 ABT transferred Symphonie Concertante from the Koch, where they've been performing it in recent weeks. I didn't care for it then, as I've reported here recently; I didn't stay to see it again. And about Miami City Ballet I can't speak, since I'm closely associated with the company, other than to report that they opened the festival with Serenade, appropriate since it was Balanchine's first American ballet—and treated us to the Glinka.
Kudos to San Francisco, who although their principals are somewhat bland, really looked terrific in both Divertimento No.15 and Scotch Symphony. They're true Balanchine dancers, imbued with the musicality, elegance, and command that implies. We can only hope that the next time they come to town, they bring more of their Balanchine repertory and less of their home-grown product.
So: Thanks to the City Center for letting us once again experience our greatest choreographer in the place where he did his greatest work. A revelation, I suspect, for those who had never seen these ballets on this stage, and a rejoicing for those of us who were born on 55th Street and came to love ballet—and Balanchine—there.