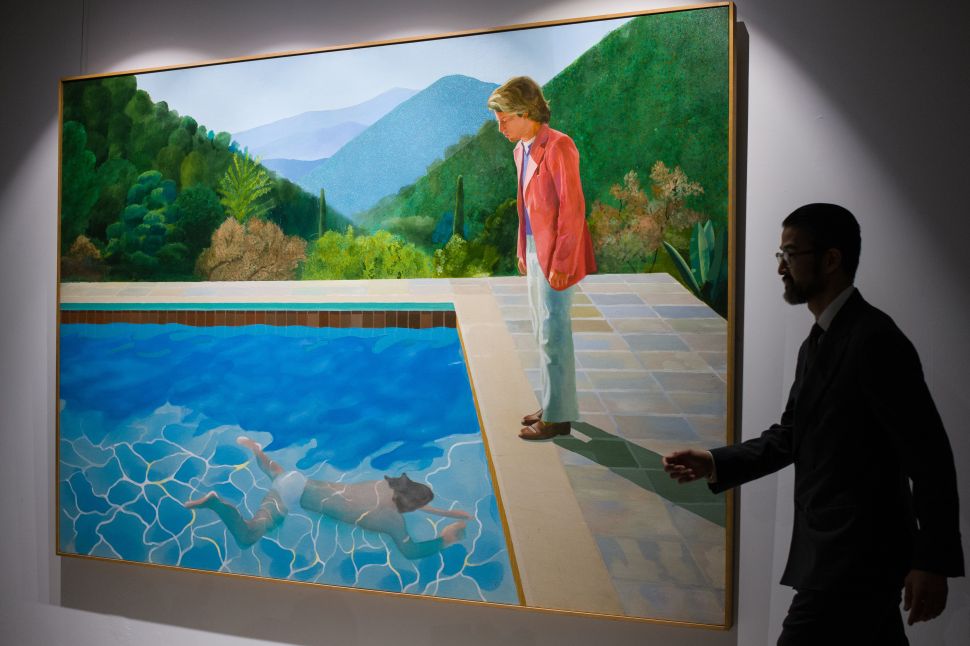 British artist David Hockney, a multidisciplinary master who helped usher in the Pop Art movement midway through the 20th century, has broken a record in a characteristically bombastic fashion. Hockney's 1972 stunner Portrait of an Artist (Pool with Two Figures) just sold at Christie's for $90.3 million dollars, the highest price ever paid at an auction for a work by a living artist.
The painting is considered by many to be Hockney's most brilliant and important work, and it's easy to see why. Portrait functions as a huge-in-scale snapshot of a staggeringly beautiful landscape that somehow doesn't detract from its main subjects: the mysterious bather and the watcher looming over him.
Despite the sun-drenched midday setting, there's an irrefutable air of menace to the way the man in the pink jacket surveys the person submerged underwater; it's as if he's about to pounce. Not only is the piece simply wonderful, but the fact that Hockney is still alive and kicking at 81 and drawing these kinds of auction prices speaks to his unprecedented influence as a painter.
Subscribe to Observer's Arts Newsletter
According to the contextual background facts provided by Christie's, Hockney was inspired to make the painting after finding two photographs side by side on his studio floor. One picture featured a person swimming in Hollywood in 1966, and the other was of a boy staring at something he'd seen on the ground.
The rolling mountain hills are situated in the south of France, and the man in the jacket and jeans is assumed to represent Peter Schlesinger, Hockney's one-time lover and muse (the two met while Hockney taught classes at UCLA).
Seeing this piece in person is an essential bullet point on the bucket list of any self-respecting patron of the arts, or at least it was: In 2017,  New York's Metropolitan Museum of the Arts hosted a comprehensive Hockney retrospective that included Pool with Two Figures, in addition to dozens of his other extraordinary creations.
The identity of the painting's buyer is still unknown, but the only individual capable of dropping nearly $100 million on a work of art is likely to either keep it locked away in storage for safekeeping or display it very prominently in a private residence, far away from the prying eyes of the museum-going public. What a shame, as Hockney's genius should be experienced by all.