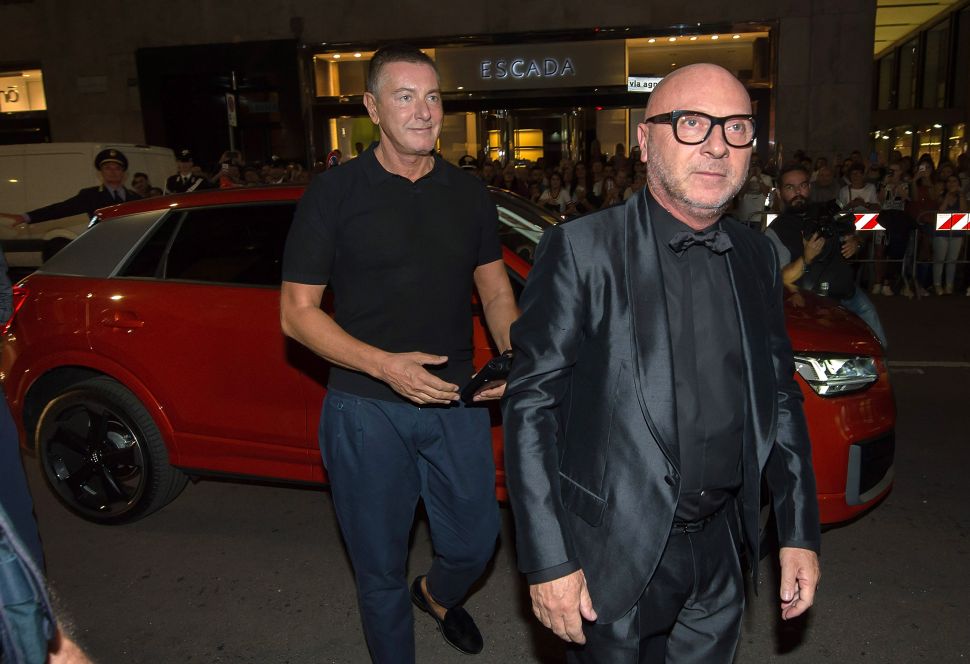 In response to public outcry over what many are calling a racist and discriminatory advertisement on Instagram that's since been removed, the Italian fashion house Dolce & Gabbana has elected to cancel an upcoming runway show in Shanghai.
In addition to the offensive messaging from the brand's official account itself, comments made via Instagram DM by creative director Stefano Gabbana have also emerged in which Gabbana allegedly dismisses the backlash. However, Gabbana insists that his account was hacked and that the quotes are not his own.
"It was deleted by Chinese social media because my office is stupid as the superiority of the Chinese," a screenshot of Gabbana's alleged comments reads in part.
Subscribe to Observer's Lifestyle Newsletter
https://www.instagram.com/p/BqSGMfKCWiJ/?utm_source=ig_web_copy_link
Whether or not Gabbana is telling the truth, Dolce & Gabbana has courted intense criticism for years by embracing a devil-may-care attitude that scoffs in the face of political correctness. In other words, both creative directors say incredibly offensive things constantly, seemingly without remorse, and their "we don't care who we piss off" ethos has extended outwards to contaminate the rest of the brand.
In 2017, when Melania Trump expressed her love of D&G, Gabbano displayed just how fine with this he was by reposting pictures of the First Lady wearing Dolce & Gabanna on his Instagram account.
When non-Trump-supporter customers expressed fury about Melania's affiliation with the company, Dolce & Gabbana reacted by manufacturing tongue in cheek "#BOYCOTT Dolce & Gabbana" T-shirts. Nice! Very subtle.
But that's far from the brand's only instance of courting controversy. Dolce & Gabbana once tried to get away with selling a $2,935 shoe they labeled a "slave sandal;" another time, a shoe manufactured by the brand was instantly rejected because of the words "thin and gorgeous" written on the side.
In 2012, D&G showed a collection littered with racist mammy images and fabric patterns.
Gabbana once dismissed children born via IVF as "synthetic." In another instance, he opined that sexual assault is "not violence."
In other words, this brand is trash, and has been for a very long time. Maybe it's time to boycott Dolce & Gabbana for real.