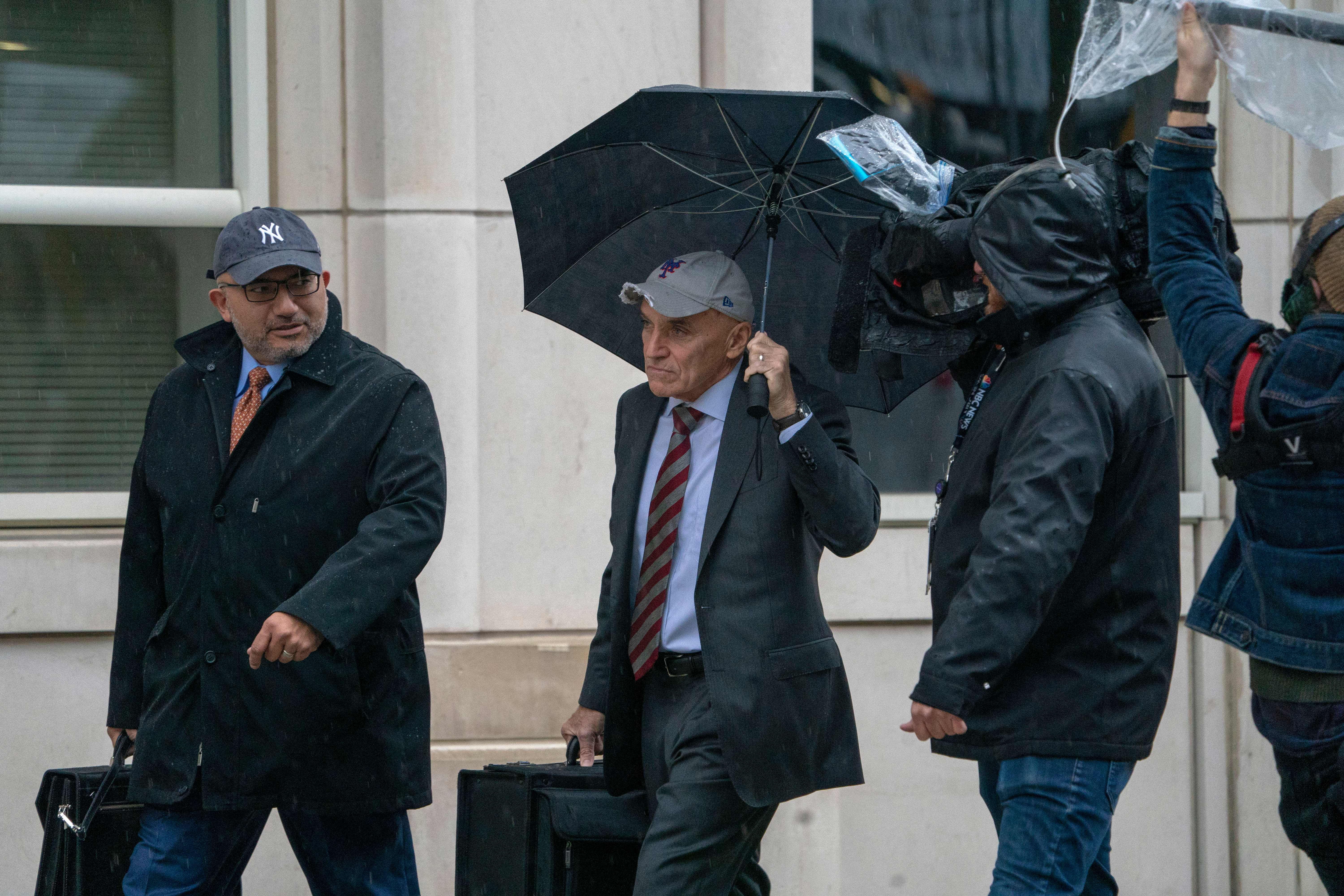 In the first six days of Joaquin 'El Chapo' Guzman's trial, federal prosecutor Gina Parlovecchio had 30 years' worth of evidence and a major witness at her disposal, but there is one area that the Mexican crime lord's defense team is clearly winning: entertainment value.
William Purpura and El Chapo's other lawyers may need to pull a Cool Hand Luke-level stunt to win this case, and they know it. During his cross examination of ex-cartel lieutenant Jesus Zambada Garcia, Purpura was an underdog with the swagger of a champion.
Subscribe to Observer's Politics Newsletter
Purpura looked loose, and seemed to speak off the cuff. More than once he joked about his poor pronunciation of names. He paced the room so much during questioning that it was requested he wear a lapel mic. "I do seem to stray," Purpura said with a smile. He attacked Zambada's memory in his statements about older events with a forceful charisma. "Do you remember what you ate for your birthday 17 years ago?" he asked to laughs from onlookers.
He also attacked Zambada's credibility by picking apart statements to the U.S. government after his 2008 capture, many of which focused on other cartel members. "No mention of Chapo when the info was fresh in your mind, correct?" queried Purpura confidently.
Purpura focused on trying to redirect Zambada's testimony from El Chapo to El Mayo (Zambada's brother, and ex business partner). "Actually, my brother was the very head [of the Sinaloa Cartel]," read Purpura, dragging out another quote from his mass of paperwork.
It is hard to make bloody drug money seem uninteresting, but this team of prosecutors managed to do it at times. Purpura's aggressiveness and emotion was a counter to the prosecution, which at points sounded robotic, reading questions off as if they were directions to building an Ikea dresser. Much of the questioning was about locations and figures (as Zambada was an accountant) rather than the hair-raising murders.
"If I was in the jury, I'd be bored to death," said Arturo Hernandez, a defense attorney of 35 years, who recently helped represent Alfredo Vasquez-Hernandez (another high-ranking cartel member), after the first day of questioning. "It's not as easy as reading a novel to the jury."
One of the predicted highlights centered on how the drugs got across, including the extensive network of tunnels that were Chapo's preferred method to get drugs across the US border, and carry money and weapons back. But during times of increased U.S. security—when the preferred tunnels cannot be used—the cartel also sent "small cars with compartments" to blend in with the traffic at the border, said Zambada, making it very hard for authorities to capture them.
Those tunnels and cars would not be possible without cartel bribes at all levels of government, starting with low level police officers, then working up to include federal highway police, the PGR (Mexico's version of the FBI), the Attorney General, and even INTERPOL, Zambada claimed. It took $300,000 a month to secure Mexico City, which was under Zambada's control. "More or less," he said.
Cartel bribes reached even the highest offices. Zambada admitted to succeeding in bribing Garcia Luna, Mexico's Secretary of Public Security in 2006, with $3 million in a briefcase.
This stylistic battle, the prosecution doing a textbook job of methodically working its way through paperwork while the defense looked for more of an emotional appeal, continued long after the opening statements. Adam Fels, the federal prosecutor, spoke carefully and deliberately. His statements sounded like the promo for a Netflix documentary that promised never before seen texts, videos, and recorded conversations. Chapo's undoing would happen "in his own words" with witnesses that promise to "pierce" the drug tycoon's inner circle.
As a counter, Jeffrey Lichtman, the man who got John Gotti, Jr. off, promised to give the "uglier side to this story." He threw his hands down in emphasis on some occasions, while imploring the jury to "open your minds."
 In a case with so many unknowns, the main questions center around the jury, and ultimately, what they are thinking. All look as if they could have been randomly picked off an A-train, but that is all that can be seen. They silently take notes, and occasionally rub their eyes as the trial moves on.
One thing is for sure, the viewers were more engaged during Purpura's cross-examination, occasionally laughing and gasping. It got so loud that Judge Cogan had to remind everyone, "This is a courtroom" after lunch.