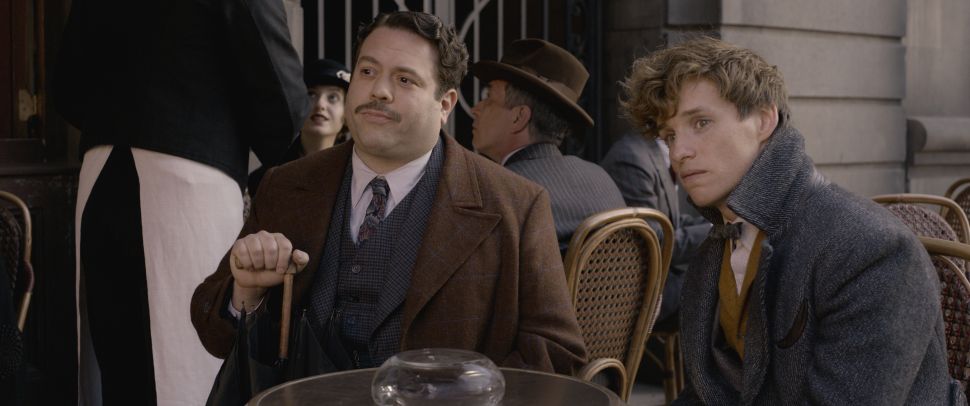 The Harry Potter anthology holds a special place in our hearts. It's one of those rare, perfect stories—and for that reason, it's maybe better left untouched by the dirty hands of capitalism. Still, in the age of cinematic universes, who can blame Warner Bros. for trying to milk a popular intellectual property?
Upon its release, fans had mixed feelings about 2016's Fantastic Beasts and Where to Find Them. On the one hand, they were excited to revisit the Wizarding World; on the other, they feared this spin-off would ultimately disgrace the legacy of the Boy Who Lived. Unfortunately, with its bad pacing, flat characters, incoherent story lines and an unsatisfying plot twist, the film was mostly a disappointment. It reached for the same melody as a Harry Potter movie, but just couldn't hit the notes. For a while, all hope seemed to hinge on its sequel, The Crimes of Grindelwald.
Sadly, however, this second installment, which hit cinemas last Friday, hasn't turned the series around, instead taking us down the same dull, lonely path embarked on by its predecessor. Fantastic Beasts as a whole does possess attractive elements that could form the basis of a worthwhile prequel franchise, but ultimately doesn't coalesce into the riveting offshoot fans were anticipating.
Subscribe to Observer's Entertainment Newsletter
Writer J.K. Rowling—who penned both screenplays—made a poor choice to combine two disparate stories in the first Fantastic Beasts that don't mesh well. What we expected from that film was an innocent and inconsequential story about Newt Scamander (Eddie Redmayne), an aloof yet amiable magizoologist on a ridiculously impossible quest to recapture a hoard of magical creatures he accidentally released into the streets of New York. What we got instead was an awkward and lopsided introduction to a dark tale of global proportions that was laced with political overtones, one that began the moment Newt unknowingly crossed paths with Gellert Grindelwald (Johnny Depp), a dark wizard hell-bent on world domination. It's a jarring rug pull and, worse, it relies on a tired twist.
Despite differences in tone and scope, the two stories could actually fit together with some massaging, at least from a thematic standpoint. Both center on our tendency to distrust what we don't understand. Newt's love of strange creatures makes him an anomaly to the Wizarding World, and his open-mindedness allows him to understand what others cannot begin to comprehend, and find value in places where they do not dare to look. Similarly, Grindelwald is on a mission to end, or so he proclaims, the separation between the magical and non-magical worlds. Like some sort of apostle, he warns the magical community that their unwillingness to understand muggles could one day lead to their downfall. Unlike the mismatched slapstick tone of the first Beasts film, at least this thread has some narrative precedent in the Wizarding World franchise.
The Harry Potter series already introduced us to the irrational animosity that can exist between wizards and muggles—take the Malfoys and the Dursleys, for example. But Fantastic Beasts takes it up a notch by showing us how deeply rooted this discrimination is around the world. For instance, we learn that the Magical Congress of America federally prohibits marriage between wizards and muggles. This means that the concept of pureblood does not exist in America, because pretty much every American wizard is a pureblood by default. But even as The Crimes of Grindelwald was marketed as a darker chapter in this series, the final product doesn't really delve into the nuances of the conflict. Rather, it's a hodgepodge of references and Easter eggs draped around characters we don't much care about and a scotch-taped plot. In the end, you're not quite sure what Rowling is trying to say about anything.
Another way the series approaches functionality before skittering off the edge is how it does precisely what a prequel or sequel should do: answer questions the original story did not. But whether or not they are compelling answers is up for debate. (It's also time for a new face behind the camera; director David Yates has overseen the past six Wizarding World movies). Since the events of Harry Potter took place in Great Britain, many of us wondered what the rest of the Wizarding World looked like. Now and then Rowling would offer us a few glimpses, like with the Quidditch World Cup and the Tri-Wizard Tournament. Still, much of its environs remained shrouded in mystery.
Fantastic Beasts and Where to Find Them is set in New York City, and takes the opportunity to explore the American magical community thoroughly. The film's setup even echoes Sorcerer's Stone—when we first accompanied Harry to Hogwarts, we knew as much about magic as he did, and this time around we were as clueless about American customs as Newt was. Crimes of Grindelwald takes the cast to Paris, but whereas its predecessor offered an in-depth analysis of American culture through its fantastical representation, touching on issues of bureaucratic inefficiency, capital punishment, racial tensions and national security, the most we are able to glean from the Parisian magical community is that its inhabitants speak with French accents and that the inside of their ministry looks like the Louvre. Rowling, you can do better than that.
George R.R. Martin, the author of the books that formed the basis for HBO's Game of Thrones, once said that a fictional world is like an iceberg—the story the audience sees is only a fraction of what's hidden beneath the surface. This analogy holds especially true for the Wizarding World. Unfortunately, the more this cinematic universe expands, the more lifeless it feels. The allure of Rowling's stories derives from their sense of mystery. Once everything has been explored, with little left to the imagination, their world becomes static and, ironically, quite limited. This may be the single greatest obstacle the Fantastic Beasts series faces: Perhaps its sheer existence prevents it from ever achieving the magic it's trying so hard to capture.