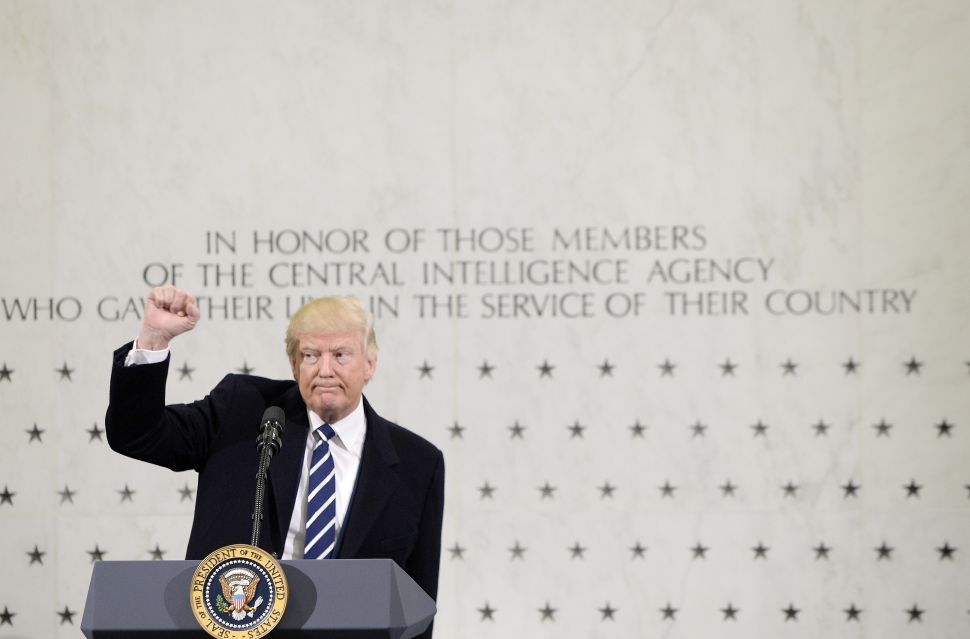 Prominent CIA alumni are rebuking President Trump's attack on William McRaven—the retired Navy Seal and Special Operations commander who oversaw the raid on Osama bin Laden.
"I was in the room when @CIA Director Leon Panetta gave President @BarackObama's formal order to Admiral Bill McRaven to commence the Bin Laden raid," tweeted former CIA spokesman George Little on Sunday. "McRaven was calm, cool, and collected: the model of a leader. Unlike our current commander-in-chief."
"Correction needed to POTUS's comment today that McRaven should have found bin Laden sooner," added former CIA Deputy Director Michael Morell. "CIA did the 'finding.' McRaven's special operators did the 'getting.'"
Subscribe to Observer's Politics Newsletter
During a Sunday interview with Fox News, Trump called McRaven a "Hillary Clinton fan" and "Obama backer," before criticizing the four-star admiral for the amount of time it took to kill bin Laden.
"Wouldn't it have been nice if we got Osama bin Laden a lot sooner than that, wouldn't it have been nice?" said the president. "You know, living—think of this—living in Pakistan, beautifully in Pakistan, in what I guess they considered a nice mansion, I don't know, I've seen nicer. But living in Pakistan right next to the military academy, everybody in Pakistan knew he was there."
Other ex-CIA officials are siding with Morell's assertion that McRaven was not at fault for the raid's timetable.
"It was an intelligence operation in conjunction with the military to get that information over the course of many years," former CIA officer David Priess told Observer. "Why didn't it happen sooner? Because we had to develop the sources and get the information to even get the probability he was there."
"Putting McRaven on that seems kind of silly because that wasn't McRaven's job," continued Priess. "McRaven's job was to execute the mission."
Priess also speculated Trump was responding to McRaven's criticisms toward his presidency. In an op-ed for The Washington Post published in August, the former Navy admiral accused Trump of employing "McCarthy-era tactics" while humiliating the United States "on the world stage."
"He has a habit of attacking current and former apolitical national security and law enforcement types who either don't seem to be praising him or pointing out how different Trump is from his predecessors," explained the former CIA officer. "It seems to me he's more instinctual and reactive than strategic. I doubt that he had days upon days of meeting with his advisors and doing test polls and focus groups on an attack on McRaven. I think he just put it out there because he was frustrated and lashed out. It is his style. It has worked in many ways."
In true Trumpian style, the president doubled down on his attacks against McRaven on Monday morning.
"Of course we should have captured Osama Bin Laden long before we did," tweeted Trump. "I pointed him out in my book just BEFORE the attack on the World Trade Center."