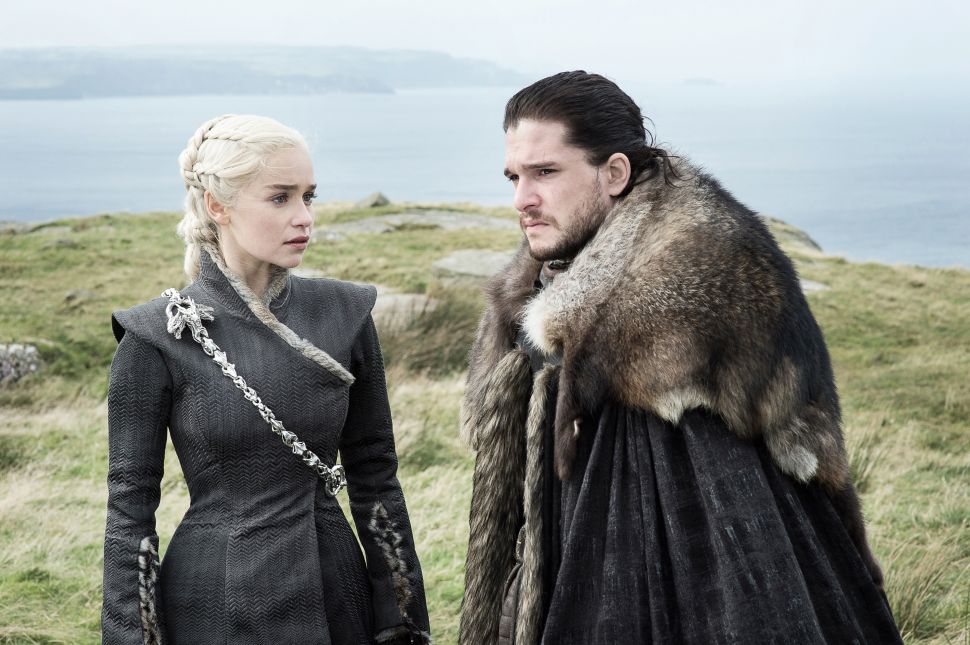 While everyone is still speculating wildly about who Naomi Watts will play in the Game of Thrones prequel spin-off, one might be forgiven for forgetting that the last season of the main show is still around the corner. Expected to arrive in summer 2019, Season 8 will feature six supersize episodes that cost $15 million a pop and will resemble a blockbuster epic more than a television show. But in typical Game of Thrones fashion, everything about the final run is being kept tightly under wraps.
Fortunately, Entertainment Weekly got a sneak peak at what's to come, and we're not being facetious when we say that it sounds like TV may never be the same again.
Last year, reports from the set teased a massive battle at a crucial GoT location. Now, thanks to EW, it has been confirmed that the eighth season will begin with the most ambitious action sequence in small-screen history, set smack-dab in the middle of Winterfell.
Subscribe to Observer's Entertainment Newsletter
"Season 8 opens at Winterfell with an episode that contains plenty of callbacks to the show's pilot," EW's James Hibberd writes. "Instead of King Robert's procession arriving, it's Daenerys and her army. What follows is a thrilling and tense intermingling of characters—some of whom have never previously met, many who have messy histories—as they all prepare to face the inevitable invasion of the Army of the Dead."
Co-executive producer Bryan Cogman further synthesized the final season's themes, saying, "It's about all of these disparate characters coming together to face a common enemy, dealing with their own past, and defining the person they want to be in the face of certain death. It's an incredibly emotional, haunting, bittersweet final season, and I think it honors very much what [author George R.R. Martin] set out to do—which is flipping this kind of story on its head."
The piece goes on to say that a surprising number of characters appear in the series finale that fans might not have expected to see. But with this will come interpersonal drama. For example, Season 8 will feature tension between Sansa Stark (Sophie Turner) and Jon Snow (Kit Harington) after he bent the knee to Daenerys (Emilia Clarke) last season. But the true clash that Game of Thrones has been building up to ever since its first scene is the fight between our heroes and the White Walkers.
"The drama builds to a confrontation with the Army of the Dead that's expected to be the most sustained action sequence ever made for television or film," Hibberd writes. "One episode… is wall-to-wall action, courtesy of 'Battle of the Bastards' director Miguel Sapochnik."
Peter Dinklage, who stars as Tyrion Lannister, said it best when he described the 55-plus day battle shoot as "brutal… it makes 'Battle of the Bastards' look like a theme park."
Regardless of the ultimate outcome, it's safe to say that fans across the world—30 million of whom tune into every episode across all platforms—are ready for Game of Thrones to conclude its sprawling tale and complete one of the most impressive runs in television history.