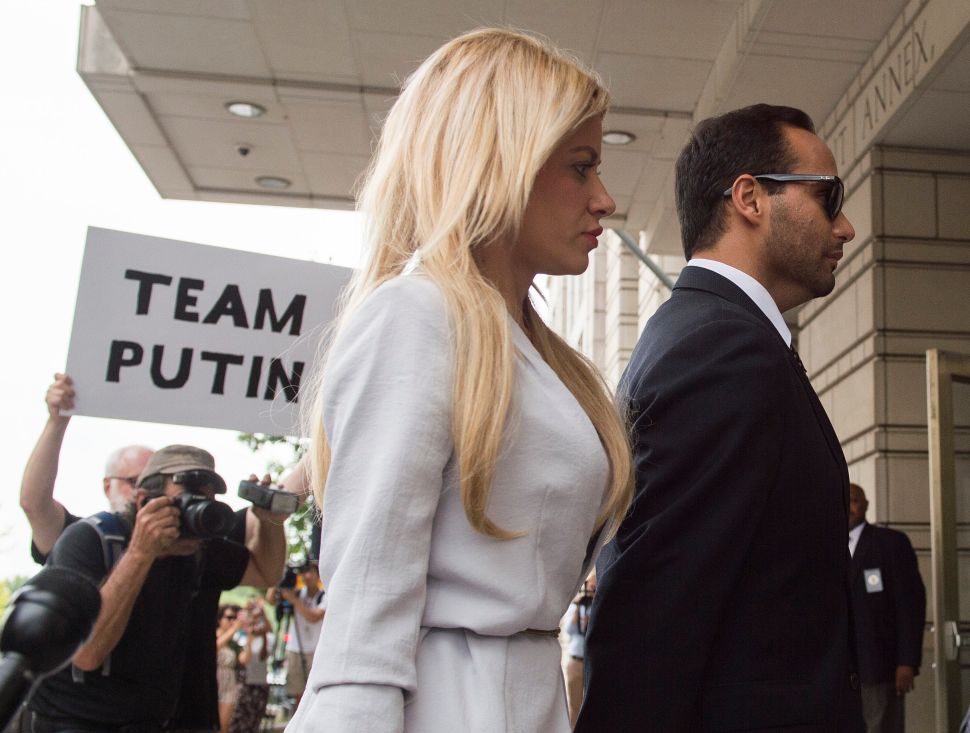 After George Papadopoulos was sentenced to fourteen days in prison for lying to federal investigators working on behalf of special counsel Robert Mueller, the former Trump advisor, whose loose lips with foreign diplomats landed him at the center of Russiagate, began a media tour-de-force. Throughout September and October, Papadopoulos freewheeled between television interviews to spin a counter-tale that the shadowy professor with high-level Kremlin ties who had promised him dirt on Hillary Clinton in London was in cahoots with Western intelligence. That professor, Joseph Mifsud, has been missing since 2017.
From appearances on The View to Tucker Carlson Tonight, Papadopoulos became the latest Trump-era firebrand to opt for media over policy, working overtime to discredit law enforcement agencies and cement his narrative as the dominant one.
"George has a lot to tell us and I'm glad he's finding his audience," former Trump advisor Michael Caputo, who once referred to Papadopoulos as a lowly "coffee boy," told Observer. "He deserves to be heard. His country failed him."
Subscribe to Observer's Politics Newsletter
Standing by his side is his wife, Simona Mangiante, an Italian lawyer whose own ties to Misfud and other work for foreign governments has fueled unconfirmed suspicions that she herself could be a Kremlin operative. There is talk of a book deal. There are rumors of a Hollywood film based on the career of the iconic French actress Brigitte Bardot—with Simona playing the lead.
"I am indeed going to tell my story about our marriage and how I landed in this situation," Simona told Observer.
But as the power couple embraces fame and notoriety, George's relationship with his family has deteriorated amid an escalating bloodline feud, which now appears to be spilling out into the public square.
"Simona has destroyed George's relationship with his family," one close relative who asked not to be identified told Observer. "She has been physically and mentally abusive. Successfully isolating him from all his friends and family. Only his half-sister now has a relationship with him but at one point she had stopped speaking to him."
Simona, who denies the claims "absolutely," alleges the Papadopoulos clan is "deeply dysfunctional" and says she fears them more than the FBI.
"They are making all their best to get me 'deported'," said Simona. "I had to hire lawyers yesterday to defend myself."
The family member Observer spoke to confirmed they had reported her to immigration services—news of which first broke from independent journalist Scott Stedman last week.
Simona in turn said she was victim to "defamation and harassment" by her in-laws, before providing the contact information of her attorney.
George and Simona met through LinkedIn, due to their mutual working relationship with Misfud, and questions have hung over Simona's background since she first emerged in the Russia saga. In an interview with ABC in September, she claimed Mueller's team questioned her about any ties she might have to Russian intelligence because, she admitted, her profile was "quite alarming" and her connection to George "highly suspicious." For Halloween, she trolled America by dressing as a red sparrow.
Shortly after Observer requested comment about her immigration status, Simona tweeted that "reporting to authorities false information with the purpose to incriminate someone is punished with 7 years incarceration."
Amid the turbulence, George says he remains committed to his partner.
"My family is Simona," said George. "I do not know what 'family' you are talking about as we don't have communication with my maternal or paternal side in Chicago. It's my understanding that certain members of that group are slandering my wife and lying about her."
Some in George's family, however, view it differently.
"What happens is, they fight and George tells everything that goes on with them and when they make up, he pretends nothing was ever wrong," said the relative.