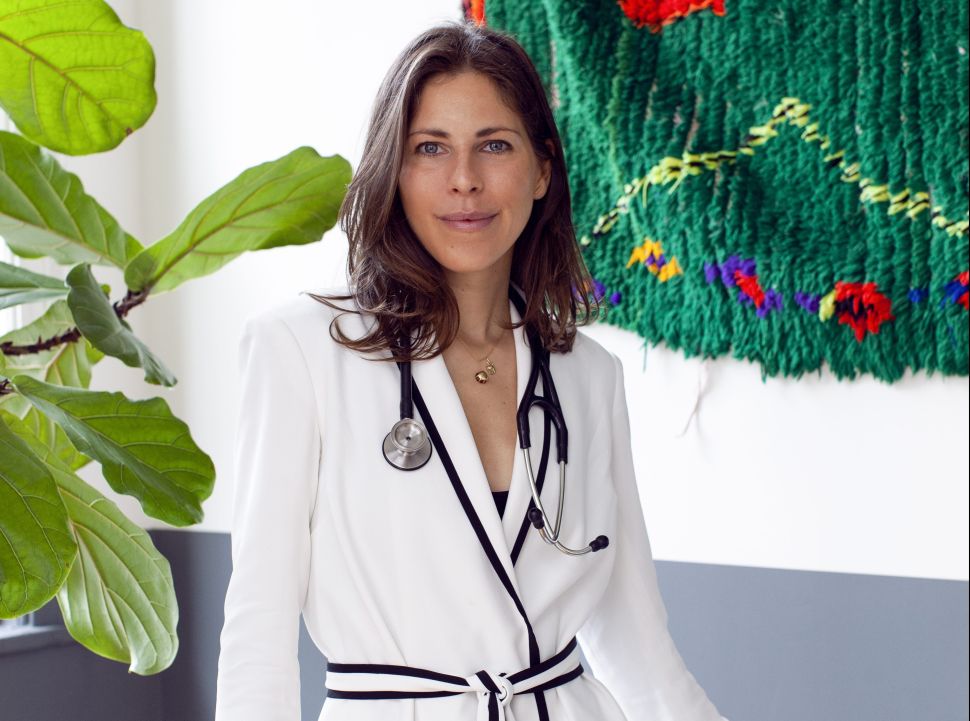 What is health if not confusing? Eggs were bad before becoming good again, and the only thing anyone agrees upon when it comes to red meat, red wine, and dairy is that we must never stop attempting to classify them as explicitly "right" or "wrong." You can no longer do Instagram without at least one kid you knew in high school spewing evangelically about keto/vegan/paleo/only fruit/all meat diets, and the most-hyped woman in wellness has been smacked with yet another false advertising suit.
Every industry, health and wellness included, wants your money. So we're not going to try to digest what it means to be "influential" or "in Goop health," and we also aren't going to rank power players by numbers, followers, revenue or media hugs. While the below entrepreneurs might disagree among themselves about how best to accomplish it, they are all inspired by one goal: To improve our collective health by teaching the world to make better, more informed choices about food. These people sell things not made of celery juice or snake oil, and their businesses have grown rapidly because of it. But perhaps most importantly, they made this list because we are excited to watch them keep growing through 2019.
Subscribe to Observer's Lifestyle Newsletter
Hannah Bronfman, Founder of HBFIT
Hannah Bronfman has had a year. In the past 12 months the socialite-turned-DJ-turned-fitness-influencer launched HBFIT, a wellness destination for "all things health, beauty, and fitness," released a line of hemp-, spirulina-, matcha-, chia-, and tumeric-infused juices, bars and "rawnolas" in collaboration with Sabrina Diaz of Grass Roots Juicery, and joined Dua Lipa, Karlie Kloss, Shay Mitchell, and Garbiñe Muguruza as the face of a capsule collection for Adidas.
Bronfman is two months out from releasing her first book, "Do What Feels Good," and this past weekend joined Bumble Chief Brand Officer Alex Williamson and BeautyBlender founder Rea Ann Silva at the Girlboss Rally in New York. Speaking to brand-building on social media, she cautioned the audience: "We've hit a ceiling with the amount of perfectness that we can tolerate." Bronfman has over half-a-million followers between her personal Instagram and @HBFIT.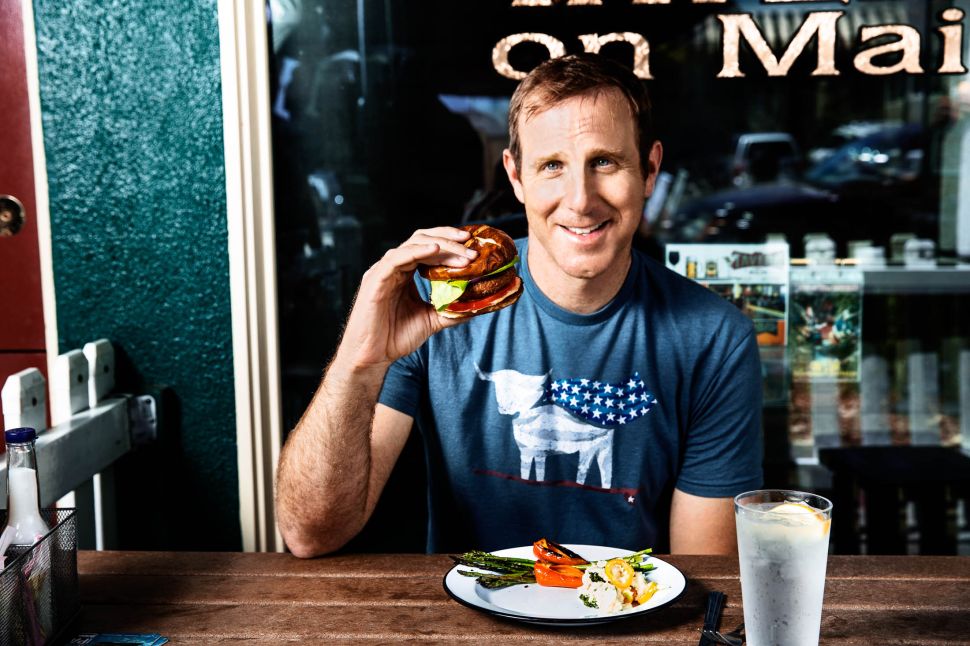 Ethan Brown, Founder + CEO of Beyond Meat
To Ethan Brown, "the future of protein" is Beyond Meat, his line of plant-based burgers, sausages and "crumbles" that use 99 percent less water, 93 percent less land, and 43 percent less energy than traditional beef. And so far, a lot of people seem to agree with him. Though the company was founded nearly 10 years ago, it was the 2016 launch of the Beyond Burger, a product that "bleeds" beet juice and has sold more than 25 million units, that truly put Beyond Meat on the map—both literally and figuratively.
Since introducing the burgers to Hong Kong last year (the first market outside the U.S. to carry the brand, and one notorious for its love affair with meat) sales for Beyond Burgers in the territory have quadrupled. Brown himself is a vegan, but refuses to "demonize the consumption of beef," perhaps because an incredible 86 percent of his customers are meat eaters. At the beginning of this year, Brown counted $72 million in funding from investors like Bill Gates, the Humane Society of the United States, former McDonald's CEO Don Thompson, and Tyson Foods, which owns five percent of the company. Last month, Brown was rumored to be exploring an IPO which, if true, would make Beyond Meat the first vegan brand ever to go public.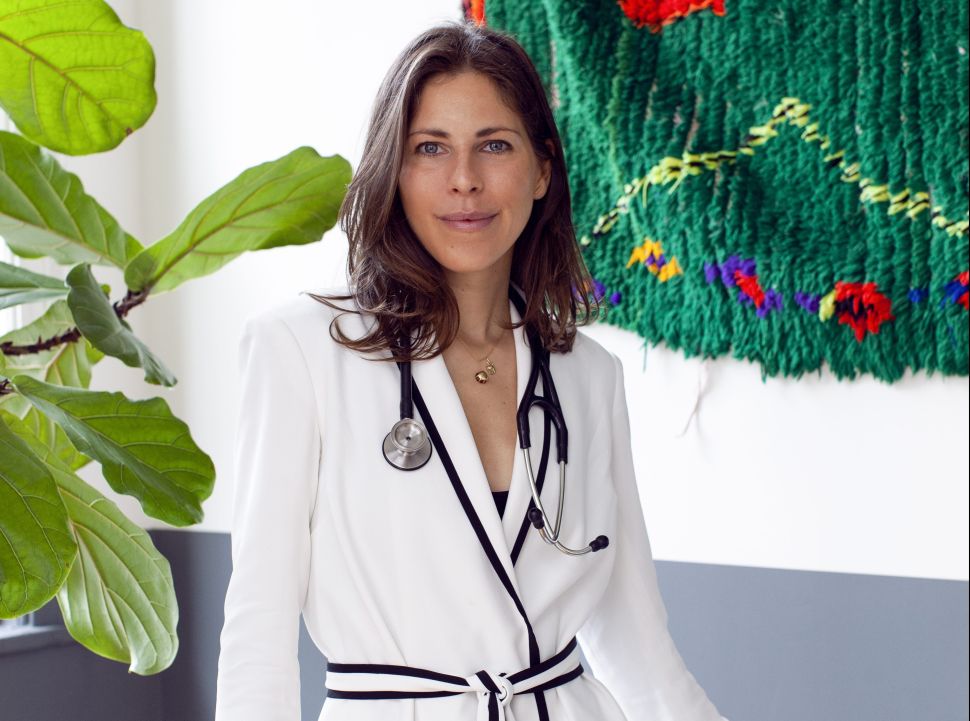 Robin Berzin, Founder + CEO of Parsley Health
Just two years after launching Parsley Health, Robin Berzin's membership-based primary care practice has already attracted $10 million in Series A funding. Though led by FirstMark Capital, Parsley Health's roster of individual investors reads like a who's who of millennial-minded innovators: Nat Turner, CEO of Flatiron Health; Neil Parikh, co-founder of Casper; and Dave Gilboa, co-founder of Warby Parker among them.
As noted by TechCrunch, the average adult spends 19 minutes with their physician every year—a system Berzin endeavors to fix by combining modern medicine with smart technology (or, what one writer described as "the Uber for blood"). Priced between $150-250 per month with zero copays per visit, Parsley Health claims to be "the only doctor that reduces prescription drugs by 86 percent." Instead, Berzin's full-time troupe of integrative MDs take a functional approach to medicine, prioritizing dietary changes to improve digestion, hormonal imbalances, mental health, and the gut microbiome—before calling on armies of pills.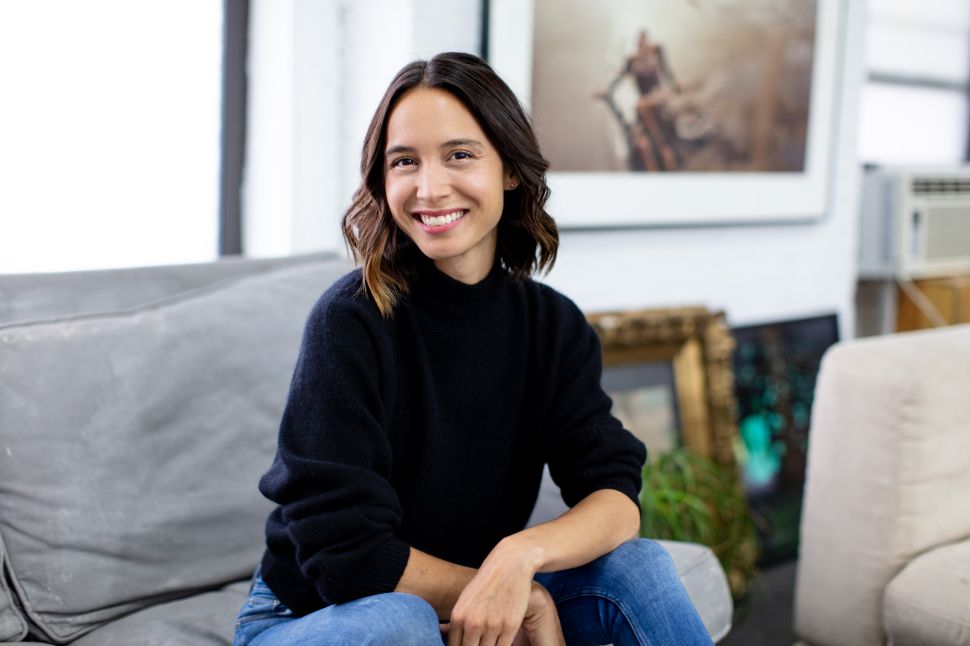 Nicole Centeno, Founder + CEO of Splendid Spoon
Nicole Centeno made "souping" a verb in 2016, just three years after founding Splendid Spoon, her line of Brooklyn-made, vegan, non-GMO, gluten-free organic soups and smoothies. Since 2013, Centeno's business has grown into a nationally distributed, subscription-based, direct-to-consumer meal service that (according to Forbes) now ships over 100,000 frozen soups each month and grosses more than $10 million annually. "Spooning throughout the week meant I never missed out on my greens (and reds and oranges and purples)," Centeno explains.
And in an increasingly crowded space, her offering isn't just easy (no meal prep or actual cooking involved), but relatively affordable; at $95 per week, Splendid Spoon is less than half the cost of comparable plant-based, ready-to-eat meal plans on the market. Centeno's soups are carried by most New York-based Whole Foods, and Splendid Spoon was recently selected to be one of the inaugural brands stocked at WeMRKT, which unveiled in June as a place to shop for "products made with passion and purpose" by WeWork members (Centeno operates out the South Williamsburg coworking space).
PARTNER: Nicholas Stone, Founder + CEO of Bluestone Lane
In a world where caffeine is increasingly bastardized by caramel, whipped cream, plastic straws, and food coloring, Nicholas Stone's Bluestone Lane coffee is a breath of fresh… brew? Since opening his first cafe in New York City in 2013, Stone has expanded to 33 locations across the country. Every outpost pours Bluestone Lane's own line of artisanal coffee beans, roasted in a dedicated 10,000-square-foot space in DUMBO, Brooklyn, on a Loring Smart Roast s35 Kestrel—apparently the most efficient and environmentally friendly device on the market. But if you can't get your cup of joe from one of Bluestone Lane's expert baristas (seriously! their coffee director has a whopping 15 years of experience—and the Instagram following to prove it) fret not, because the coffee is sold online for just $14 each.
And of course, there's food. The company's self-described "refined product proposition" boasts an impressive assortment of hearty, healthy, savory snacks and meals, from avocado smash on Balthazar toast to coconut quinoa and oat porridge, Husk Bakeshop's gluten-free vegan banana bread, and eggs pretty much every way. Beyond coffee, there's kombucha, beet lattes, matcha lattes, and golden lattes (which, in case you don't read mindbodygreen, are made from turmeric powder, cinnamon, ginger and black pepper, good for detoxifying the body and reducing inflammation). How often do you find mouth-watering foods beloved by models and athletes alike?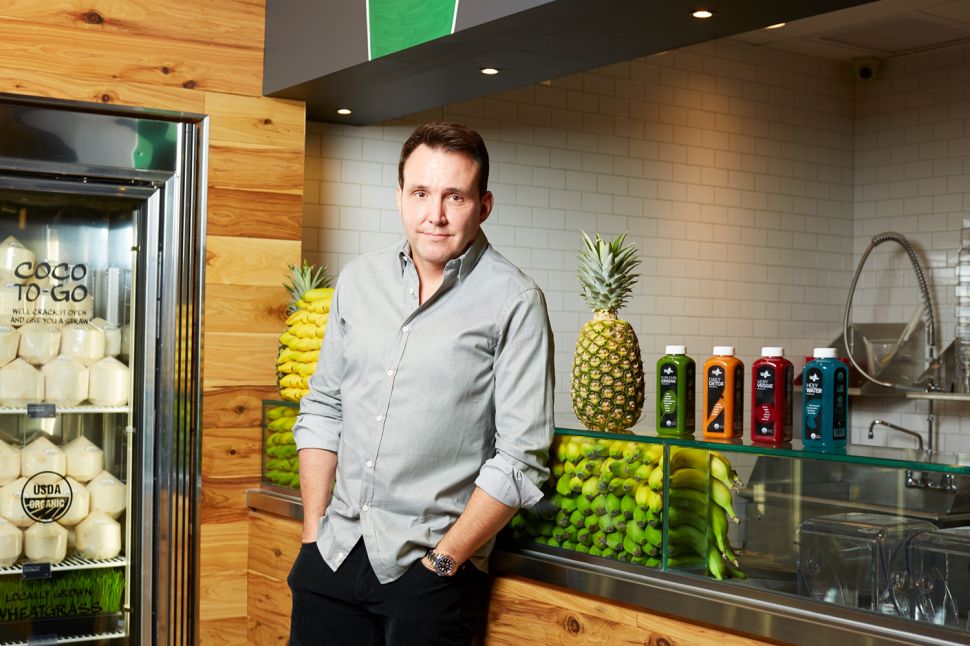 Eric Helms, Founder + CEO of Juice Generation
If the media's obsession with celery juice isn't evidence that, yes, we are still very much doing this, consider that the cold pressed juice market in the U.S. is forecasted to practically double between now and 2024, growing to $8.1 billion. Eric Helms' Juice Generation is among the brands profiled in Research And Markets' 92-page report, released this past April—and one of the few private companies to make the list of goliaths like Starbucks (which owns Evolution Fresh), Pepsico (Naked Juice), Hain (BluePrint), and Coca-Cola (Suja Juice).
"I see a lot of brands, when they take investors, they have to open 15 locations at once," he told Observer, in a nod to the death of Organic Avenue following its acquisition by Weld North. When Helms opened his first Juice Generation in 1999, "the climate was quite different, there were just a few people in the industry—and [Organic Avenue co-founders] Doug and Denise were some of the most authentic. We were competitors, but with a very healthy respect for each other." He sighs, "I never want to be on that treadmill." Helms opened his 19th location in May.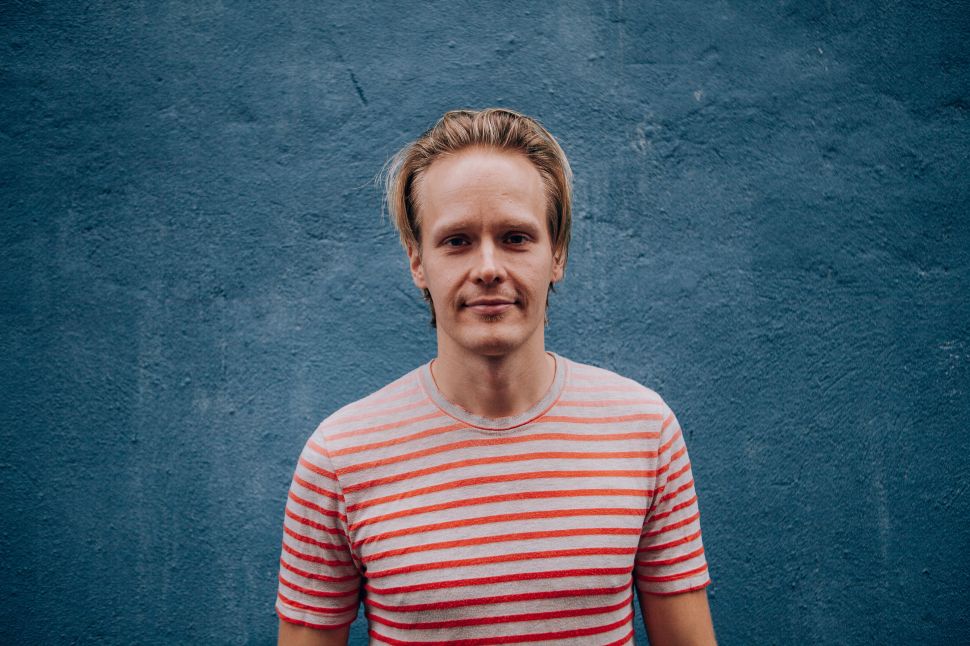 Tero Isokauppila, Founder of Four Sigmatic
In 2012, Tero Isokauppila founded Four Sigmatic, a "natural superfoods company" that specializes in adaptogenic mushroom-based coffees, teas, and cocoa powders. The medicinal mushroom industry is exploding, with market value expected to exceed $50 billion in the next four years—and Isokauppila seemingly leading the way. His first book, Healing Mushrooms, published last October, was an Amazon bestseller, earning a near-perfect rating for its detailed breakdown the myriad benefits of reishi, chaga, and cordyceps—the mushrooms Isokauppila's family has foraged for 13 generations.
The Finnish entrepreneur's line of "functional fungi" has tripled in annual growth, prompting some to declare a "shroom boom," and others to ask "how come?" Despite being distributed across 55 countries and in over 1,000 stores nationwide, it's the company's recent pickup by Sephora that's perhaps most telling. Last month, the retailer with a mega-grip on the $56.4 billion U.S. cosmetics market added Four Sigmatic to their "skincare and beauty" offering—one of only a handful of ingestible products sold by the LVMH-owned brand.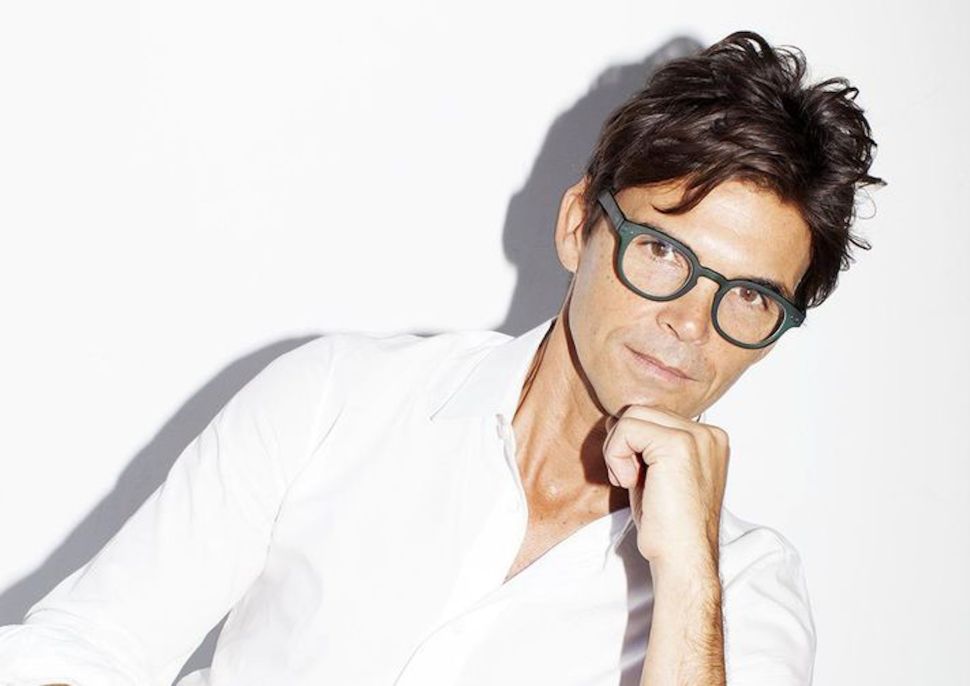 Matthew Kenney, Plant-Based Chef and Restaurateur
Matthew Kenney wasn't wasn't always a vegan. But if anyone needs convincing that a plant-based diet is maybe rocket fuel, over the past year the entrepreneurial chef has opened 12 new upscale cafes, fast-casual concepts, and restaurants—all, of course, vegan—with 13 more slated for 2019. Though the bulk of his properties are spread throughout New York City and Los Angeles, by the end of next year Kenney will have expanded into Boston, Orlando, Chicago, London, Edmonton, Sydney, Bogota, Buenos Aires, Sao Paulo, and Bahrain.
"We have a responsibility to do what is right and what is best for the world," the French Culinary Institute grad explains in his 11th book, PLANTLAB: Crafting the Future of Food, published last November. "Chefs have the ability to improve global health more than doctors, politicians, and educators, combined," he writes. Up next? In an email to Observer, Kenney confirmed his team has "five product lines in production, a hotel development in Costa Rica, and possibly a plant-based food hall in New England."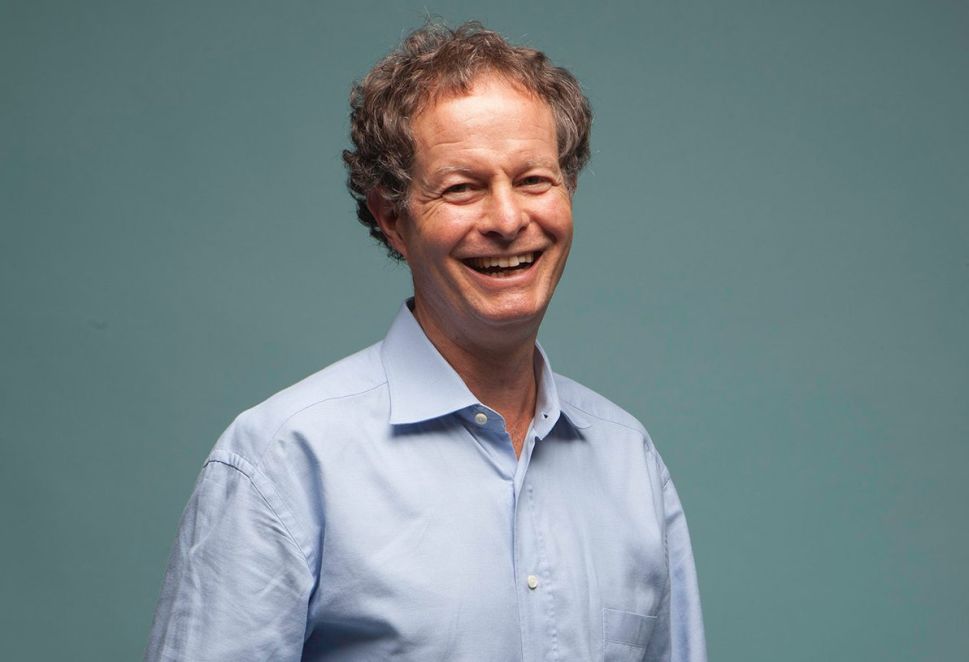 John Mackey, Co-Founder + CEO of Whole Foods
John Mackey was about to hit the road for a tour promoting his second book—then he got a call from Jeff Bezos, the Amazon founder who acquired Mackey's high-end grocer Whole Foods in Amazon's largest deal ever. 
In the 18 months since the all-cash purchase, "a media narrative" that, according to Mackey, "wasn't based on anything" reported Whole Foods' quality to be tanking, damaged and otherwise in decline—none of which, according to him, is true. Finally on tour to promote The Whole Foods Diet, Mackey confirms revenue is up, that Whole Foods never would have been able to reduce prices multiple times (as they have under Amazon) without instant death to profits, and that it was "love at first sight" with Bezos. Together, they've brought groceries on-demand via Prime Now to 68 cities, and plan to expand Amazon Go (no checkout lines required) nationally. 
Ben McKean, Founder + CEO of Hungryroot
In 2017, Ben McKean closed his business—because it was too successful. Just two years after launching Hungryroot, his line of nutrient-dense, vegan and gluten-free foods—like Almond Chickpea Cookie Dough, "a gooey, guiltless treat…with 50 percent less sugar, carbs, and fat than the leading cookie dough brand"— had hit $1 million in monthly revenue, and raised $13.5 million in funding. But McKean knew that if his company continued to grow, he'd eventually be unable fulfill demand.
So for six months McKean repositioned the business—expanding from one to 12 production facilities, downsizing from 70 to 15 employees, and refocusing on marketing and technology (rather than on fulfillment)—and reopened Hungryroot in September of last year. Since then, revenue has tripled to $3 million per month and McKean secured an additional $22 million in Series B funding. What's next? In an email to Observer, McKean confirms Hungryroot is expanding to non-vegan and non-gluten-free options, like salmon, chicken sausage, grains and sprouted flatbreads—but that vegetables will remain at the core of each meal.