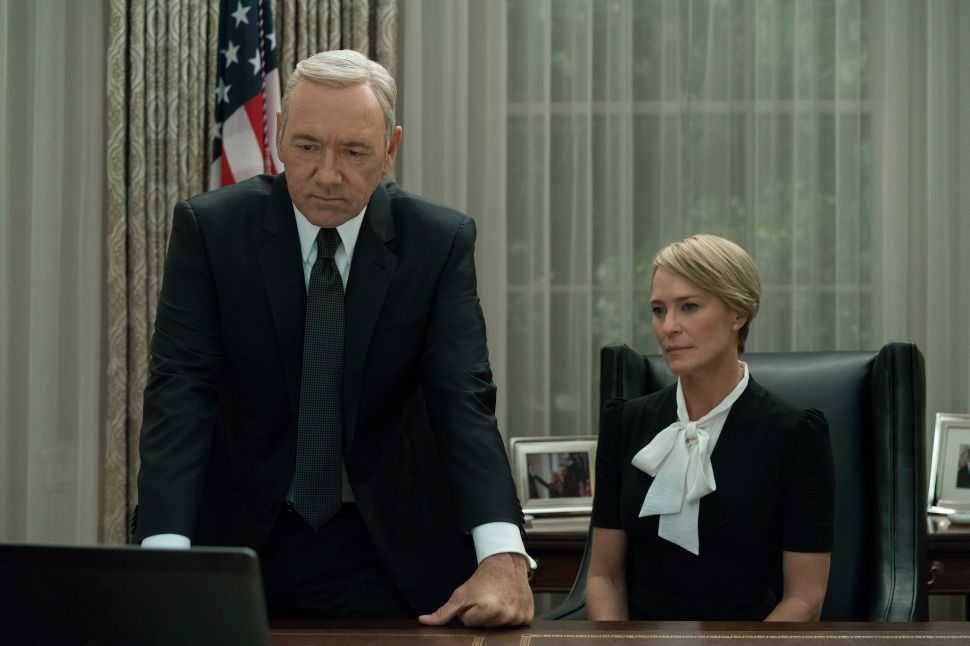 Co-showrunners Melissa James Gibson and Frank Pugliese and their writing team had already mapped out nine episodes for the final season of House of Cards when actor Anthony Rapp accused Kevin Spacey of making unwanted sexual advances toward him when he was 14.
Within a week, more than a dozen men came forward with similar accusations of sexual assault, sexual harassment and attempted rape against the two-time Oscar winner. Netflix cut ties with Spacey almost immediately, and the streamer's flagship series was placed on an indefinite hold with no clarity regarding its future. Some rumors suggested an imminent cancellation, while others hinted at a spin-off. But in the end, the most obvious answer was to promote Robin Wright and her character Claire Underwood, who was now set to take over the White House, to the show's lead.
In a recent interview with Vulture, those involved behind the scenes revealed new details about the original plans for the show's final season.
"The season of House of Cards written before the Spacey revelations revolved around Claire coercing Frank into giving her a divorce," Maria Elena Fernandez wrote. "Frank would retreat into the background as he fought to keep his hold on the Oval Office with the help of two new characters, the Shepherds, sibling corporate Republican power brokers (played by Greg Kinnear and Diane Lane) modeled after the real-life Koch brothers. With their money and influence, the Shepherds controlled Frank Underwood's White House. But they couldn't control Claire's; the season would have pitted Frank against Claire until the bitter end."
Subscribe to Observer's Entertainment Newsletter
These ideas about power and gender would mainly be expressed through the deteriorating relationship between Frank and Claire, which was, to put it mildly, never the healthiest. But the creative team had not yet settled on a definitive conclusion to the Underwood war. Some writers wanted to see Claire win, while others were debating a scenario in which both Underwoods walked away victorious while the American people lost out. "That felt right for our times," story editor Tian Jun Gu said. "To see the horrors play out in their victory would have been interesting without being too moralistic."
On a broader level, House of Cards was pulling from real-life events to inform the story choices and thematics for Season 6. Story editor Sharon Hoffman explained, "It was very surreal because, at the time, it was the very beginning of the #MeToo movement, which was influencing our story and [within it], what it was like to be president and female."
Season 5 concluded with Claire ascending to the Oval Office and leaving Frank behind. The writers hoped to use this twist as a springboard to a larger story about a female president enduring blatant misogyny while battling with the patriarchy. However, Gibson saw it as "perverse" for the final arc to center around a woman in power being held back by men. "On a meta level, it just didn't seem right to let things happening outside the show […] end the series that way," Pugliese added.
House of Cards Season 6 is now available to stream on Netflix.