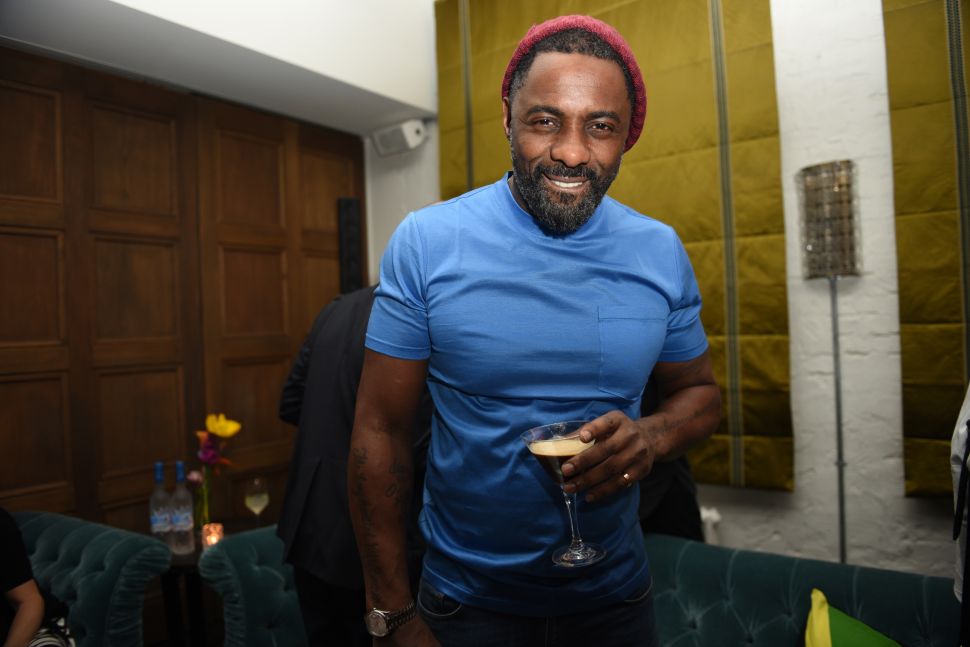 British actor Idris Elba has just been awarded the title of People magazine's Sexiest Man Alive, an accolade of which he is extraordinarily deserving. But Elba has other talents that don't involve looking amazing while playing Machiavellian drug kingpins and Norse superheroes.
The actor is also a DJ who performs under the name DJ Big Driis, and to celebrate the honor that People has bestowed upon him, he has released a Spotify compilation of the "sexiest songs ever."
You heard right: Idris Elba, the star of literally millions of private bedroom fantasies, has dropped a naughty playlist. But does the Sexiest Man Alive have good taste in sex music? Let's undress that, shall we?
[protected-iframe id="6076b1e8468cf3eefa3ae5668fbe6e12-35584880-142952571″ info="https://open.spotify.com/embed/user/peoplemag/playlist/6qqvqOZaDuTec296a6BXua" width="300″ height="380″ frameborder="0″]
Right off the bat, it must be said that Elba's nine-song playlist, which is made up entirely of soul and R&B, includes two of the most cliché sex songs ever to play during a love scene in a romantic comedy. It kicks off with "Let's Get It On" by Marvin Gaye and concludes with "Let's Stay Together" by Al Green.
There are a few core ingredients that make up a good, sturdy sex playlist, and one of the essential ones is that the first few songs should keep the mood relatively playful (if only initially)."Let's Stay Together" and "Let's Get It On" are undeniable classics, but they're so overplayed and so canonically associated with PG-13 antics that blasting these tunes in the bedroom would probably just make someone giggly, not comfortably turned on.
Fortunately, Elba gets a little warmer and redeems himself with the second song: Jodeci's "Cry For You," an ode to allowing one's self to be emotionally vulnerable in front of one's partner. Boys, a little bit of light crying is hot! We can confirm this.
https://www.youtube.com/watch?v=716klJCYfwM
Then we roll into the smooth and funky "Try Love Again" by The Natural Four—another winner. The song's boisterous horns summon a vision of a young professional woman racing uptown in a cab to meet her boyfriend for a date at Copain in the year 1975. It's a little chaste and brimming with hope.
Next up is "Brotha" by Angie Stone, which is Stone's passionate love letter to black men in addition to a flat-out face-melter of a sex song. "You mean so much to me, you give me what I need / I'm so proud of you, I said I'm so proud of you / I love you for stayin' strong, you got it goin' on," she croons. A one-night-stand song this is certainly not. (For the record, the best one-night-stand song of all time is "Wicked Game" by Chris Isaak, and that's final.)
The next three songs—"Prisoner of Love" by James Brown, "Turn Your Lights Down Low" by Bob Marley and Lauryn Hill and "Rock With You" by Michael Jackson—are the playlist's highlights. The yearning romanticism of Brown's track perfectly gives way to the pulsing throb of the beat as Marley and Hill exchange verses, and the cumulative effect of this auditory pairing results in a, uh, climax of sorts.
"Rock With You" represents the ecstatic afterglow, with MJ's joyful vocals providing the perfect denouement.
After that, Elba's choices go a little flaccid, as Alicia Keys' "Unbreakable" is followed by the aforementioned Al Green standby. But all in all, the playlist more than qualifies as an appropriate soundtrack for horny people with lust on the brain.
The actor's taste in music is sensual, ardent and deliciously indulgent, which checks out (he's a Virgo). Also, Elba gets points for brevity: The playlist clocks in at only 38 minutes, and everyone knows that sex starts to get bad if it goes on for much longer.