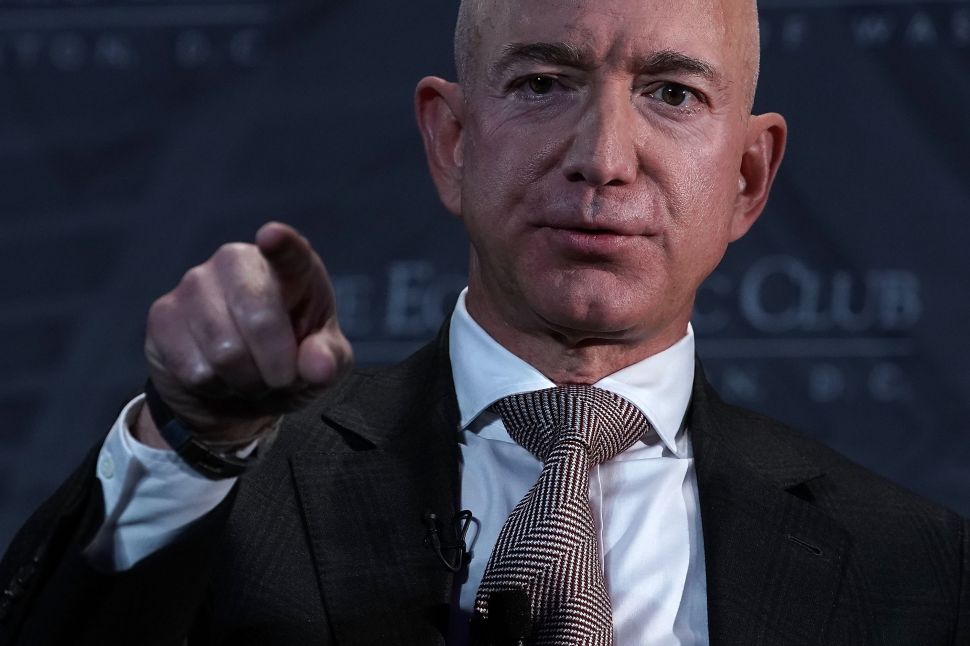 The epic fall of Sears, dubbed the "Amazon of the 1970s," has seriously worried the man running the Amazon of today.
Last Thursday, days before Amazon officially announced its pick for its $50 billion second headquarters, or "Amazon HQ2," CEO Jeff Bezos warned his employees that, despite Amazon's seemingly unstoppable growth at the moment, one day the nearly $1 trillion retail empire could fall apart—just like Sears.
"Amazon is not too big to fail… In fact, I predict one day Amazon will fail," Bezos said at a company meeting in Seattle on Thursday, according to a recording heard by CNBC. He reportedly made the statement when addressing a question about Sears' recent bankruptcy.
Subscribe to Observer's Business Newsletter
"Amazon will go bankrupt. If you look at large companies, their lifespans tend to be 30-plus years, not a hundred-plus years," he reasoned.
Amazon turned 24 in July of this year. If Bezos' 30-year rule bears any truth, the prospects for Amazon actually look pretty dire.
Bezos told employees that the goal is to delay the inevitable for as long as possible, and the way to achieve this is to "obsess over customers" rather than worry about the company itself.
"If we start to focus on ourselves, instead of focusing on our customers, that will be the beginning of the end… We have to try and delay that day for as long as possible," he said.
Several Amazon employees told CNBC on the condition of anonymity after the meeting that Bezos was particularly concerned with tightened government regulation and potential antitrust probes into the company.
Last week, President Donald Trump told Axios that his administration is looking into Amazon's possible antitrust violations in the U.S. In the meantime, European regulators have already started an antitrust probe into Amazon's use of merchant data in EU countries.
"It's a fact that we're a large company," Bezos said in the recording heard by CNBC. "It's reasonable for large institutions of any kind, whether it be companies or governments, to be scrutinized."
Aside from Amazon's bombshell HQ2 announcement earlier this week, the e-commerce giant has also made a few bold moves in preparation for the upcoming holiday shopping season.
Last month, Amazon raised the minimum wage for all employees, including temporary workers, to $15 an hour, putting the company one step ahead of rivals like Walmart and Target in the increasingly competitive holiday hiring season. This year, Amazon also moved up the start date of Black Friday deals for certain products, including Amazon's tech tablets.