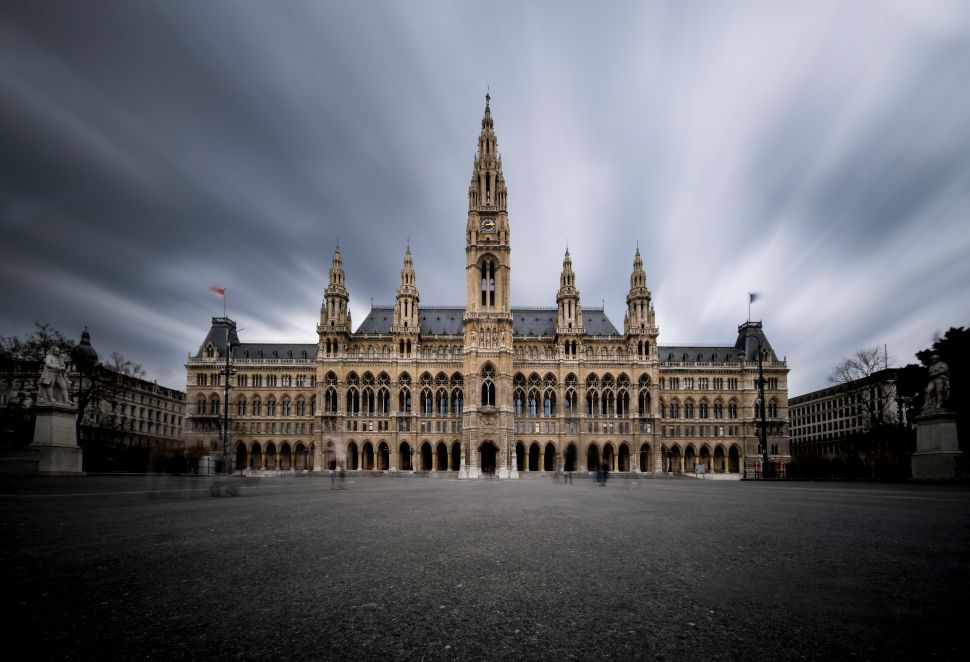 For a century, Vienna has been the world capital of espionage. It's a city of world-class mystery and intrigue, as depicted in countless spy novels and films. Vienna has it all: lovely vistas, great food and wine, affordable prices, and an extraordinarily permissive environment for espionage.
In Austria, you're free to spy on nearly whomever you want, and there are plenty of targets. Everybody has an embassy in Vienna, plus it's the second city of the United Nations. When it comes to espionage, the only way to get in trouble in Vienna is by spying on your hosts—and that's just what the Russians got caught doing.
The recent arrest of a retired Austrian army colonel on charges of spying for Moscow has shed light on something nobody in Vienna or the Kremlin wanted discussed openly. The suspect, identified only as Martin M. due to stringent privacy laws, is facing a raft of charges. He stands accused of passing Austrian secrets to Russian military intelligence, that is GRU, for a generation.
Subscribe to Observer's Politics Newsletter
The 70-year-old Colonel M., now retired in bucolic Salzburg, began spying for GRU in 1992 and his treachery continued until September of this year, well after his retirement from the military. He had been assigned to the headquarters of the defense ministry in Vienna, where co-workers described him as being "a U-Boat," utterly nondescript, barely visible.
The colonel had meetings with "Yuri," his GRU handler, every couple weeks—not a difficult task in Vienna, which is crawling with spies, most of whom are not watched by Austrian counterintelligence especially closely—and what the suspect passed the Russians isn't yet clear. Reports indicate he sold the Kremlin secret information about weaponry, defense plans and military assessments. Vienna has implied that the damage the colonel wrought was not overly serious. This may be true, if reports are accurate that the colonel was paid about 300,000 Euros ($340,000)—hardly a princely sum for nearly three decades of espionage.
All this is intensely embarrassing for Austria's right-wing government, which has cultivated unusually close ties to Moscow. While Vienna's neutrality, enshrined in the 1955 State Treaty which removed Allied occupation forces from the country, has always given Moscow easy access to Austria, these days the Kremlin views Vienna as its playground. Austria's current ruling coalition includes the avowedly right-wing and Putinophile Freedom Party, which signed a formal "cooperation pact" with the Kremlin. In August, Austrian Foreign Minister Karin Kneissl didn't just invite Vladimir Putin to her wedding, she did a dance with the Russian president for the cameras.
When news of Colonel M's crimes broke, Chancellor Sebastian Kurz denounced espionage against Austria as "unacceptable," demanding "immediate transparent information from Russia," while Foreign Minister Kneissl cancelled a trip to Moscow to avoid awkward questions about the spy scandal. Warnings from Western security services that Austria's government was too cozy with Moscow—a problem judged so serious that several Western intelligence agencies curtailed longstanding ties with Austrian partners, for fear that shared secrets were going to Russia—can now be judged accurate.
This is hardly the first Russian mole detected in high places in Vienna. Helmut Zilk, Vienna's mayor from 1984 to 1994, spied for Czechoslovak intelligence during the Cold War. Worse was the case of Udo Proksch, a politically connected entrepreneur and murderous conman who got rich in Vienna by working for East German intelligence, the notorious Stasi, while cultivating powerful friends. When the Proksch case went public, Austria's longtime defense minister died under mysterious circumstances.
But the spy case this new scandal most resembles is that of Colonel Alfred Redl, the Austrian officer and espionage doyen who shot himself in 1913 after being exposed as a longtime mole for Russian intelligence. That sensational affair has inspired countless books and no less than three movies over the past century, although few experts have tried to seriously untangle the messy Redl case, aspects of which remain mysterious still today. Redl's exposure shortly before the catastrophic First World War, which cost Vienna its ancient empire, guaranteed that the case would remain notorious in perpetuity.
Just as with the Redl affair, which Austrian officials also minimized, we have whispers that Colonel M. is not the only well-placed Russian mole in Vienna. There are reports of another Kremlin penetration of Austria's security apparatus, specifically a mole in the mouthful Office for the Protection of the Constitution and Counterterrorism, BVT for short, which is Austria's domestic intelligence agency. A former BVT employee fell under suspicion in late 2017, which worried Western spy partners.
It was Western partner agencies that tipped Vienna off about these Russian moles, just as they did in the Redl case. Specifically, British intelligence warned Austria about these Kremlin penetrations, according to press reports. On cue, Putin's propaganda apparatus portrays this normal cooperation between spy services as a sinister British plot to ruin Vienna's excellent relations with Russia.
In truth, the only country imperiling the close ties between Moscow and Vienna is Russia, thanks to its aggressive spy agencies. Everybody spies, and friends do spy on friends. However, friends are supposed to be delicate in their spying on each other; there are unwritten rules in this venerable espionage game. Of course, Russia does not actually have friends, it only has satellites and clients, as the Austrian government has just learned painfully.
Kremlin reactions to the Vienna spy scandal are typical. Putin regime media have warned Vienna not to make too big a fuss over the case of Colonel M. and its implications. Sergei Lavrov, Russia's foreign minister, denounced Austria's "unfounded allegations" of espionage as "unacceptable," implying that the scandal is really Vienna's fault since the Austrian government should have consulted with Moscow before going public with the case. True to form, Lavrov summoned Austria's ambassador to Moscow to explain why Vienna was making a fuss.
Vienna seems to be acquiescing to Moscow's take on the scandal, even though it highlights Putin's essentially colonial relationship with Austria, and the "no big deal" narrative is already being parroted by top Austrian politicos. How big a deal it is remains to be established. Today Colonel M. was released from custody, pending trial, having been judged no flight risk. What side Austria is on in Cold War 2.0 is increasingly clear, as Western intelligence agencies have been warning since the Kurz coalition government took power nearly one year ago.