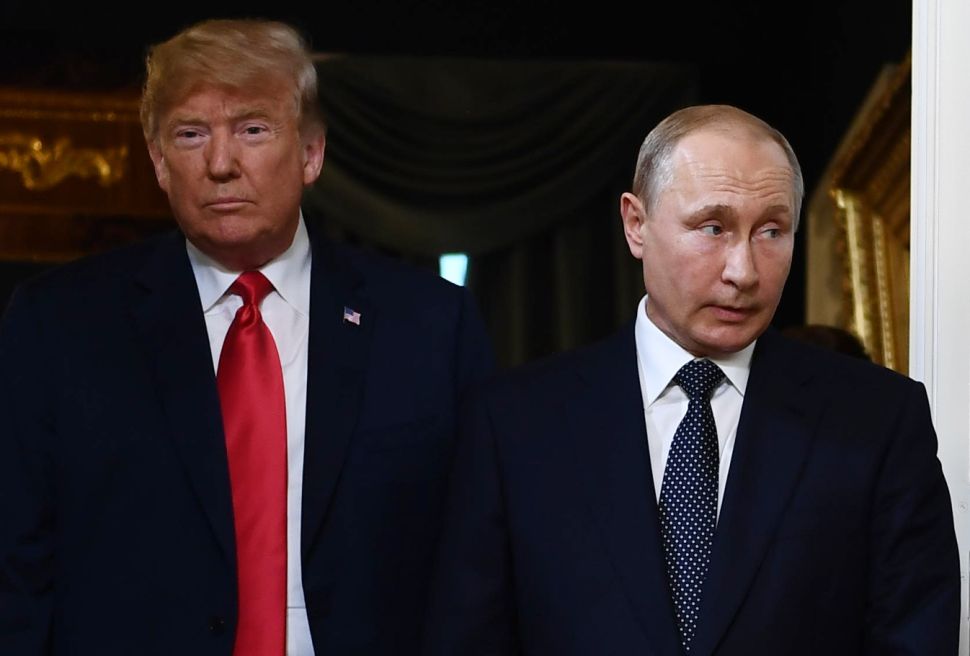 The White House and Moscow are sending conflicting messages over a meeting between President Trump and Russian President Vladimir Putin.
Trump on Wednesday told The Washington Post that he didn't like the Kremlin's "aggression" in seizing Ukrainian vessels, and was debating on canceling a previously scheduled meeting with his Russian counterpart. Responding to Trump's bow out, Kremlin spokesperson Dmitry Peskov said that Russia had not received "any other information" from the United States indicating a change, while Putin's advisor Yuri Ushakov stressed the "meeting is necessary for both sides."
Subscribe to Observer's Politics Newsletter
Leaving Washington en route to the G20 Leader's Summit in Argentina, President Trump tweeted his decision to cancel the meeting.
"Based on the fact that the ships and sailors have not been returned to Ukraine from Russia, I have decided it would be best for all parties concerned to cancel my previously scheduled meeting in Argentina with President Vladimir Putin. I look forward to a meaningful Summit again as soon as this situation is resolved!"
The Kremlin, however, disputed the president's Ukrainian narrative, citing "the domestic political situation in the United States" as the real culprit for why the meeting was cancelled.
"Was Ukraine's provocation in the Kerch Strait the true reason for the cancellation? We have heard the official explanation and taken note of it," Russian Foreign Ministry Spokeswoman Maria Zakharova told reporters on Friday. "But is it true? I think the true reason is rooted in the domestic political situation in the United States, which is crucial for decision-making."
Peskov also claimed there would be an "impromptu" meeting between the two leaders, prompting White House press secretary Sarah Huckabee Sanders to issue a statement on Friday dispelling any rumors of a meeting.
"The Russian Witch Hunt Hoax, which is hopefully now nearing an end, is doing very well. Unfortunately, it probably does undermine our relationship with Russia," wrote Sanders. "However, the reason for our canceled meeting is Ukraine. Hopefully, that will be resolved soon so that productive conversations can begin."
Russia state-owned media is not buying Sanders' explanation. Russia Today ran a piece titled, "Bad publicity? Cohen? Russiagate? Many reasons Trump canceled Putin meeting, but Ukraine isn't one."
Trump has not met with Putin at the G20 summit, though the Russian President was spotted high-fiving Saudi Arabia's Crown Prince Mohammed bin Salman.