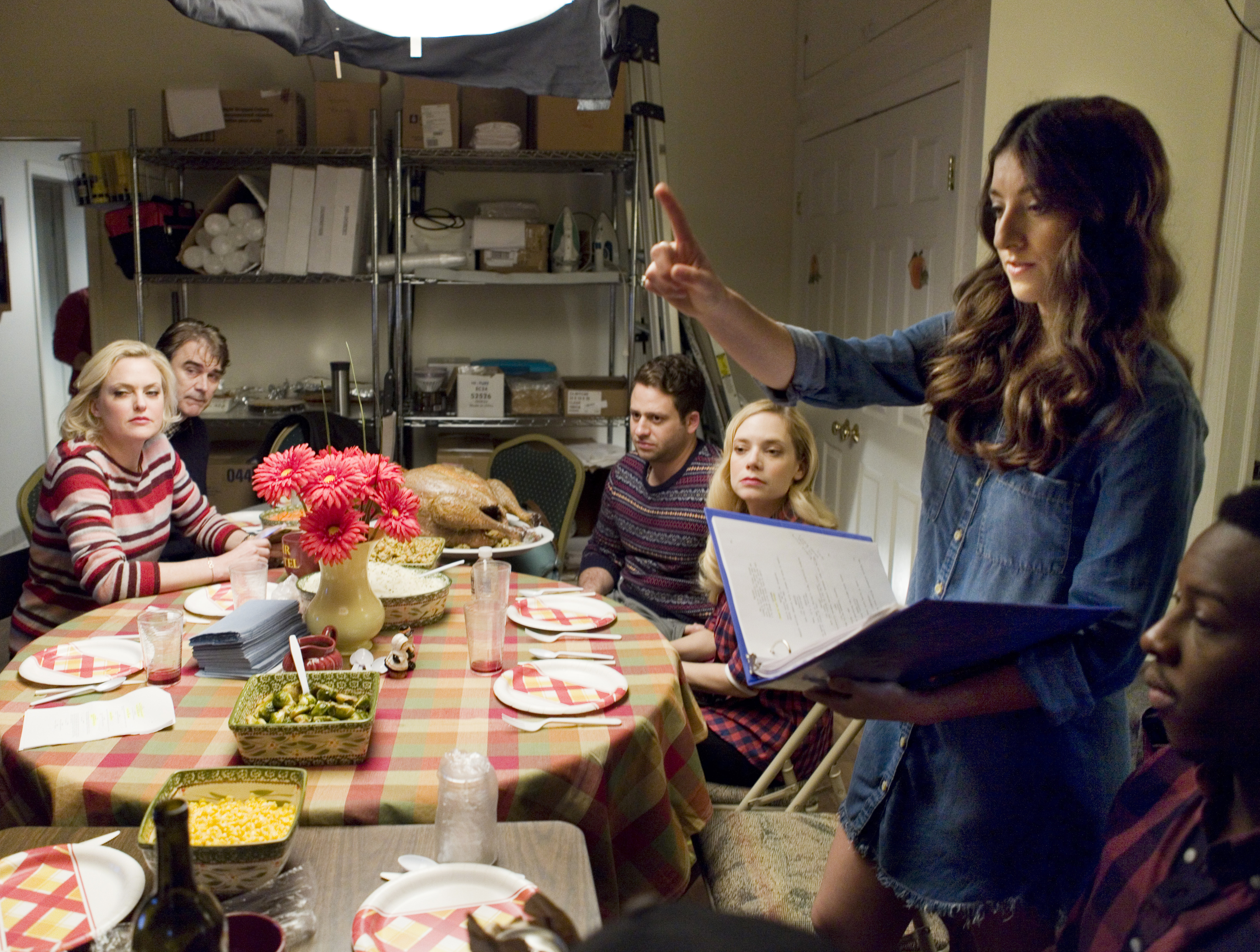 Plenty of hopeful actors and screenwriters wait tables to pay the bills before their big break. Jenna Laurenzo did too, but found the bleakness of the job hilarious enough to make a web comedy series based on the experience.  
The show, Water With Lemon, featured Laurenzo and other wildly disgruntled servers contending with frustrating customers ("I'm a pretty peaceful person. I believe in non-violence. But brunch brings out the murder in me."), each other and their impressive shared vacuum of ambition. That paved the way for Girl Night Stand, a nine-minute short that racked up millions of views and starred Laurenzo as a woman who has a highly confusing first lesbian experience, then flees to eat an ice cream cone at like 8am.
Five years and a few more restaurant jobs later, Laurenzo just released her first feature, Lez Bomb. It melds classic family holiday comedies with a coming-out tale full of hijinks and family members who refuse to listen, was produced by Dumb and Dumber's Bobby Farrelly, and stars a murderer's row of character actors, including Kevin Pollak, Cloris Leachman, Bruce Dern, Deirdre O'Connell, Elaine Hendrix, and Steve Guttenberg, who smokes lots of joints.
Subscribe to Observer's Entertainment Newsletter
Laurenzo's road to writing, directing, and starring in her first feature wasn't exactly straightforward, involving mistake-laden studio meetings, countless dead-ends, a gluten-free pizza, and almost dying on a boat in the north Pacific. And it was so bootstrapped that the bulk of the film was shot in Laurenzo's parents' house in New Jersey ("My mother was trying to get the crew to wear booties so they didn't ruin her carpet"). But Lez Bomb's genesis offers a glimpse of what aspiring writers and directors can do in a day when nobody who makes movies happen wants to read a damn thing, but everyone loves watching YouTube.
Observer: So we met 5 years ago when you were a server at 7A, the now-closed, extremely missed diner-ish restaurant in the East Village in Manhattan. You were very nice and funny, and you told me to watch your web series Water with Lemon.
Laurenzo: Yes!
Tell me a little bit about that and how that show came to be?
I started waiting tables while trying to write and it was just so rich for comedy, because nobody that was working there wanted to be there. There's this funny camaraderie I feel like that reminds me of when I played sports and everybody's complaining about the practices, but then you kind of miss it. It was an endless resource for inspiration. And so we created this web series called Water With Lemon largely out of our conversations people at the restaurant.
And the idea was that water with lemon is the worst, dumbest order someone could get?
It never fails. The restaurant would be slammed and someone would give you this laundry list of items they wanted to come at the exact same time and then they would say "w-w-w-wait, can I get a lemon for my water?"
So how'd you make the series?
Scott Kaufman, my manager at the time, and I put together a Kickstarter and then emailed that out to everyone I could possibly email, and we raised enough money to do five episodes and a pilot presentation, which I used in meanings. Now it's really funny looking back because I remember that somehow getting me in the door at Lions' Gate, and I was the person who was like "I'm going to press play, and then we're gonna all sit around and watch and talk about it." I would never do that now.  
Is that the wrong thing to do?
I've been told to never do that again. But I'm glad I was so ignorant at the time because sometimes I think you have more courage when you have no idea how it's supposed to go. But they were amused by me.
Is getting a meeting like that what you were hoping would come of the series?
Before I did Water With Lemon I did a web series called Parker and Maggie, and I've learned that having bite-sized pieces of content that people could watch is the best way to get somebody to read a script. A script requires so much time to read and everybody is so busy. Nobody wants to read anything. But if you ask somebody to watch something during a coffee break and they think it's funny, then they're more inclined to read the script because you hook them in and get them a little intrigued.
So after that was Girl Night Stand?
So I had written a draft for Lez Bomb eight years ago, and then I spent six years trying to attach a star and a director, and no one would do it without a financial commitment and I just didn't have the finances to commit. I was waiting tables at 7A! But I used to talk to everyone, as you know, and I just pitched things. I feel like my greatest contacts and the people who have been champions have been the people I waited on.
Like, people you brought a BLT to?
Yeah! I met Rose Troche who is an incredible director. I met her at this French place that I worked at simultaneously and she was writing a script, and I was like "I'm writing a script!" And she gave me a handwritten card and all these years later she's been an incredible mentor and gave me notes on Lez Bomb, so, you never know.
So you were doing your job, but hustling for the job that you wanted.
You don't know where you're meeting somebody at that moment in time and I felt like I just learned a lot thought that process, but I was waiting tables, I had no money and I wanted to make this movie and so eventually I was just kind of like, "I'm going to have to do it myself." So I decided to make a proof of concept of what that would look like if I directed it and I starred in it, and that's Girl Night Stand. And by putting it online, it made the conversation with investors so much more tangible because when it went viral, I could point to where the audience lived and how to reach them.
So at this point, Girl Night Stand has three million something views and went crazy. Do you know how that happened? And how did you explain to the people that you were trying to get interested, what that meant?
Before I released it online I had reached out to Trish Bendix, who was an awesome writer working at After Ellen at the time, and so she wrote about it and released it on After Ellen and we released the link on Vimeo. The Vimeo link sort of capped out at 500,000 views but people were ripping it off of my Vimeo and putting it on YouTube. So then YouTube said "to prevent this from happening you have to upload it to your own YouTube channel and then we can flag it for copyright stuff." And then that link organically went crazy. But at the same time someone reached out to me saying, "Just so you know, this site in China took your short and translated it to Mandarin and uploaded it to their blog." And then it went viral there, and then I did a Q & A with the blog's audience. And—this is the most incredible story—not too long ago the girl in China with the blog emailed to say that her and the girl who added the subtitles in Mandarin ended up dating.
What? Wow, okay.
Yeah, it just took on a life form of its own. It was really incredible.
So what kind of numbers were you able to rip from a short nine-minute viral video to finally make Lez Bomb happen, get the funding? What were the steps after that?
While Girl Night Stand was going viral, I got put in touch with a producer named Rob Moran who said "I really want to do this script" and I had all these analytics and he said "I know how hungry people are for content like this, we have to make this." The financier that he works with, Martin Sprock, came to New York and he was like "and we're doing it!" and I was like 'what?' as I wiping gluten-free pizza crumbs off my face. Then he got up and went back to his boat, and we were making the movie months later. It was crazy.
Was you directing and starring in it always the pitch? Did you have to convince people that was a good idea?
It's so funny, everyone told me no one would say yes to me starring in it, or directing it, and then I spent all these years trying to attach other people, and then I hit a wall and said "I'm just going to do this myself." I didn't even believe that anyone would say yes because I had spent all those years assuming that was an impossibility.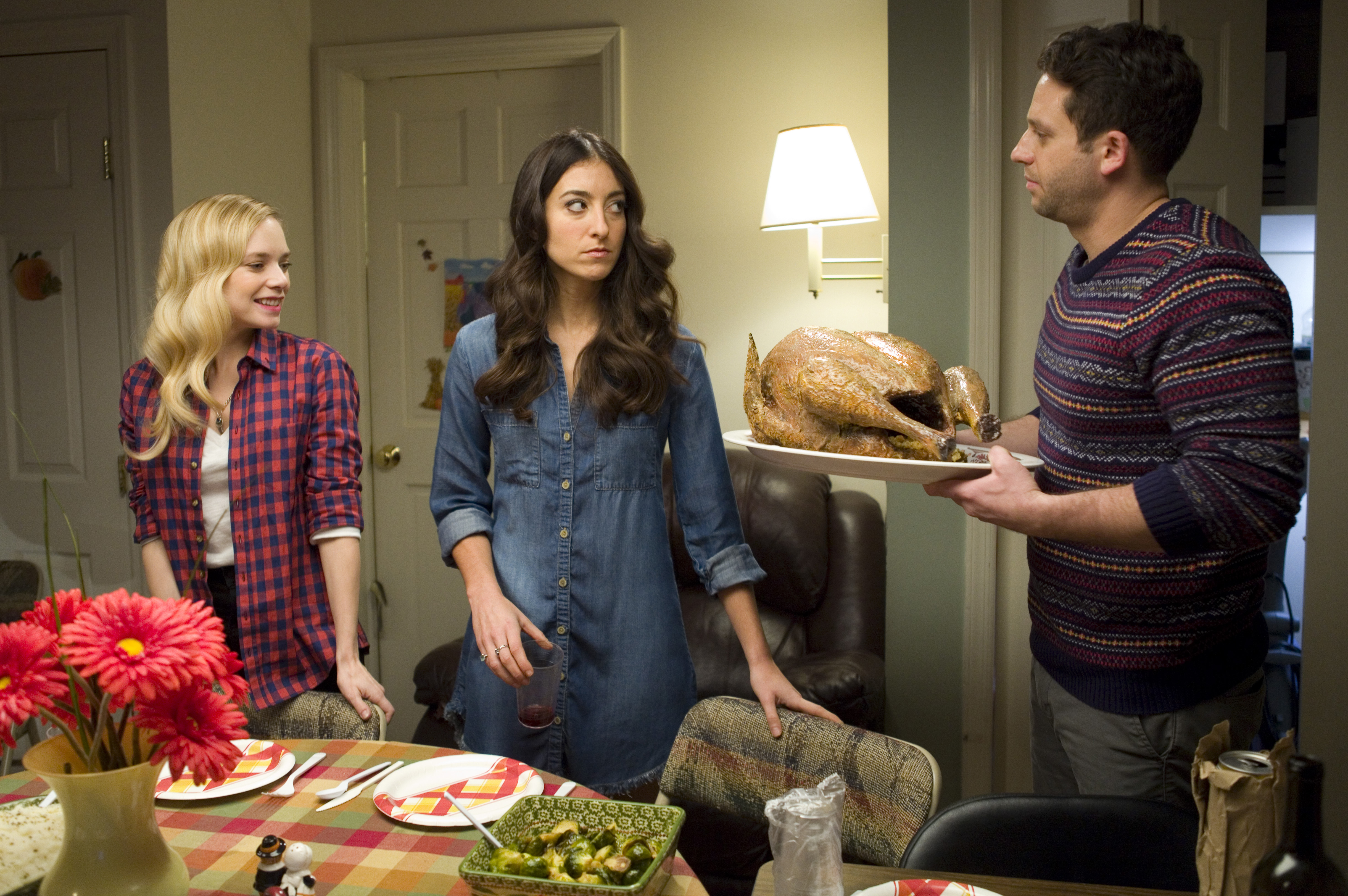 Going from web videos to a feature with an amazing cast—do you think you've presented a model for young filmmakers to break through in a way that wasn't possible in the past?
Having content on the web offers opportunities to send that piece out, and then give people a very non-committal way of seeing whether or not they want to read more, and sometimes you just have to be the one that executes it. Nowadays you can create things with your iPhone, then can gather enough people to create something.
So let's talk about the actual movie. It's a very touching, very funny coming out story that's set in what feels to me like an 80s, early 90s "oh, my crazy family" holiday movie. How intentional was that?
I grew up loving dysfunctional family films like Meet the Parents, The Family Stone, Little Miss Sunshine, and I felt that I could lean into the nostalgia of those films that we haven't really seen in a long time. And that it would feel familiar and accessible even to people who might not be as receptive to it. I was actually at a film festival this past weekend and there was a guy in the front row who, every time I kissed my girlfriend onscreen, he was covering his eyes, but then he was still laughing and really in the movie.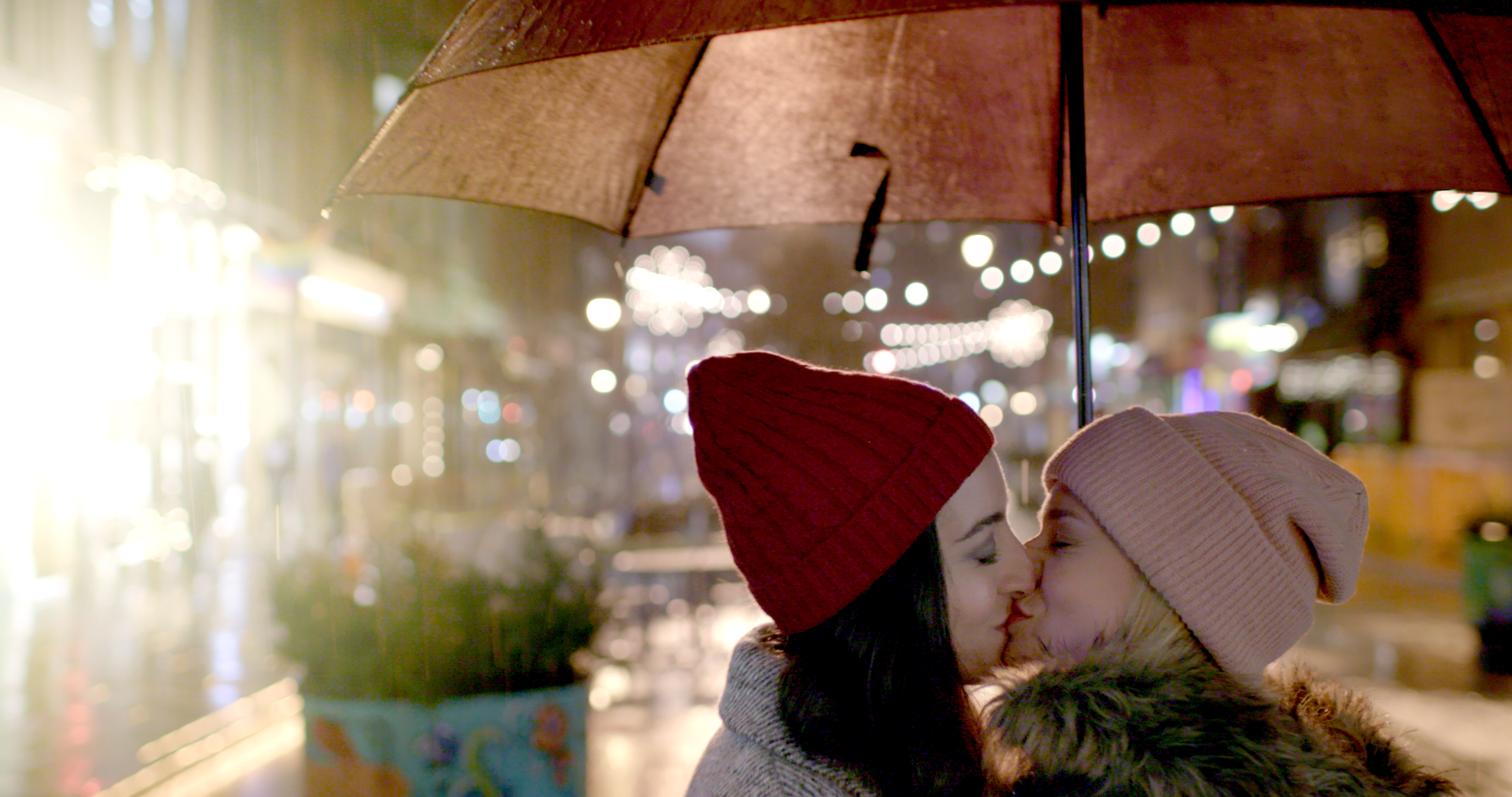 What kind of movies or shows do you think the LGBTQ community needs most?
I particularly would love more comedies. I always find that journey of sexuality to be fascinating and I like to see the confusion of it in the relationship dynamics, you know? I like to see the interplay of that because, for example, my best friend, when I came out, was just pissed that I was never attracted to her. And I like the comedy within all of that. I like when lines are blurry.
Is your friend straight? 
Yeah.
And she was upset?
I think it was just like, "well, what's wrong with me?" Which I think is just natural. All of my girl friends are from growing up, most of them are straight. They love going to the Cubby Hole in New York, and they don't want to be mistaken as a lesbian, but if no one hits on them, they're offended. I think it's ripe for comedy.
So why do you think comedy works best to tell these kinds of stories?
One thing I can say from my personal experience is when I was on a ship that almost capsized in the north Pacific and I thought I was going to die.
Umm, this is a real story? Not a metaphor?
No, not a metaphor: I thought I was gonna die. And after a long journey through various emotions of being terrified, I hit a point where the only thing I could do as laugh about it, and I was just pissed that it was nothing like Titanic. There was absolutely no romance and there was nothing else I could do except joke about the fact that this was going to be my demise. And I think through that lesson I learned that even what felt like potentially the most tragic of circumstances, sometimes there is an opportunity or a joke because there's nothing left to do, you know.