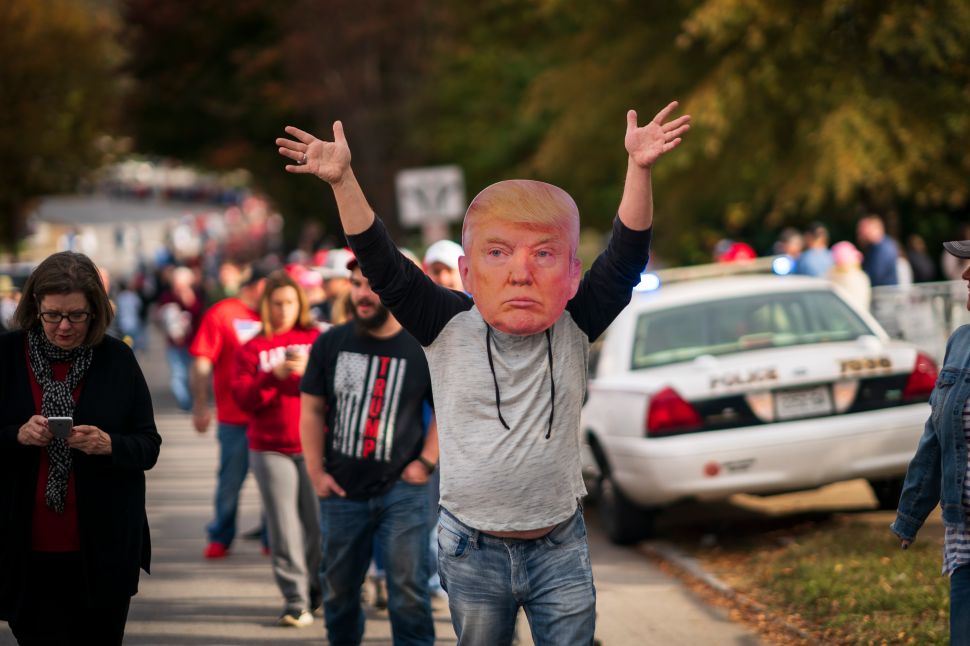 At the conservative American Priority Conference this December, marketing consultant Tom Shadilay will host a breakout session titled "The Left Can't Meme: The Future of MAGA Memetics."
The goal, according to Shadilay, who calls himself "a free speech absolutist," will be to teach attendees how to package memes and other social media-friendly content so they can more effectively blast populist rhetoric across the Internet. The event lists Shadilay's name alongside speakers like President Trump's former economic advisor Stephen Moore and campaign advisor George Papadopoulos, signaling the growing importance memes hold for Republican operatives.
"We saw in the election how effective social media messaging was and that maybe there's some information there that people could learn from," Shadilay told Observer. "Basically, what I'm hoping to do is let people know there's a ton of ways which messaging can be disseminated."
Subscribe to Observer's Politics Newsletter
Although many political memes resemble the outcome of an afternoon crash course in Photoshop, there may be a science to the messaging that explains why certain efforts go viral. Those who master memetics influence online discourse, and can even set the tone for the Republican Party. On Sunday, The New York Times published an analysis showing how the Republican Party's "Jobs vs. Mobs" slogan originated across Twitter and entered the mainstream with the help of Dilbert creator Scott Adams. The catchphrase is now a rallying cry at Trump rallies.
After playing a massive role in the president's 2016 campaign, memes are driving the rhetoric behind this year's midterm cycle. Last month, Twitter suspended roughly 1,500 accounts promoting NPC memes (collages featuring avatars of "nonplayable characters" from video games to convey liberal groupthink) on the grounds of "intentionally misleading election-related content." Memes centered on the migrant caravan have also cropped up ahead of Tuesday's election.
Carpe Donktum, a Twitter personality who specializes in creating conservative memes, says he approaches the work the way a director might approach a film. "You start with a concept," Donktum told Observer. "In the case of memes, many times current events and trending politics set the characters and plot. It is your job to find a graphical framework for them to fit into."
The key to a successful meme, explained Donktum, is keeping the messaging simple and framed around an interesting hook. One trick is to improve upon past memes, such as the virally riffed "distracted boyfriend." Or to create a new meme around trending video content. "Confusing memes or over-complicated themes hurt the outcome," said Donktum. "Consistency within a meme is paramount. A perfectly executed meme with a terrible premise will flop. If you can come up with a clever message in a pretty package, you will succeed."
But a compelling message alone isn't enough for a meme to break free from the shadowy corners of 4chan into President Trump's Twitter feed. To go viral, a meme must attract prominent Republicans with massive social media followings. Donald Trump Jr., Alex Jones and Greg Gutfeld are just a few MAGA leaders to promote Carpe Donkum's work—over the weekend, one of his memes featuring flying pigs was even shared by Dinesh D'Souza.
"Each meme has a target audience, just as with any advertising," explained Donkum. "Not everyone shares every meme. Everyone has their own branding to contend with."
Although memes are commonly associated with Internet images emblazoned with messaging, the concept of "memetics" was first coined by Richard Dawkins in his 1976 book The Selfish Gene and covers the distribution of cultural information. During the 2016 election, political operatives in the Trump camp—most notably the campaign's social media manager Brad Parscale—successfully seized on grassroots political messaging promoted on social media.
"It was very hard to get anything going online on the Democratic side for Hillary," said Media Matters founder David Brock of the role memes played in the 2016 election. "Trump really, smartly capitalized and rode the social media platform in a way that other candidates were not able to do, and part of that had to do with the online environment being intimidating and hostile to Hillary supporters."
"The Bernie Sanders people understood memetics too," added Shadilay. "He had grassroots memetic people starting up as well and that trickled into music. He had Killer Mike endorse him and publicly campaign with him."
Having mastered the digital terrain of 2016, Parscale is currently chairing Trump's 2020 campaign, signaling the importance memes will play during the next presidential election. In a nod to the grassroots networks defining the tone of his platform, the president tweeted out his support for the viral campaign #WalkAway after the movement's founder Brandon Straka led an October march in Washington, D.C. The #WalkAway platform uses memes to encourage voters to leave the Democratic Party ahead of the midterms.
While Brock says Democrats have the edge in traditional political messaging (television, radio), he acknowledges Republicans still hold an advantage over liberals in memes and digital advertising, aided largely by conservative nonprofits like Turning Point USA who create in-house memes. Following Facebook's algorithm changes earlier this year, right-leaning meme pages "gained more average weekly interactions" and "continued outperforming other prominent politically aligned Facebook pages in terms of amount of content shared," according to a Media Matters study from July.
"The Trump people, by putting their digital guru in charge of their 2020 campaign, will try to hold on to that advantage," said Brock.
So why are liberals so bad at memeing?
"It is my opinion that Liberals create such terrible and cringe-worthy memes because they approach it not from a position of poking fun or creating a humorous parody of reality, but instead from a position of deep hatred, anger and disgust," explained Carpe Donktum. "I make tons of memes mocking CNN and other news outlets, but I have no real hatred of those places…When I mock them I do it in a playful way, not a mean vindictive way and that shines through."