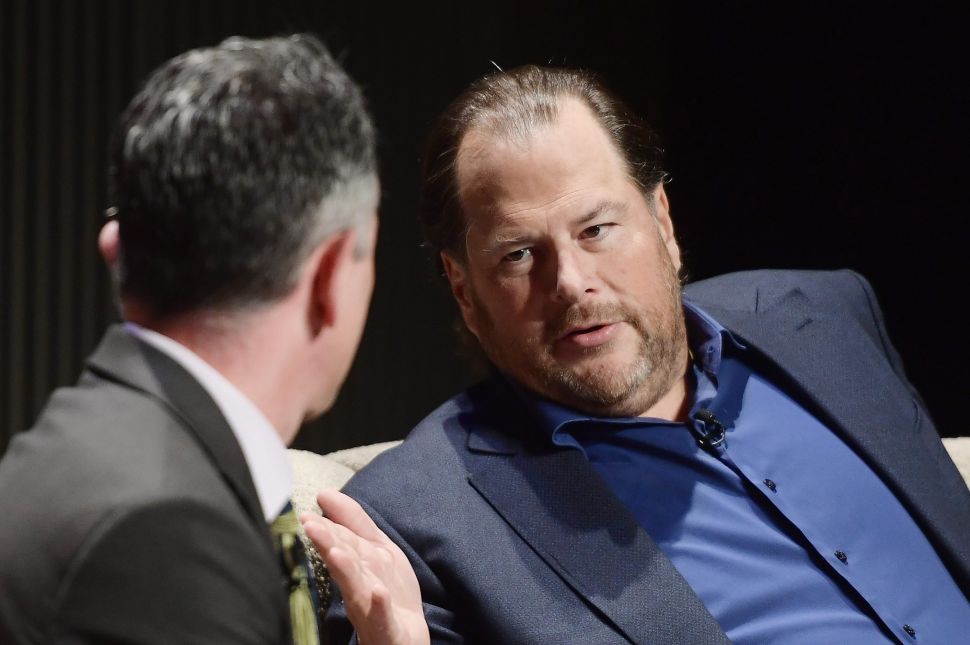 During the midterm elections earlier this month, one of the most notable pieces of legislation passed was San Fransisco's corporate tax hike called Proposition C.
Under the measure, companies operating in San Francisco with annual revenues above $50 million are mandated to pay about 0.5 percent of their gross revenue to fund the government's homelessness relief programs. The total amount of money from this additional corporate tax is expected to double the city budget currently spent on homeless services and housing.
Most CEOs of the affected companies were vehemently against the proposal before the voting, except one—Salesforce founder and co-CEO Marc Benioff, who spent weeks lobbying politicians and voters, as well as warding off criticism from peer tech CEOs on social media ahead of the elections.
Subscribe to Observer's Business Newsletter
"A lot of those employees of those companies were upset that those companies were not supporting Prop C while this was going down," Benioff recalled during in an interview this week with Vox Media's Recode on MSNBC. "I had Nancy Pelosi, Dianne Feinstein, Jackie Speier and Glide Memorial [on my side]. And I had the priests, the rabbis, the imams and all that helping me. But there were no CEOs on my side. I was the only CEO."
Under Prop C, Benioff's Salesforce, one of the largest employers in San Francisco, will pay $10 million to $11 million a year to fund city programs. But many of his peers think it's far from enough—and not fair.
"We're happy to pay our taxes. We just want to be treated fairly with respect to our peer companies, many of whom are two to ten times larger than us," Jack Dorsey, CEO of Twitter and Square, tweeted last month. Per Dorsey's estimate, under Prop C, Square would pay over $20 million in additional taxes a year, despite the fact that Square's revenue was about one-tenth of Salesforce's.
That's because the tax hike proposed by Prop C only applies to a company's revenue generated from business within San Francisco. Salesforce's calculation didn't account for its business outside the city.
"I walk around San Francisco every day and you can see that we are in a horrible situation," Benioff said in the interview. "So, what are we going to do about that? It's not just what I am going to do about it. What is Jack [Dorsey] going to do about it? And Brian [Armstrong, CEO of Coinbase], Jeff [Bezos], all these people. What are we going to do about it?"
The full interview with Benioff is scheduled to air on Sunday, November 18 at 10:00 p.m. EST on MSNBC.