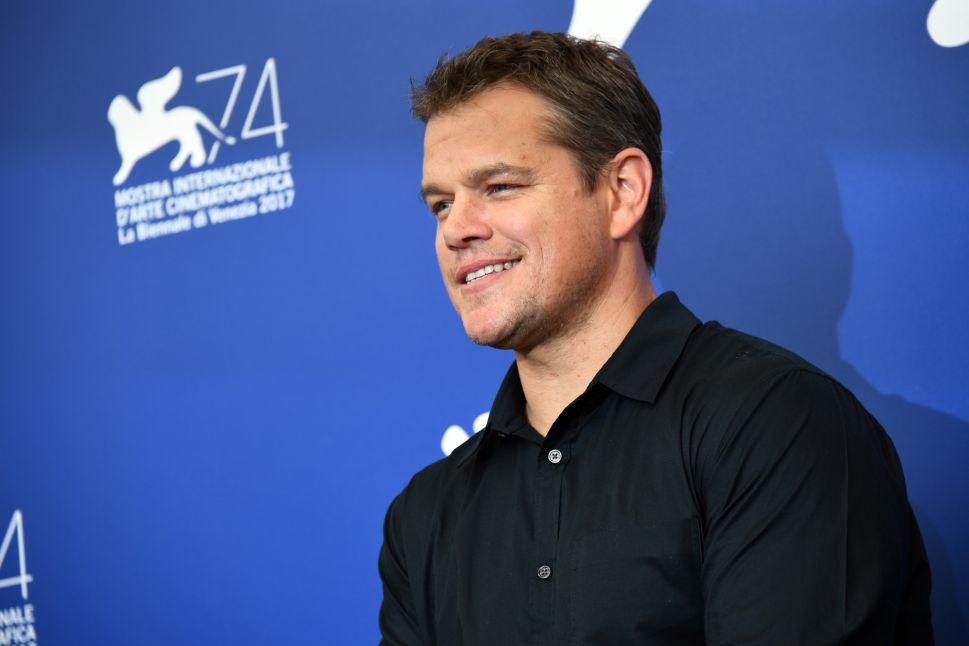 Matt Damon has kept busy for more than two decades, turning in memorable performances in high-profile films such as Good Will Hunting, Saving Private Ryan and the Bourne movies. He's a talented actor with a keen eye for solid projects to both star in and produce, and he's racked up four Oscar nominations and won once across multiple categories. The guy's got staying power.
Still, it's fair to say the Hollywood veteran hasn't enjoyed a real hit since 2015's The Martian. His long-in-the-making Jason Bourne sequel arrived in 2016 with more of a soft pop than a bang, and it was followed by the tremendously awful The Great Wall. Last year's Downsizing and Suburbicon were also misfires that flopped at the box office.
After three years of false starts, what Damon really needs is a hit. Since we don't know much about his upcoming film Ford v. Ferrari, we offer some humble tips as he explores his next project.
Subscribe to Observer's Entertainment Newsletter
Embrace the Villainy, Dude
The best performance of Damon's career was when he played the murderous lead of The Talented Mr. Ripley, while the most inspired work of his recent filmography was his surprise role as a cowardly star traveler in Interstellar. Sandwiched between the two is his quietly off-brand turn as a corrupt detective in The Departed. All three characters are bad guys.
Damon's celebrity image is that of an intelligent good guy—give or take a few divisive comments—and his on-screen work generally reflects that. For the most part, he's played affable protagonists, or at least people you can root for. While his roles often straddle the line of morality (Syriana) or carve out a specific subset of the idea (School Ties), they rarely cross over. We want to see that darker side Damon has kept locked away. Much like Tom Cruise in this role as a calculating hitman in Collateral, Damon could unleash something feral.
Imagine Damon as the ominous antagonist looming over a cerebral Alex Garland (Ex Machina, Annihilation) movie. Or as an imposing villain in the next actioneer from Mission: Impossible—Fallout).
But Don't Ditch the Laughs
Matt Damon is funny. We've seen it in his faux feud with Jimmy Kimmel, we've seen it on 30 Rock and we saw it again last year in his surprise Thor: Ragnarok cameo. So how come the only comedy he's ever led is 2003's Stuck on You? It didn't exactly wow critics or yield a tidy profit, and the comedy genre is in a precarious financial position these days, but again, Matt Damon is funny, people!
The Oceans franchise had its fair share of laughs and The Informant was darkly satirical, but they weren't out-and-out comedies. Let's pair Damon with Kevin Hart or Awkwafina in something light and fizzy—maybe a rom-com or a buddy-cop adventure. Peter Farrelly, who co-directed Stuck on You and is currently promoting his critically acclaimed Green Book, is free at the moment. Damon could easily star in his version of Wedding Crashers, a bankable and quotable crowd-pleaser that would run on cable until the end of time.
Make the Leap to Television
More and more movie stars are heading for the creative depths of television as daring content makes its way from the big screen to the small. Why shouldn't Damon follow suit for a limited series? We even have a specific idea in mind.
For some inexplicable reason, the 1977 novel Lucifer's Hammer, which chronicles the months leading up to a cataclysmic meteor strike and the subsequent apocalyptic fallout, has never been adapted for the screen. Come on, Hollywood, it's not like Armageddon and Deep Impact have a monopoly on this specific disaster. Besides, Lucifer's Hammer delves far deeper into the societal implications while crafting three-dimensional characters that would put The Walking Dead to shame.
The material is perfectly suited for an ambitious limited series on HBO or Netflix—one that could become the next heavyweight Emmys contender in the vein of True Detective and Fargo, but with more blockbuster elements thrown into the mix—and it would offer a handful of lead roles that Damon could slip into effortlessly. Someone with his industry cachet could put some fire under this long-dormant property, and it would in turn position him for a dramatic upswing. Damon, let's do this.