There's big money in "experience art." Roughly defined, this type of art is usually a large, immersive, selfie-friendly installation that requires interaction of some kind. Think Yayoi Kusama's "Infinity Mirror" exhibitions, the Rain Room, or even the Museum of Ice Cream. Their success is measured by the metrics of for-profit enterprise, not esoteric art concerns—the size of the lines to get into these spaces, the volume of selfies taken and the amount of money they rake in (which is a lot).
Perhaps that's why the Santa Fe–based art collective and current experience art poster child Meow Wolf fascinates so many people. They aren't a group of profiteering amusement park execs who began with the desire to squeeze the most money out of a business venture. They're a non-hierarchical collective of artists who, without the intention of making any money at all, transformed a 20,000-square-foot bowling alley into a psychedelic fun house and found themselves with a cash cow.
Subscribe to Observer's Arts Newsletter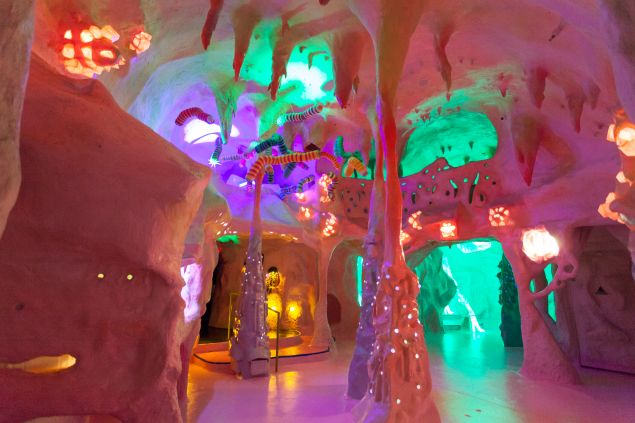 That's the narrative of Morgan Capps and Jilian Spitzmiller's new documentary, Meow Wolf: Origin Story (open November 29), which charts the group's formation and cataclysmic growth from 2007 through to today, largely from the point of view of its founding members. Interviews with artists (Benji Geary, Sean Di Ianni, Vince Kadlubek, Caity Kennedy, Matt King and Emily Montoya) along with clips from curators, dealers and early funders like Game of Thrones author George R.R. Martin, tell a compelling (albeit whiny) story about a group of artists who tried pretty much everything under the sun to create an artist-run space before settling on the model of art amusement park.
The movie's theme centers on the question of order and chaos. Can the group strike a balance between the business aspects of working together and the wacky, explorative nature of their creative process? Origin Story says yes.
There are probably just as many reasons to be excited about the movie's conclusions as there are for skepticism. Certainly the documentary illustrates all the ways Meow Wolf's particular brand of chaos challenges the art world's norms. Footage of the collective launching giant music shows, staging massive installations requiring months of work and generally fucking shit up not only imparts their maximalist aesthetic, but shows us just how far the artist-run model has been flung from the traditional white cube.
Meow Wolf isn't good fit for the art world for all the reasons Meow Wolfer and CEO Vince Kadlubek points out. "The art world usually spends some amount of money on one person to do a short install of work that can sell," he explains to the filmmakers. "And we were a bunch of people doing a long install with work that doesn't sell."
Like many artist-run spaces Meow Wolf has had at least as many lives as a cat. The film weaves through challenge after challenge, from nearly dissolving when commercial gallery attention threatened their non-hierarchical structure, to key members leaving the group—Kadlubek departs early on, but is brought back by David Loughridge who tragically dies a few years later.
Between all this, insane hours are worked and their art and business acumen grow. They produce a play and discover the necessary schedules and structure help them make art more efficiently. They build a boat for the Center for Contemporary Arts Santa Fe and learn how to run a construction site and fund a $50,000 Kickstarter. They take over a bowling alley, quit their jobs, and produce a 2.8 million dollar art project called The House of Eternal Return with the help of George R.R. Martin. The jumps are so huge and so quick that the film engenders a genuine sense of euphoria for these artists. They're actually making it work!
The question is, are they? It's hard to get a true sense of the success of both the art and the collective, in part because you have to be there, and in part because Meow Wolf has a vested interest in getting you to pay the movie's admission price. Which is to say, the filmmakers are not disinterested parties. Origin Story is at least partially funded by Meow Wolf, and the more time spent with the movie, the more this becomes clear. There's an enormous amount of exhibition documentation, yet somehow not enough to impart basic facts, like that a key part of The House of Eternal Return is a dopey Treasure Hunt for spatial anomalies.
The group's critics are never interviewed. And for all the hand wringing about what will happen if the collective has to compromise their artistic vision in order to make a living off it, there's precious little talk about what those compromises were. A passing worry about having to curb creative ideas for a mainstream audience is what counts as introspection in this movie—not the all-but-certain fights over creative decisions like focusing on kids because the admissions market is driven by them. In Origin Story, that strategy didn't even warrant a mention.
This lack of context has the effect of making the artists sound entitled and out of touch, rather than engaged in the hard kind of decision making where there are no right answers. It's annoying, and the artists don't always help curb that impression. There's an almost gratuitous amount of interview footage of Meow Wolfer Sean Di Ianni complaining about how his role as chief operation officer prevents him from making art.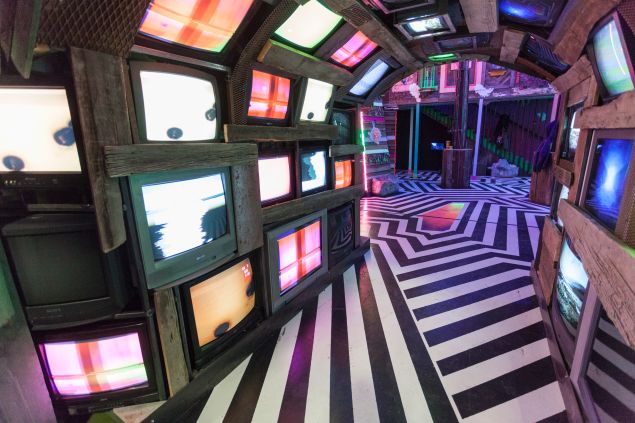 There are hints at larger unspoken tensions as well. In a clip meant to illustrate the ongoing discord between following the rules and flaunting them, a defiant Meow Wolfer disregards the safety protocols of their construction site while snipping at the camera, "This beer is a soda. You can use all of this in the documentary." The camera woman protests that there's no documentary, but is immediately shot down. "Yeah right."
So, was there discord over the making of the documentary, too? What other plans weren't shared with members? A couple scenes later, as the film begins to wrap up, Kadlubek reveals his secret aspiration to transform their 50-million-dollar business to a billion-dollar company. The dream feels exciting because pretty much anything Kadlubek says seems laced with silver, but there's no rationale for the goal. It's just a series of calculations of what Kadlubek thinks is possible, so it sounds more like an investor pitch than it does an aspiration for the group.
And thus, his words cast further doubt on the story. Sure, we heard Meow Wolfers worry that making a living off their art might compromise it, but how many of those fears were fully articulated, and to what degree were they exploited to create an origin story that would sell audiences and investors alike?