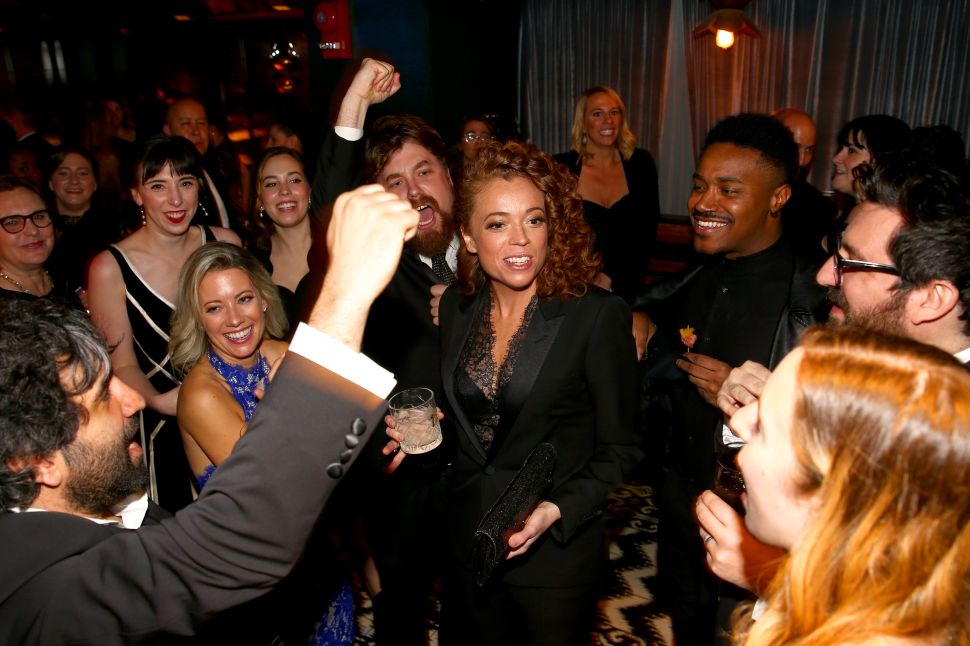 The 2019 White House Correspondents' Dinner will not welcome a comedian as its featured speaker, but instead historian and biographer Ron Chernow, the White House Correspondents' Association revealed today.
This news has angered many critics, but one comic was especially outraged by the pivot. Michelle Wolf took to Twitter to express her distaste, writing, "The @whca are cowards. The media is complicit. And I couldn't be prouder."
Wolf's scathing remarks at the 2018 Correspondents' Dinner made her a household name after her extended set sparked a tidal wave of praise and backlash. Her supporters thought that she'd upheld her responsibility to the public by holding the administration's collective feet to the fire, while her objectors (some of whom were themselves journalists) found her speech crude, obscene and offensive.
Subscribe to Observer's Entertainment Newsletter
Her denouncement of the press was just as sharp as her dressing-down of the White House: "You guys are obsessed with Trump. Did you used to date him? Because you pretend like you hate him, but I think you love him," she said at the dinner this past April. "I think what no one in this room wants to admit is that Trump has helped all of you. He couldn't sell steaks or vodka or water or college or ties or Eric, but he has helped you. He's helped you sell your papers and your books and your TV. You helped create this monster, and now you're profiting off of him. And if you're gonna profit off of Trump, you should at least give him some money because he doesn't have any."
President Donald Trump has never been particularly open to subjecting himself to criticism, and now his resistance seems to be altering the arenas in which criticism of the president is essentially the point.
Earlier in November, the White House moved to revoke veteran CNN reporter Jim Acosta's press pass after a particularly heated exchange between Acosa and Trump at a press conference, during which a White House intern attempted to swipe the microphone from Acosta's grip while he was speaking.
Last week, a judge temporarily restored Acosta's pass, but his battle is far from over. Today, NBC News reported that the White House recently sent a letter which in no uncertain terms spells out that the administration has every intention of enforcing their ban.
The letter, which was addressed to Acosta and signed by press secretary Sarah Sanders and deputy chief of staff Bill Shine, reads in part: "Your behavior at the November 7 press conference violated the basic standards governing such events, and is, in our preliminary judgment, sufficient factual basis to revoke your hard pass."
Monday's press release from the WHCA also seemed to hint (or warn potential dissenters) that the upcoming dinner will be a deliberately civil affair, while also providing shallow lip service to the idea of preserving journalistic freedom of speech, for which Trump has actually expressed much disdain.
"I'm delighted that Ron will share his lively, deeply researched perspectives on American politics and history at the 2019 White House Correspondents' Dinner," said Olivier Knox, president of the WHCA, in the statement. "As we celebrate the importance of a free and independent news media to the health of the republic, I look forward to hearing Ron place this unusual moment in the context of American history."
Chernow was written books about George Washington, Alexander Hamilton and Ulysses S. Grant. He won the 2011 Pulitzer Prize for Biography for his 2010 book, Washington: A Life.