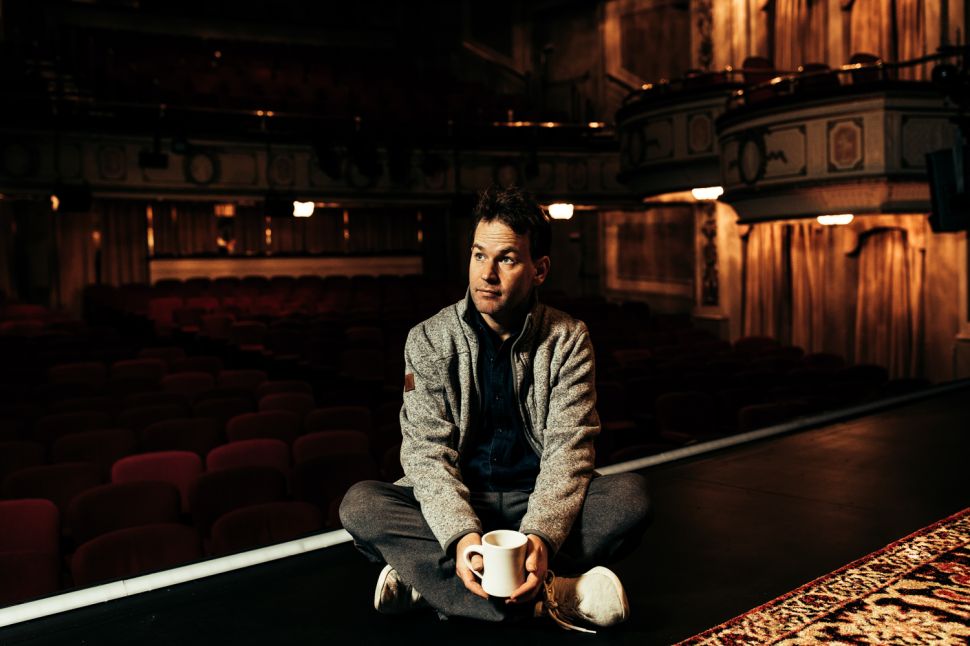 Mike Birbiglia is currently making his Broadway debut in The New One, an uncomfortably personal, deeply funny one-man show about his struggles with impending fatherhood. His name is writ large on a marquee at the Cort Theater in Times Square. But, Birbiglia insists, a lot of his life still involves explaining who the hell he is.
Part stand-up, part Spalding Gray-style monologist, Birbiglia, now 40, is a comedian, actor and filmmaker with a lot of anxieties—and until relatively recently, a slow-burn career. A frequent contributor to the Moth and This American Life, he turned a moving story about his experience living with a sleep disorder into an Off-Broadway play, then a book, then a 2012 movie called Sleepwalk With Me, which he wrote, directed and starred in. (Ira Glass, who produced the movie, is also a producer on The New One.) In 2016, he wrote, directed and starred in Don't Think Twice opposite Keegan-Michael Key and Gillian Jacobs, cementing his status as a critical darling—and earning him an even bigger legion of fans. Ditto his 2017 Netflix special, Thank God For Jokes. 
So you'd think he'd at least be recognized at ritzy Manhattan coffee bars.
Subscribe to Observer's Entertainment Newsletter
Not the other day, when as part of his usual pre-performance routine, Birbiglia ordered himself a coffee at Blue Bottle in Rockefeller Center. The barista asked him if he was heading back to work.
"I go, 'Yeah,'" recalled Birbiglia. "So he asked me where I worked."
Birbiglia said he was performing in a show across the street. "He goes, 'Who's in it?' I go, 'I'm in it.' He said, 'Who wrote it?' I said, 'I wrote it.' Then he goes, 'Who are you?' And if this isn't bad enough, I tell him he should come. That, if he gave me his number, I could try to get him tickets. He goes, 'I'm not really comfortable giving you my number.'"
Eventually, he wound up just giving the barista his assistant's email.
Kicking off a new series for the Observer, Birbiglia answered a few questions right before he went on stage for a recent preview performance of The New One, a show, it should be noted, that is not for the squeamish about medical procedures involving genitalia.
Observer: You're going on stage in less than an hour. Do you feel nervous or excited?
Birbiglia: Yeah. Both of those things. You're always balancing nervous and excited, and you also feel some gratitude toward the crazy fact that you can perform this thing you created in front of 900 strangers. Sometimes, during a really embarrassing story—like the one I tell about the Red Light District—I think, Wow I can't believe I tell this on stage.
Besides getting a coffee, what's your pre-show ritual?
I'm about to talk for 90 minutes, so I always walk or take the subway to the theater. I have yet to take a taxi to the show. It's about existing in the world. Partly it's based on something I read in one of my favorite books, Elia Kazan's On Directing. He says you should always take the subway or walk. In a cab, you're limiting your interaction with observing human behavior.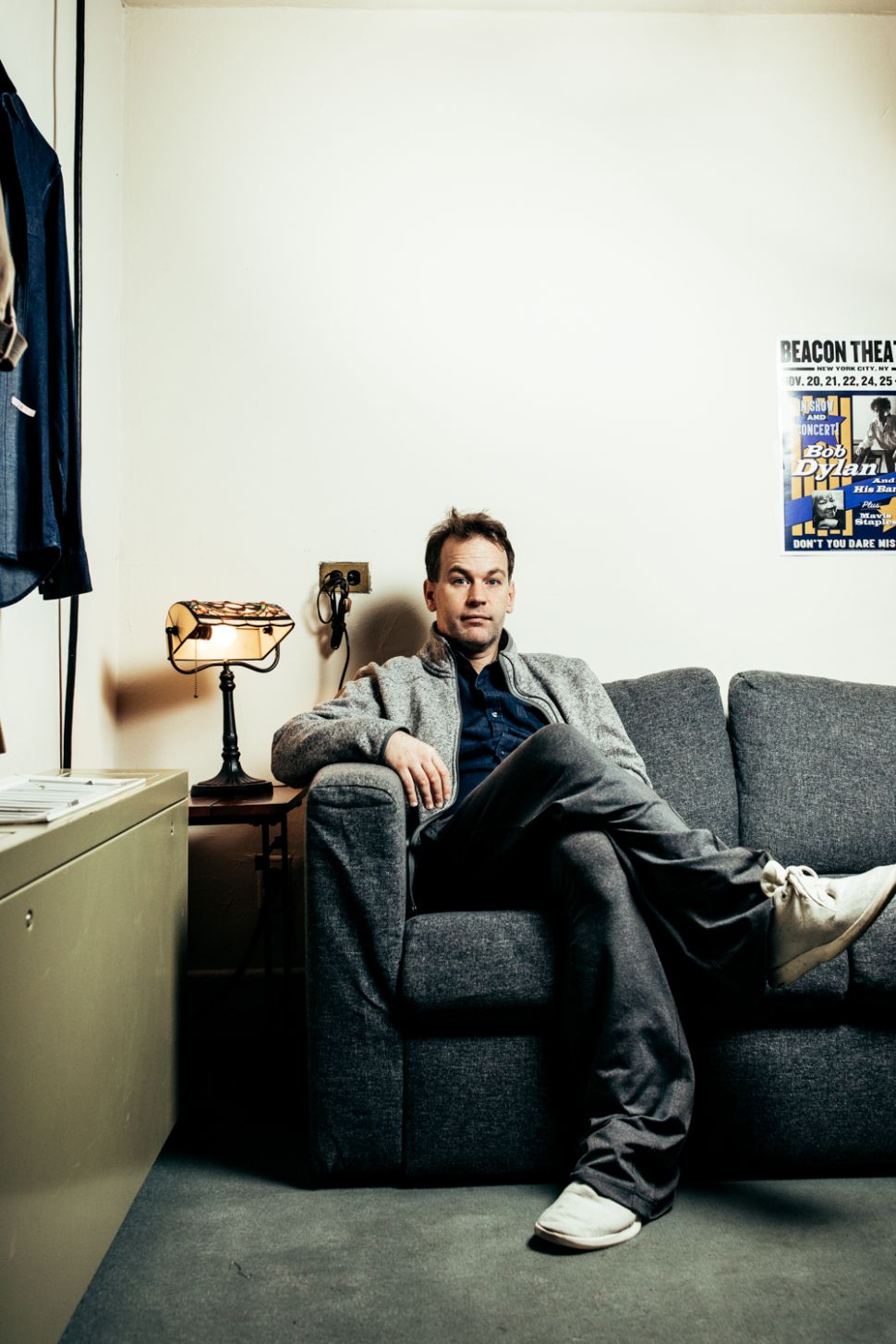 Do you like knowing people in the audience?
I do generally. Last week Tami Sagher, who was in my movie, Don't Think Twice, came and then came backstage and we hugged for a long time. It's the most emotional show I've ever done.
Gerard Butler was there the night I went. I don't even think he had house seats.
I don't know him and he came backstage after. I think he's so famous he can walk into anything. So I'm backstage, and I'm thinking, He's so handsome, he must be somebody. Then afterwards, I looked up that he's the star of 15 movies I'd seen. That's one of the things about doing shows in New York. Any night of the week, Geoffrey Rush is in the audience. Or Buck Henry. What has my life become?
How is performing on Broadway different than performing somewhere else?
When I'm on tour, you're in a Volvo SUV on an unpaved road. On Broadway, you're driving a race car around a racetrack. It's sort of slick and perfect and all the conditions are right and because it's been designed and lit and directed, there are all these people working really, really hard to create the optimal experience for the audience. I know I'm never going to be in darkness, and everything is going to work. But then again, expectations are really high from the audience.
Do you work on other things while you're doing the show?
No. The show is my whole universe. It's my daughter and my wife. It's like Houdini, tying himself up and diving in water. All I do is work on this show. I'll probably change it all the way through the twelve weeks.
You sound wound up. How do you zone out?
I try to do yoga and meditation. The best thing between a matinee and an evening performance is a nap plus coffee. So Saturday night shows end up being the best.
Are you reading anything good?
I'm reading Edna St. Vincent Millay poetry. My daughter's middle name is for her and I really ought to know her work better. I'm also reading Ionesco's play Rhinoceros. It's a quick one. Jen and I talked about it on our first date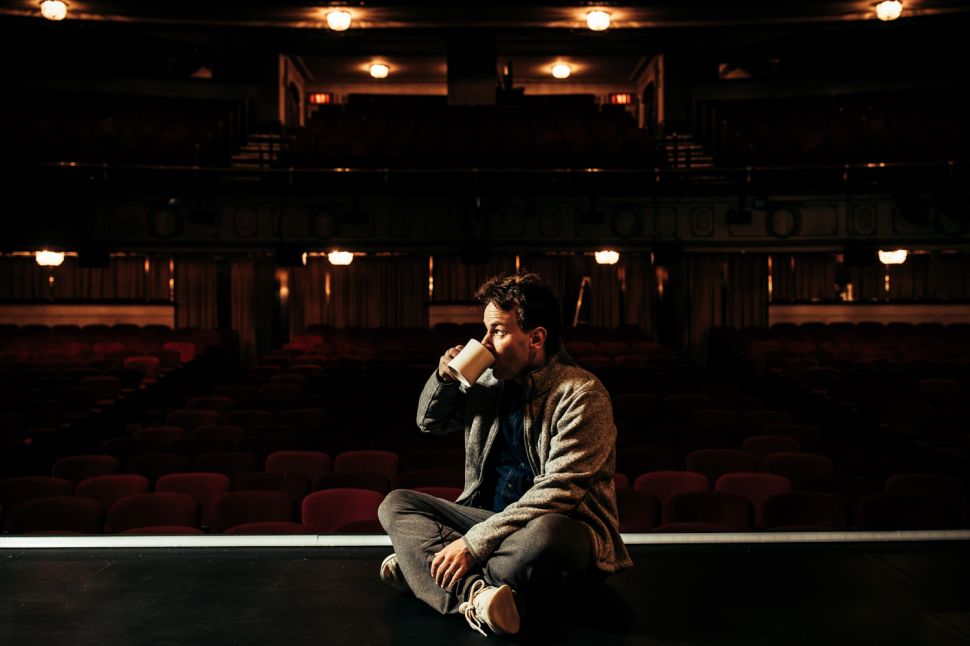 Do you ever wish that there was someone on stage with you?
That's funny. Not with this show, but sometimes I just jones for that. Though I don't find this lonely. I'm really cracking my ribs open. This is what I have inside me: the good, the bad and the ugly. When you do that, the audience either accepts and appreciates it and will give you back the return, or they don't. I've only done six performances and so far, so good.
What will you do after tonight's show?
I'll go home, do a post-op with my wife, talk about it on the phone with Ira Glass and [director] Seth Barrish. And the truth is, I'll probably listen to This American Life.