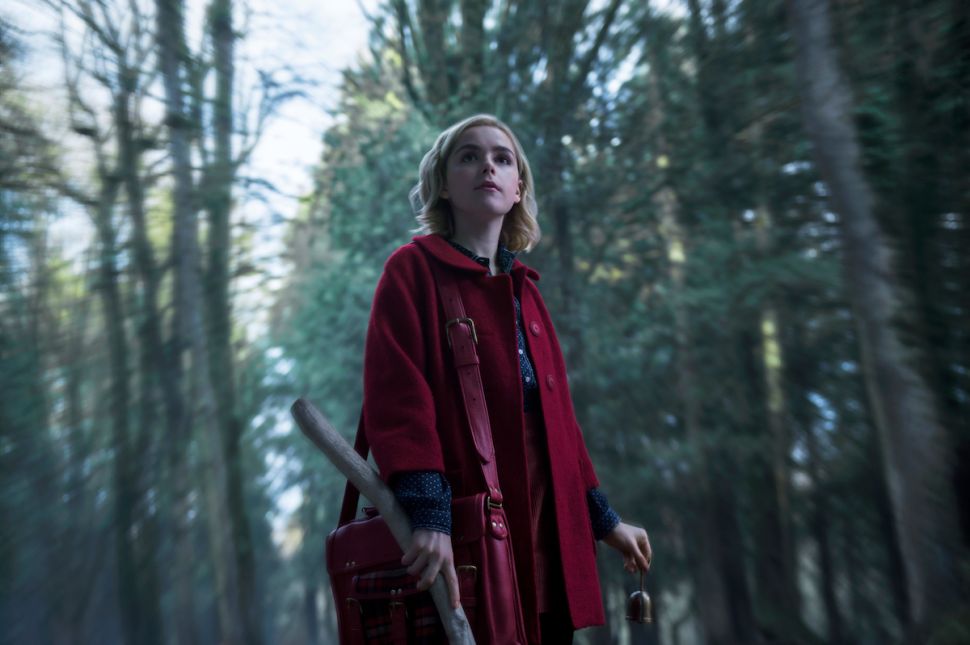 As we noted in our review, Netflix's Chilling Adventures of Sabrina is a devilishly good time, but it turns out some did not see it that way, precisely because of the devil. The Satanic Temple, a religious and political activist group based in Salem, is suing Netflix and studio Warner Bros. Television due to the "misappropriated" use of the statue of Baphomet—a deity popular in the occult—which is featured in the series.
The Wrap reports that The Satanic Temple is "claiming copyright infringement, trademark violation and injury to business reputation, asking for $50 million for each, and a total of $150 million in damages," according to court documents filed in New York obtained by the outlet.
Subscribe to Observer's Entertainment Newsletter
In Sabrina, the titular character, played by Kiernan Shipka, must navigate the mortal and magic worlds as a half human, half witch teenager. The later is devoted to the "Dark Lord" and is populated by Satanic references and imagery.
"Defendants misappropriated the TST Baphomet Children in ways implying that the monument stands for evil. Among other morally repugnant actions, the Sabrina Series' evil antagonists engage in cannibalism and forced-worship of a patriarchal deity," the lawsuit states.
The Temple argues that the Baphomet statue is featured in four of the show's ten episodes in Season 1 and that they notified Netflix and the studio of their copyright violation claim last month, but received no reply. The statue can be seen frequently in scenes set at the Academy of Unseen Arts—which is basically an evil Hogwarts.
"TST seeks, among other things, a permanent injunction barring Defendants from reproducing and distributing the Sabrina Series utilizing images of the TST Baphomet with Children, and TST submits that absent the relief requested herein, Defendants will continue to willfully infringe TST's copyright, trademark and common law rights."
Lucien Greaves, the co-founder of The Satanic Temple, took to Twitter last month to threaten legal action over the issue.