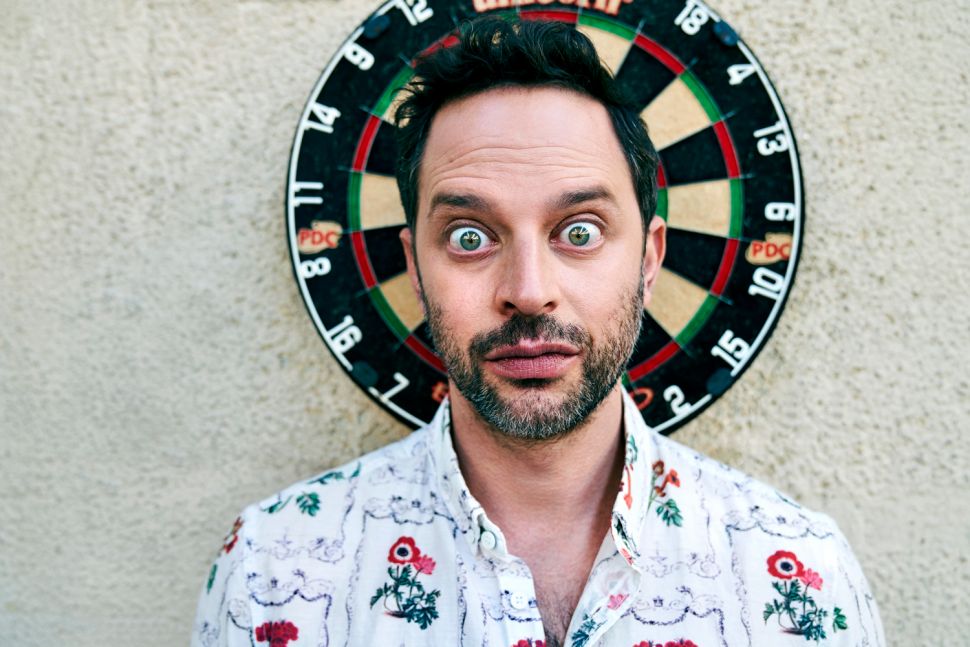 Nick Kroll might be the funniest person alive, but John Mulaney will never tell him that.
"If he knew how funny he is—it's just too powerful," says Mulaney, who's been collaborating with Kroll for the better part of 20 years. "He can't know. Like when Einstein knew he was a genius, he was just boring. Nick might be the funniest person ever—I mean, Mel Brooks is alive, so I have to watch what I say—but when Mel Brooks is no longer alive, Nick Kroll will be the funniest person living."
In the breakroom of Titmouse Inc., Kroll's office and animation studio in Los Angeles, the contender for second-funniest person in the world is rummaging through the snack closet and dumping his finds into a bowl.
Subscribe to Observer's Entertainment Newsletter
"This tastes like fish!," shouts Kroll, contorting his face in mock-hideous disgust as he takes another bite of homemade banana bread.
"It's so gross, I don't know why I'm eating it!"
Next up, the 40-year-old is popping a bite-sized chocolate ball into his mouth and stomping the floor in his fresh white sneakers like a kid smashing ants. "You want a bite?" he asks me.
It's exactly the sort of business lunch you might expect from one of the creators of the animated Netflix comedy Big Mouth—a man who also Instagrams duckface selfies in rouge lipstick and whose impersonation of a crotchety old New York Jew became Broadway's most unlikely hit show, Oh, Hello, opposite John Mulaney last year. A man who, despite gaining huge notoriety as the douchey attorney on The League or just "The Douche" on Parks and Recreation, is still pretty sure he's a failure.
"It would be so fun to be like, 'I'm the fucking man,'" says Kroll, eyes rolling up to the ceiling after revealing how the lackluster reception to his 2013-2015 Comedy Central sketch series, Kroll Show, nearly undermined his faith in a television career. "But I don't think I'm capable of that."
Kroll is staring at an old photograph of his Big Mouth co-creator and childhood best friend, Andrew Goldberg, on the wall. The two are awkwardly standing next to each other in Bar Mitzvah suits, with young Goldberg towering over Kroll and both sporting criminally ugly bright ties and half-hearted smiles. Nothing much has changed. The pair's awkward younger years held captive by the terrors of puberty are the primary fodder for the series.
What started out as an idea for a show about Jewish kids in middle school called "Bar-Mitzvah Boys" evolved into a show about Goldberg and Kroll four years ago, while the two were on vacation in Mexico City with co-creators Jennifer Flackett and her husband Mark Levin, who work as a screenwriting and directing team. (Goldberg worked as the couple's assistant while he was in film school at UCLA). "Andrew had such a specific feeling about his puberty and Nick had such a specific feeling about his—with Andrew starting so early and Nick starting so late—it just made sense," recalls Flackett.
Kroll voices the 7th-grade version of himself on the show, while Mulaney voices the young Goldberg. Both are guided by their demonic Hormone Monsters (Kroll and Maya Rudolph) and, this season, the dastardly Shame Wizard (David Thewlis), who infuse hearty doses of self-doubt into the middle schoolers' thoughts. Some episodes are ripped directly from Kroll's adolescence, like when he got pantsed in seventh grade in front of his crush.
"I didn't feel much shame about masturbating as a kid," says Kroll. "But I felt shame about my own body. I felt bad about being such a late bloomer. I was mortified, and it still sticks with me today."
More than a few people seem to find what's been called the "Perverted Wonder Years" hilarious, and nearly across the board, reviews for the second season have been ecstatic. ("Big Mouth is performing a public service," wrote New York magazine's critic. "I'm dead serious when I say that this series deserves a Peabody Award.")
"For a guy who is pretty hard on himself in general about what I do, people are getting the show and it feels tremendous," says Kroll, shoving another piece of candy in his mouth before letting out a sigh. "And then I'll think to myself, 'I sounded egotistical in that interview or falsely self-deprecating.' No matter where I am, there is someone monitoring me to make sure I bring myself down a few pegs."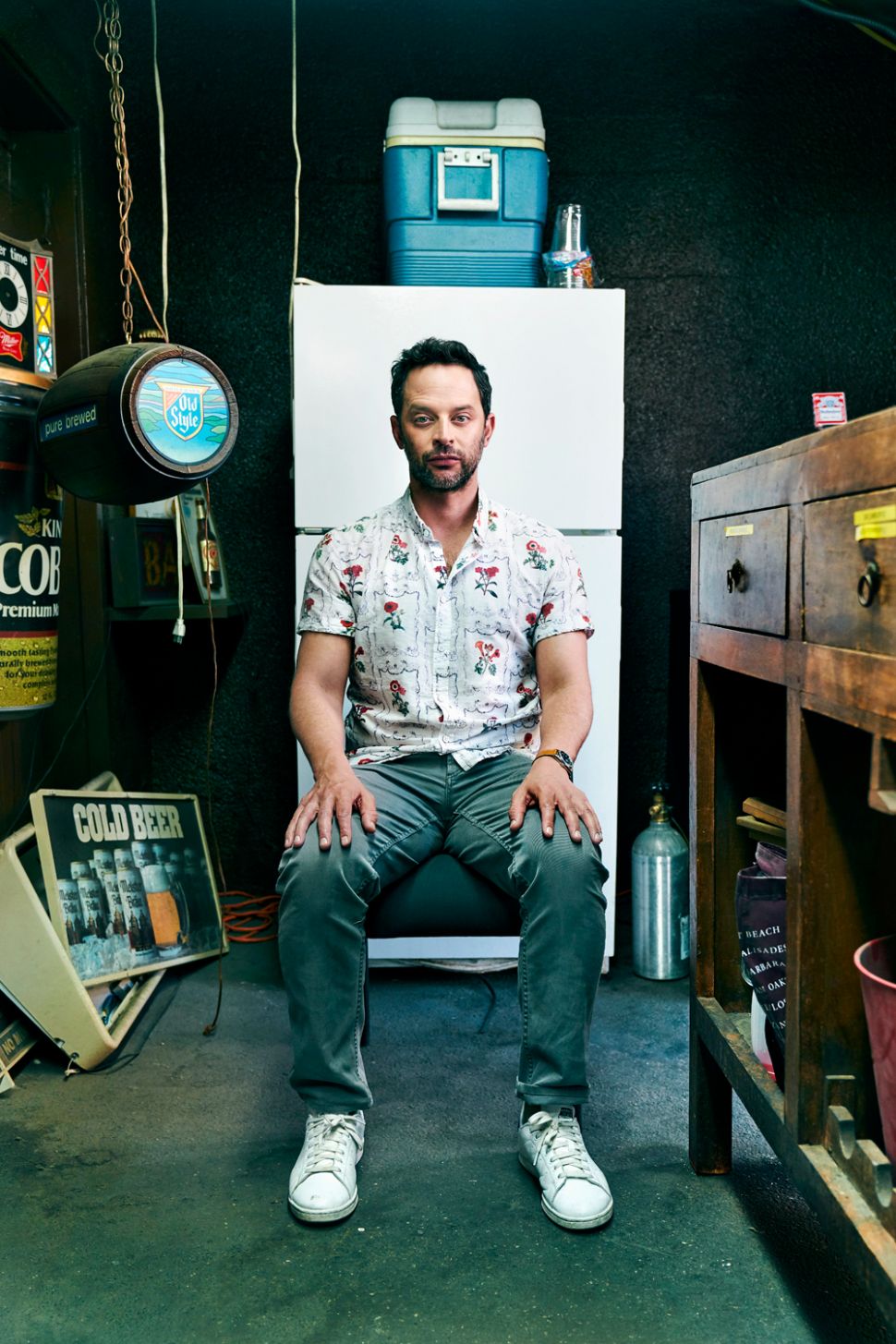 For all his hangups and traumatic memories, Kroll's upbringing in the idyllic suburb of Rye, New York, wasn't particularly rough. The youngest of four, he played basketball and soccer, performed in the theater at Rye Country Day School, and re-created "Wayne's World" sketches with his friends. But he always felt different than the other boys his age. Before he hit puberty, he was a tiny, insecure and gregarious kid. Then in high school, things changed. He sprouted about ten inches and packed on some pounds.
As a teenager, he interned for his father Jules Kroll, founder of the legendary Kroll Associates, a multinational, $1.9 billion corporate-investigation firm that aided the Kuwaiti government in locating Saddam Hussein's hidden assets. Nick realized early on that he wasn't cut out for that kind of work, and so naturally figured comedy was a better bet. ("I got to meet his dad recently, and now I see what he's going for," laughs his longtime friend Fred Armisen, who voices the character based on Kroll's father in Big Mouth, along with the Ghost of Antonin Scalia.)
In college at Georgetown, Kroll became the director of an improv group on campus. It's where he auditioned John Mulaney, then a freshman, 18 years ago, and hired him into the troupe. "Nick was a cavalier, charming, outgoing, could-talk-to-anyone kind of guy. He was a beaming shtick," Mulaney says. The two became instant friends. Mulaney, who went on to write for SNL, even slept on Kroll's couch a few summers in New York while he was going through a breakup.
In New York, Kroll hosted a weekly alt-comedy show with actress Jessi Klein at Rififi, the adored East Village video store and underground comedy clearinghouse that shuttered in 2008, and enrolled in the improv farm system at UCB Theatre while doing open mics around town. Once he sold a few sketches to Chappelle's Show, Kroll began writing for Comedy Central's online network MotherLoad and doing TV and radio ads to scrape together extra cash. Eventually, he pitched the network with fellow comedian John Daly and director Jonathan Krisel on a stand-up special, Thank You Very Cool, which eventually led to Kroll Show.
Kroll's vast universe of characters, including brash Jersey Shore knock-off Bobby Bottleservice, craft service coordinator Fabrice Fabrice, Saskatoon transfer student Mikey in Degrassi spoof Wheels Ontario, and spoiled party-animal Aspen Bruckheimer from Rich Dicks, all became mainstays on Kroll Show. One of his most memorable alter-egos was PR flack Liz G., founder of PubLIZity along with airhead publicist Liz B., played by Jenny Slate. Their sketch, "Yogurt Water," in which PubLIZity helps a client with an event for cultured yogurt hydration, is one of the many Kroll Show bits that can make a legitimate claim for comedy-nerd cult canon-hood. Kroll's screechy, valley-girl Liz voice, which appears in light disguise in the character of Lola in Bigmouth, is among costar Maya Rudolph's favorite Kroll talents. "It just rolls off the tongue so naturally for him," she says. "He can do anything. I think he's one of the funniest people I've ever known. And he's not just funny, he's more painful funny, because of the accuracy."
That accuracy was on full display when Kroll and Mulaney signed on to host the International Spirit Awards last year, where they wasted little time addressing sexual misconduct in Hollywood. Their opening monologue featured anecdotes about Harvey Weinstein and Brett Ratner and critiques of the apologies given by Louis C.K., Mario Batali and Kevin Spacey. Their high-risk riffs about what people say when a camera isn't present, and the brutal, honest approach, drew rounds of applause from the audience.
"I find Shame Wizard's very powerful in the era of #MeToo and #TimesUp," says Kroll, invoking one of his characters to explain his thoughts on a serious topic, which is something he tends to do. "There is so much of that grey area behavior, not like straight up sexual assault stuff, the grey area of power and social dynamics. The idea that this behavior is just boys will be boys, it really undercuts what's at play here. And again, so much of it is based in the stuff that started early on in puberty."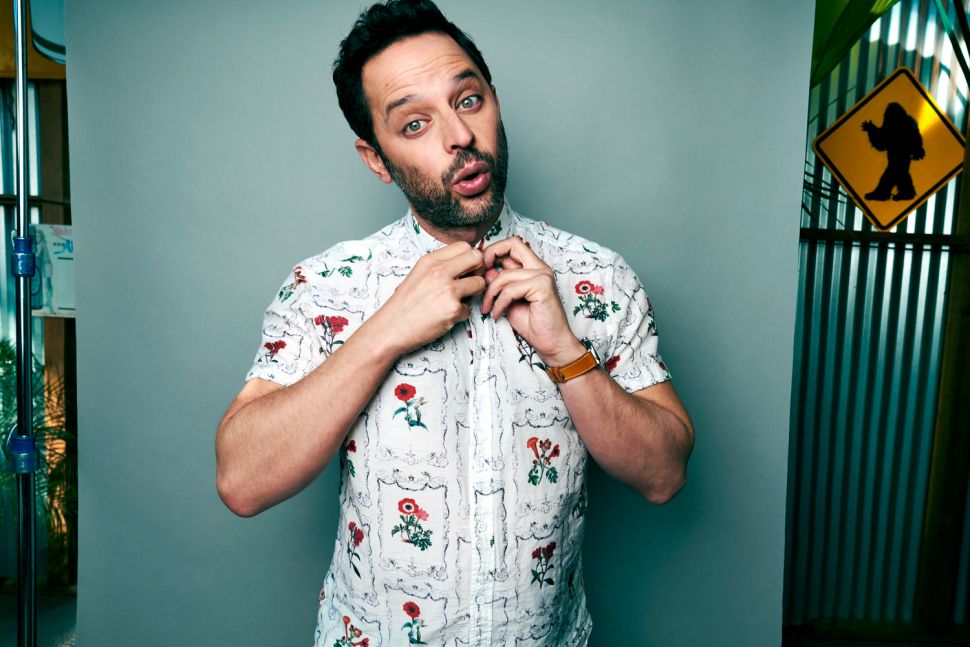 In the Bigmouth writer's room, where fully grown men and women talk about masturbation, ejaculation, genitals and all manner of sexual perversity, Kroll strives to provides a space where everyone feels safe and respected so they can have frank, interesting conversations. "I'm not an expert in this at all," he says. "But it seems like the issues occur when people use their power to make people do things they don't want to do. If you create a space where no one is going to use their power to try have sex with you, but we are going to talk about sex, then people are like, 'Great, let's do that!'"
One of Kroll's favorite second-season episodes of Big Mouth centers around the teenage girls Missy (Jenny Slate) and Jessi (Jessi Klein) visiting a spa. It's full of highly explicit cartoon nudity and was inspired by Flackett's experience taking her own daughter to a Korean spa, where different women of all shapes and sizes roamed freely in the buff. Kroll told his team that he didn't want to show the girls naked because it was "pedophile bait." But Flackett insisted that a naked girl isn't an inherently sexual object unless society makes it that way.
Kroll suspected there'd be minor pushback, and is adamant that they weren't sexualizing kids, but he's still utterly disappointed in the guttural reactions that followed. "Go read some of the YouTube comments and you'll find some people who thought that was pedophilia," he says. When I tell him I was surprised people felt that way, he says "Right. Because you don't think like a pedophile."
As Flackett puts it, Kroll has a unique ability to push boundaries, while toeing the line between funny and offensive. He understands that not everyone will get or like dirty jokes, but he's unapologetic about going there.
"Nick is like your favorite Maître D' at your favorite hotel restaurant," says Rudolph, who's disco-themed ode to breasts, butts and naked bodies of all forms in the episode is a Hormone Monstress highlight. "He genuinely makes me belly laugh, and the next thing about to come out of his mouth is far funnier and even dirtier than what he just said."
"I'm not claiming I'm a good person, but my characters have been for the most part primarily bad people," Kroll laughs.  
It's one of the things he's been working on in therapy. "I was sad three years ago," he tells me, thinking back to a time when his uncertainty plagued his professional career. "Amy Schumer and Key & Peele were winning Emmys and Peabody awards and getting 20 million views, and mine had like 300,000. The stuff that I make is incredibly important to my self-worth. I want people to like it! I think I feel better about myself now because I've spent a lot of time making stuff that's been received how I'd hoped it would be."
If Kroll still isn't particularly eager to own his success, he chalks that up to his Shame Wizard. "Shame helps govern behavior," he says. "Too much and it makes you feel terrible. But a little shame helps you not become an asshole."