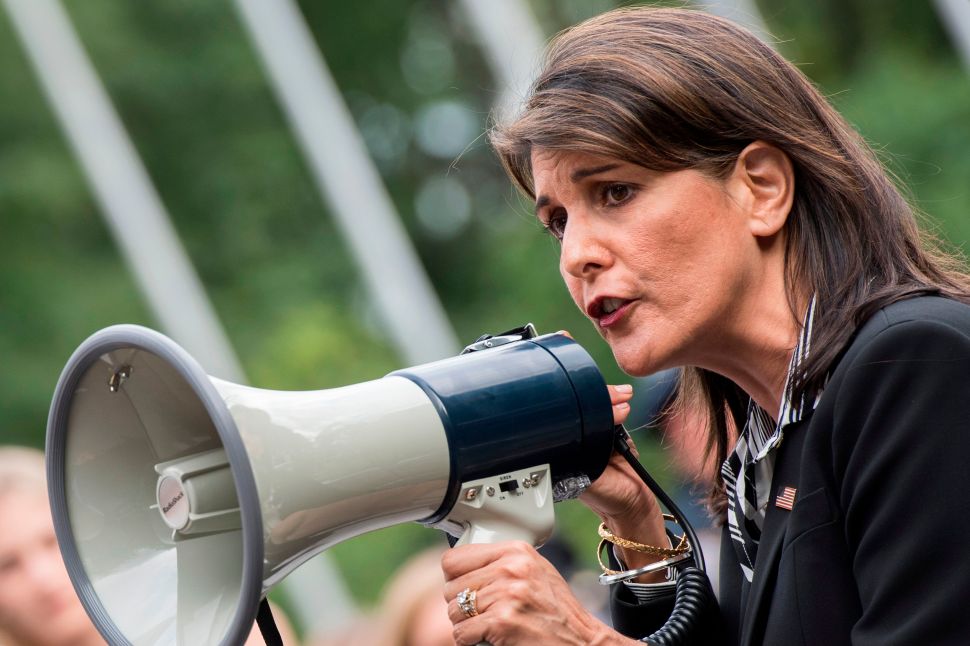 After announcing an emergency United Nations Security Council meeting, Nikki Haley called the Kremlin's seizure of three Ukrainian ships in the Kerch Strait this past weekend "an outrageous violation of sovereign Ukrainian territory."
"What we witnessed this weekend is yet another reckless Russian escalation," Haley told foreign representatives on Monday. "The United States continues to stand with the people of Ukraine against this Russian aggression."
Condemning Russia's military actions as "arrogant," the outgoing U.N. ambassador claimed to speak for "the highest level of the American government" following briefings with President Trump and Secretary of State Mike Pompeo.
Subscribe to Observer's Politics Newsletter
"This is no way for a law-abiding civilized nation to act," continued Haley. "In the name of international peace and security, Russia must immediately cease its unlawful conduct and respect the navigational rights and freedoms of all states."
Despite her fierce bluster—and reputation as a hawkish defender of Trump's 'America First' platform—Haley's condemnation of Russian aggression has left many experts unimpressed.
"Trump admin response to Russian aggression has been confused and contradictory," tweeted the Brookings Institution's senior fellow Thomas Wright. "Haley made a strong statement but Trump bashed NATO yesterday and the US Ambassador to Germany bashes Merkel's govt today."
Haley's remarks appear to fit the Trump administration's standard playbook for dealing with geopolitical crises between Russia and Ukraine: Condemn Moscow, and then do nothing. Responding to a cyber-attack launched by the Russian military on its neighbor last year, the White House threatened "international consequences," but failed to deliver any meaningful deterrent. While the Trump administration did slap sanctions on Russian oligarchs and government officials in retaliation for interfering in the 2016 election, the president himself sided with Vladimir Putin over his own intelligence agencies during the Helsinki summit this past summer, saying he did not "see any reason why" Russia would have waged a disinformation war against the U.S.
Neither the White House nor the State Department have responded to the Kerch Strait incident, further diminishing the ambassador's capital. With Trump scheduled to meet with Putin later this week in Buenos Aires at the G20 Leaders Summit, and Haley leaving the U.N. at the end of this year, it is perfectly clear who the only relevant actors in this international saga are. And it is perfectly clear where they stand.