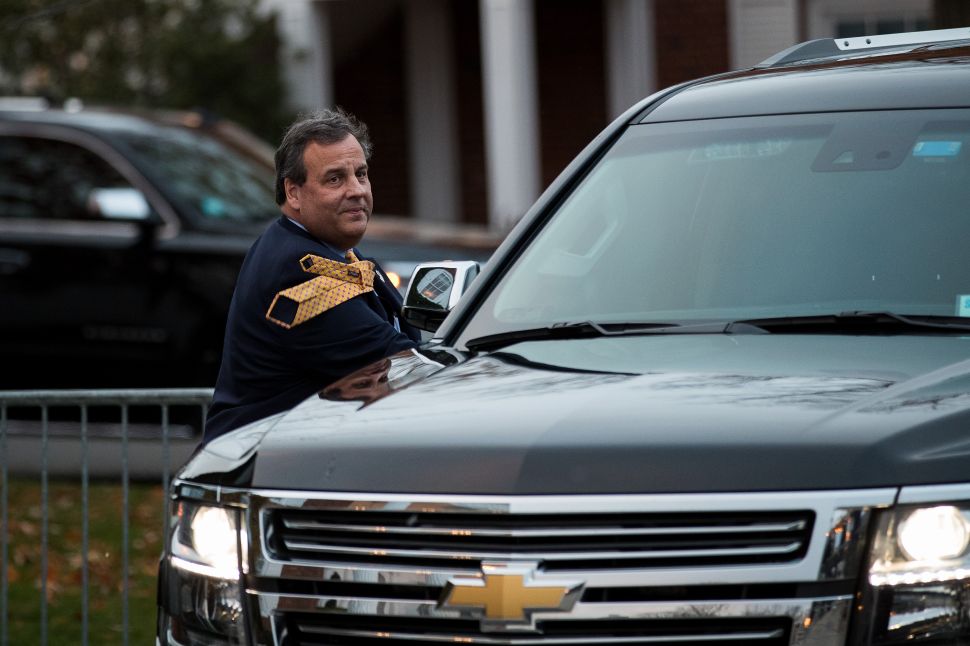 Think former Gov. Chris Christie and you're likely to think about Bridgegate, the petty dirty political trick that doomed the former New Jersey governor's presidential hopes.
Though allegedly tying up traffic on the George Washington Bridge might be enough to prevent Christie from landing a job in the Trump administration, Politico reports that it's another Christie scandal that should have people worried about how he might handle the Mueller investigation as Attorney General.
The report reminds people of the $1.5 million settlement the Christie administration paid to a former assistant Hunterdon County prosecutor who claimed he'd been fired after bringing charges against the then-governor's allies.
Former Assistant Prosecutor Bennett Barlyn tells Politico that if Christie is nominated, the Senate should examine how Christie's politics influenced the ways in which he used his power as both governor and as a federal prosecutor.
Politico reports that Barlyn was an assistant prosecutor when his office indicted then-county sheriff, Deborah Trout and two of her subordinates on official misconduct and other charges.
The state Attorney General's Office later took over the county prosecutors office and had a judge dismiss the indictments, according to the report.
Barlyn contends the move was politically motivated and came straight from Christie's office, according to Politico.
Quote of the Day: "When you have a problem and you don't fix it, it doesn't go away, it gets worse. It really gets worse," — Senate President Steve Sweeney, on the failure to address the state's long-standing financial problems.
Lesser-Known Christie Scandal Could Resurface If He's Tapped for AG
A scandal not nearly as infamous as Bridgegate could have major implications for former New Jersey Gov. Chris Christie if he's nominated to become the next U.S. Attorney General.
Politico Read more
Lt. Gov. Sheila Oliver: Casino Fight Allegations Against Mayor Frank Gilliam and Councilman Is 'Troubling'
An early morning altercation Sunday outside the Haven Nightclub at the Golden Nugget casino in Atlantic City involving Atlantic City Mayor Frank Gilliam and City Councilman Jeffree Fauntleroy II is under investigation by the Atlantic County Prosecutor's office.
Inquirer Read more
Recount 8.5 Million Votes by Hand? By Thursday?? Cory Booker to the Rescue!
U.S. Sen. Cory Booker, D-N.J., on Monday called on Garden State attorneys to help count votes in Florida's still-undecided election of governor and U.S. Senator.
NJ.com Read more
Top Democratic Lawmaker Says NJ a Mess, Won't Raise Taxes
The state's top Democrat in the Legislature wants New Jersey voters and taxpayers to rise up and say: We're mad as hell and we're not gonna take it anymore!
NJ101.5 Read more
How a Changing Congress Could Put Gateway Projects Back on Track
Tuesday's midterm election could unlock federal funds for a much-needed new rail tunnel under the Hudson River from New Jersey to New York and a new bridge leading to it.
The Record Read more
What's Next for These Midterm Winners, Losers and Key Players as the Run Up to 2020 Starts?
Last week's midterm elections changed the partisan balance of New Jersey's 12-member congressional delegation — at least for the next two years — giving Democrats nearly all of those seats amid the blue wave that brought them control of the House of Representatives.
The Record Read more
LGBT-Rights Activists Wed in Asbury; Murphy Attends Ceremony
Wiping tears from their eyes, Christian Fuscarino and Aaron Williams exchanged their wedding vows Sunday in Trinity Episcopal Church before a gathering of friends, families and supporters that included Gov. Phil Murphy.
Asbury Park Press Read more
Brookdale Pays $425K to Settle Lawsuit Over 2012 Athletic Director Firing
Brookdale Community College agreed to pay its former athletic director $425,000 after firing him in 2012 over how he handled finances from a basketball tournament, including a $200 payment to himself.
Asbury Park Press Read more
Paterson: How a Program for Troubled Teens Spiked Police Overtime
Overtime payments to officers in the city's community policing division skyrocketed last summer after the city got a $1 million state grant to start a new program for troubled teenagers, municipal payroll records reveal.
The Record Read more
Democrats Prevail in Quarrelsome Englewood Cliffs
After several days of uncertainty, two Democratic candidates have emerged as the winners in Englewood Cliffs, shifting council control to the Democrats.
The Record Read more
New York City Dogs are Enjoying NJ Parks Off Their Leashes and a County Executive Is 'Alarmed'
If you lived in New York City and could afford it, would you cough up $100 a day to send your dog to "hike" around in New Jersey?
NJ.com Read more
Editorial: Politics Unavoidable in NJ Legislative Hiring Probe
As a special legislative panel digs into the state's hiring practices in response to sexual assault allegations against a former Murphy administration official, critics warn not to allow the process to become politicized.
Asbury Park Press Read more