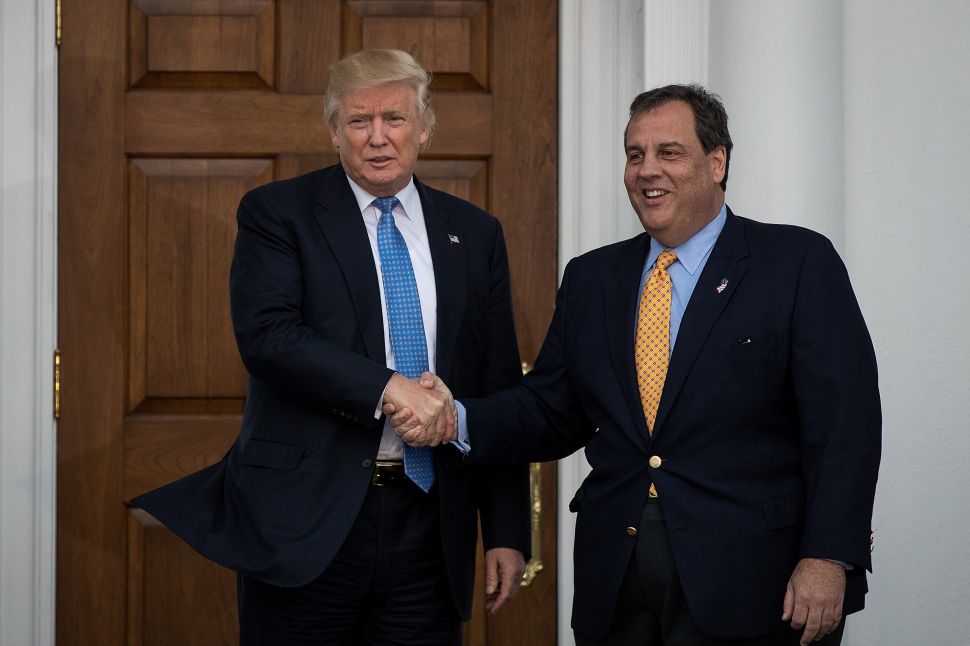 Chris Christie, who left office as one of the most unpopular governors in New Jersey's history, chimed in on Pennsylvania politics.
The Associated Press reports that Christie, in New Hampshire for a Republican rally, used the occasion to slam Pennsylvania Gov. Tom Wolf and Pittsburgh Mayor Bill Peduto for not joining President Donald Trump when he visited the state to offer his condolences following the shooting at the Tree of Life Synagogue in the city.
Christie, who was an early supporter of Trump's campaign for the presidency, said the visit was an attempt to bring the country together, and "it's really disgraceful of Gov. Wolf and the mayor of Pittsburgh not to meet the president."
Wolf and Peduto chose not to join the president after Pittsburgh community leaders said they didn't want Trump to come to the city.
Christie also pushed back against claims that the president's inflammatory language and refusal to denounce right wing extremism has added to the political polarization and violence in this country.
Instead, Christie said that "sometimes what we intend when we say it is different than how some people hear it," according to reports.
Quote of the Day: "Every two to four years, we see a football, and Lucy, being the New Jersey voters, kind of lifts the football," —Doug Heye, a former spokesman for the Republican National Committee, on state voters supporting Republican candidates.
In New Hampshire, Christie Criticizes Pennsylvania Officials
Former Gov. Chris Christie is criticizing Pennsylvania Gov. Tom Wolf and Pittsburgh Mayor Bill Peduto for declining to join President Donald Trump on Tuesday as he visited the city where 11 people were killed in a mass shooting at a synagogue on Saturday.
Associated Press Read more
Democrats Have 48%-21% Edge on VBM's Statewide
New Jerseyans have already cast 262,095 early votes and votes by mail—a little under half of the ballots requested—as of Monday night, according to TargetSmart, which tracks early voting.
New Jersey Globe Read more
Congressional Candidate Says Jews Need to Arm Themselves, Are 'Stupid' to Attack Trump
A South Jersey Congressional candidate says American Jews need to arm themselves and stop relying on others—especially Democrats—for their protection.
NJ.com Read more
Second New Jersey Virus Outbreak: Four Children at Voorhees Nursing Home Diagnosed
A second outbreak of adenovirus, believed to be of a milder type than the one responsible for the deaths of nine children in Wanaque, has been reported at a long-term care facility for medically fragile children in Camden County.
The Record Read more
Meet Phil Murphy's Inside Man
When the private company running the lottery's sales and marketing wanted a meeting with the governor's office to discuss a bill that could raise its profits, it turned to the firm with one of the closest connections to the governor.
The Record Read more
Democrats Scramble to Save Menendez in New Jersey
It was a rare convergence of New Jersey's governor and its two senators for an official event meant to be about policy, not politics.
New York Times Read more
Stand Up to Trump? Hugin Says He Will, But Menendez Says He's Had His Chance, and Didn't.
President Donald Trump looms over New Jersey's neck-and-neck U.S. Senate race between Democratic U.S. Sen. Robert Menendez and GOP challenger Bob Hugin.
NJ.com Read more
Pipe Bomb Suspect May Have Planned to Target Bob Menendez in NJ, Senator Says
The man accused of sending pipe bombs to prominent Democrats may have planned to send an improvised explosive device to U.S. Sen. Robert Menendez, according to the Democratic senator.
NJ.com Read more
Midterms 2018: Enthusiasm in NJ's 7th District Gives an Edge to the Democratic Challenger
Democratic enthusiasm in the district where President Donald Trump spends many of his summer weekends has given a slight edge to challenger Tom Malinowski over Republican Rep. Leonard Lance, a Monmouth University poll released Wednesday said.
The Record Read more
Endorsement: Re-elect Gottheimer. The Last Thing We Need Is Another Petty Partisan
Even congress has a silver lining, and that is Josh Gottheimer. He's the smart, upbeat centrist who replaced Scott Garrett, the dour ideologue who clung to this seat for more than a decade.
NJ.com Read more
Endorsement: Luttrell, Kiley for Monmouth Freeholder
Monmouth County Freeholder John Curley, a party-spurned Republican who is seeking re-election as an independent, claims he has been the victim of a smear campaign because he has not always toed the party line.
Asbury Park Press Read more