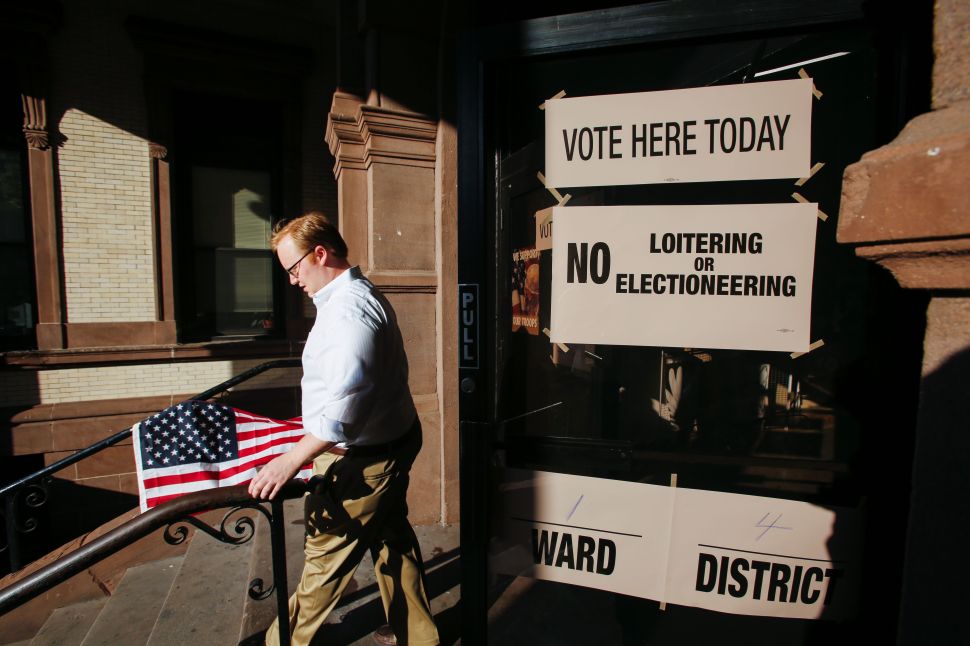 NJ Transit is infamous among New Jersey commuters for its bad service and on Election Day at least one candidate isn't willing to bet her candidacy on its ability to get folks home in time to vote.
NJ.com reports that Democratic congressional candidate Mikie Sherrill told volunteers in her campaign to encourage voters to consider casting their votes before going to work instead of relying on NJ Transit to get them home before polls close.
Sherrill, who is locked in a tight race with Republican Jay Webber in the 11th Congressional District, has good reason to be concerned. As the NJ.com report notes, NJ Transit is second-worst in the nation when it comes to breakdowns, and commuters have complained repeatedly that the agency routinely fails to provide timely information about breakdowns and delays.
Gov. Phil Murphy, who campaigned on a promise to improve service on NJ Transit, continues to blame the Christie administration for the agency's problems. He held a press conference at the beginning of August promising to fix the agencies ongoing problems, and then in September awarded a public relations firm a $250,000 contract to recommend how to improve the agency's communications.
Sherrill, however, isn't waiting for the agencies recommendations. As she said, according to the report, "I tell people, 'Maybe vote in the morning if you have to go to Manhattan?' Let's not rely on NJ Transit right now."
Quote of the Day: "This is an abhorrent and cowardly act and does not reflect our values of diversity and inclusion," —Richard Helldobler, president of William Paterson University, on the posting of placards on campus saying "It's Okay to be White."
Early and Absentee Voting: Youth Vote Surges in Hotly Contested Races
A surge in early voting totals in key states across the nation suggests that 2018 could be the year that young people finally show up for a midterm election.
The Record Read more
NJ Senate Race 2018 Polls: Bob Menendez Has 15-Point Lead Over Bob Hugin in Quinnipiac Poll
Independent voters breaking for the Democrat gave Sen. Bob Menendez a 55 percent to 40 percent lead over Republican challenger Bob Hugin in a poll released Monday by Quinnipiac University.
The Record Read more
Stile: Migrant Caravan? NJ Voters Are More Concerned About Health Care and the Economy
As President Donald Trump talked up his plans to deploy 15,000 troops to confront a "national emergency" at the Mexican border, Democratic activist Amber Pallante walked through a Burlington County neighborhood late last month, worried about the closer-to-home threat of losing health insurance.
The Record Read more
'It's Okay to Be White' Fliers Found at William Paterson University
"It's Okay to be White" read the white letter-sized posters found across the William Paterson University campus.
The Record Read more
NJ Midterm Elections 2018: These College Students Are Tired of Being Ignored by Politicians
Lauren Deinhardt had one burning question for Congressional candidates who spoke at Brookdale Community College a few weeks back.
Asbury Park Press Read more
Gun Violence, Gender Discrimination and #MeToo: Young Women Explain What Sparked Their Political Awakening
In the midst of #MeToo, the Parkland, Fla., high school shootings, climate change and immigration battles, American women are growing more politically active. An unprecedented 256 women are running for seats in Congress this fall. But perhaps the most intriguing group of women emerging onto the political landscape are high school students with a strikingly activist spirit.
The Record Read more
Hudson Sees Heavy Early Voting in Midterms: 'It's a Referendum on Donald Trump'
Early voting has been heavy in Hudson County in the run-up to a midterm election that experts say is a referendum on President Donald Trump.
NJ.com Read more
Report: Conway Changes Twitter Bio to 'Jersey Girl Embarrassed by Bob Menendez'
According to a report in The Hill, White House counselor Kellyanne Conway, who was in New Jersey last month to campaign for CD-11 Republican candidate Jay Webber, has changed her Twitter bio to a midterms-themed description: "Jersey Girl embarrassed by Bob Menendez,"
InsiderNJ Read more
Can a Bunch of Leaves Really Stop an NJ Transit Train? Yes, and Here's How.
Can a commuter train weighing in at thousands of tons be stopped in its tracks by a bunch of leaves?
NJ.com Read more
Will NJ Transit Spoil Election Day? Mikie Sherrill is Worried. Here's Why.
Speaking to several dozen volunteers in Parsippany before they began canvassing on Sunday afternoon, Democratic congressional candidate Mikie Sherrill had words of advice: Don't rely on NJ Transit.
NJ.com Read more
Court Faults DEP in Changes to Radon Rules
A state appeals court has faulted the Department of Environmental Protection for improperly revising rules on how it oversees companies that test for radon in homes, finding that, in essence, the DEP handed over some of its regulatory functions to firms it oversees.
NJSpotlight Read more
Jersey Shore Schools Ask Voters for More Money for Security, Facilities
School districts in Monmouth and Ocean counties will ask voters to approve more than $60 million to upgrade facilities, install security equipment and, in some places, hire police officers to patrol buildings and grounds.
Asbury Park Press Read more
Edelson: After Costing NJ Taxpayers Millions, NHL Wants in on Sports Betting
National Hockey League commissioner Gary Bettman was at the FanDuel Sportsbook at the New Meadowlands Racetrack on Monday to announce that the league was getting into the sports betting business in the state, making FanDuel the league's official daily fantasy and sports betting partner, with the New Jersey Devils having a tie-in as well.
Asbury Park Press Read more
Camden Mayor Vetoes Controversial Billboard
Camden Mayor Frank Moran on Monday vetoed a local permit to allow a South Jersey company to build a controversial digital billboard on the city's waterfront that would target commuters on the Ben Franklin Bridge.
Inquirer Read more
Dover Mayor Screams Profanities at Alderwoman on Video
It's local politics at its worst. A video appears to show the mayor of a Morris County town threaten an alderwoman and volunteer while they canvassed a neighborhood for votes on Sunday.
NJ101.5 Read more