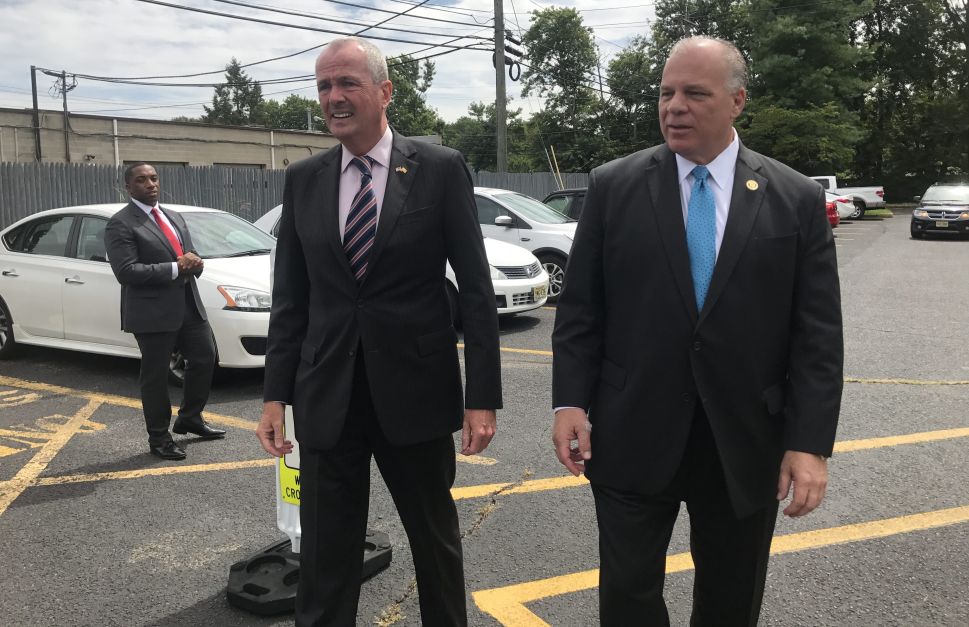 Redistricting is always a fraught process, but Democratic legislative leaders are moving forward with a plan that could give them more control over how congressional districts in the state are drawn.
According to a report by Politico, Senate President Steve Sweeney and Assembly Speaker Craig Coughlin are planning to seek a vote on an amendment to the state constitution that would change how New Jersey draws its electoral map.
The current process calls for the 13-member panel to include six members appointed by state Democrats, six by Republicans and one tie-breaking vote appointed by the state Supreme Court.
Under the proposed plan, each party would get two appointments. The Senate president, Assembly speaker and minority leaders in both houses would get two picks each. The plan would also require legislative district maps to reflect a political party "performance index."
Republicans say the plan is a no-go, predicting there would be bi-partisan opposition to the measure.
While gerrymandering has long been an issue, a statistical analysis by the Associated Press based on 2016 election data found that more states had Republican-favored districts than Democratic ones. North Carolina and Pennsylvania, where Republicans fully controlled redistricting after the 2010 Census, had some of the largest GOP congressional advantages.
Quote of the day: "My message to everybody is we have to do better, we must do better and we will do better," — Gov Phil Murphy, after a snowstorm left thousands of New Jersey commuters and school children trapped on snowy roads last week while he and other state and municipal officials attended an Atlantic City conference.
Redistricting Plan Would Strip Power From State Democratic Chairman and Republicans
Democratic legislative leaders are preparing to diminish the power of their state party chairman as well as Republicans — if they can get New Jersey voters to go along with them.
Politico Read more
Once Excoriated for Being a Young Man in a Hurry, Booker Shoulders the Potential Encumbrances of Past Elected Offices
The late Carl Sharif told him he needed to work the ward hard, and so Cory Booker pounded on doors in the Central Ward to land a Newark City Council seat, later served as a big city mayor, and then went statewide to become a United States Senator.
InsiderNJ Read more
NJ Finally Back on Track to Legalize Marijuana as Hearings Are Scheduled for Next Week
After months of delay and backroom disputes, state lawmakers are expected to finally take action next week on legalizing marijuana for adults over age 21.
NJ.com Read more
Under Gov. Murphy, State Runs Atlantic City Behind Closed Doors
When Lt. Gov. Sheila Oliver took control of Atlantic City under a state takeover, it's likely she did not anticipate overseeing a mayor and councilman caught up in a 2:30 a.m. brawl in a valet area outside a casino nightclub.
Inquirer Read more
New Jersey Offers an Early Christmas Gift in the Form of Tax Amnesty
Do you owe back taxes to New Jersey? If so, you're in luck! The state launched a controversial tax amnesty program last week.
The Record Read more
Hoax Threats Against NJ Schools Are Spiking
Ever since the Parkland, Florida, high school shooting nine month ago, the number of hoax threats made against schools and businesses in the Garden State has been much higher than normal.
NJ101.5 Read more
Court Rules Against Sporting Groups' Bid to Open State Lands to Black Bear Hunt
A state appeals court has denied a bid by three sporting groups to open state lands to next month's scheduled black bear hunt.
NJSpotlight Read more
Groups Backing Kim Focused on Health Care
Groups that backed Congressman-elect Andy Kim in his race against Rep. Tom MacArthur narrowly focused their messaging on a vulnerability MacArthur did not share with any of the state's other incumbent Republican congressmen — the American Health Care Act (AHCA).
New Jersey Globe Read more
Judge's Ruling Puts Vote on Jersey City's Polish Statue in Limbo
A Hudson County Superior Court judge on Friday threw another wrench into the proceedings surrounding the controversial Katyn monument in Jersey City when he nullified the City Council's June 13 ordinance that authorized moving the statue.
Nj.com Read more
Gov. Murphy Offers Storm Warning, Resetting Narrative After NJ Failed to Plow Roads
Three days after a mid-November snow storm crippled New Jersey, Gov. Phil Murphy held a media briefing Sunday to warn of "upcoming winter weather conditions."
The Record Read more
Campaign Signs Still Up?
Time is up for many of those campaign signs you still see plastered along your commute.
NJ101.5 Read more
What's Behind Gov. Murphy's 'Aggressive' Winter Storm Prep This Week?
Shell-shocked Gov. Phil Murphy is now determined to keep the snow off the roads over the next two days — and keep a political storm in the Statehouse from engulfing his administration.
The Record Read more
Gottheimer, Pascrell to Put SALT Back on Table in Democratic House
With the Democrats set to take control of the House of Representatives in January, there's momentum building among high-tax blue states to restore the full deduction for State And Local Taxes, known as SALT, which was lost when the all-Republican Congress adopted President Trump's tax reform bill.
The Record Read more
The Plan: NARCAN at Every Hotel in Burlington County
Following an alarming rise in fatal overdoses in Burlington County, law enforcement has launched "Operation Safe Overnight" — a training and distribution program to make the opioid antidote Narcan available at every hotel and motel in the county.
NJ101.5 Read more
Final Vote Nears for Jersey City Payroll Tax
The City Council on Tuesday is expected to vote on final adoption for a 1 percent payroll tax touted as relief for the city's underfunded public schools.
NJ.com Read more
Catholic Dioceses in New Jersey Will Name Priests Accused of Sexual Abuse
The Catholic Church in New Jersey early next year will name all priests and deacons who have been credibly accused of sexual abuse of minors, Cardinal Joseph Tobin announced Monday.
The Record Read more
New Jersey Allocates $2.1 million for Legal Aid for Immigrants
New Jersey residents facing deportation and other immigration issues could soon benefit from $2.1 million in state funds earmarked for legal aid for immigrants.
The Record Read more
Millennials Are Adopting More Rescue Pets
Millennials really love animals. The 18- to 34-year-old demographic now makes up the largest group of pet owners in the United States, and their pet adoption preferences are a boon to shelter dogs and cats.
Asbury Park Press Read more
NJ Medical Marijuana: Will Brick Approve First Dispensary at Jersey Shore?
The controversial proposal for a medical marijuana dispensary at a vacant OceanFirst Bank will be back in front of the public on Monday night.
Asbury Park Press Read more
Chris Christie's Long-Awaited and Pricey Portrait to Be Unveiled Monday Evening
Having fantasized since his first year in office about his likeness hanging in the statehouse, Gov. Chris Christie will finally have his official portrait unveiled Monday evening during an event in Princeton, according to a spokeswoman for Gov. Phil Murphy.
Asbury Park Press Read more
Former Lodi Mayor Joins School Board After Narrow Election Win
All provisional ballots have been counted and the Board of Education has filled its fourth and final seat with Marc Schrieks.
The Record Read more
Police Caught in the Middle of Fight Over Admission List for Rockaway Council Meetings
Some officials are criticizing Township Council President Jeremy Jedynak's directive to police to use a list to decide who can and cannot enter public meetings.
Daily Record Read more
Bergmann: Engagement Key to Understanding Lakewood's Orthodox Jewish Community
Of all the nasty, misleading campaign literature generated during the run-up to the recent elections, the most offensive appeared in mailboxes in Jackson, where competing slates tried to outdo each other in branding the opposition as being in the pockets of Orthodox Jews.
Asbury Park Press Read more
Camden School and Zoning Board Decisions Reveal 'Home Rule' Has Limits in the City
The prospect that Camden will resume directly electing school board members next year is most welcome.
Philly.com Read more