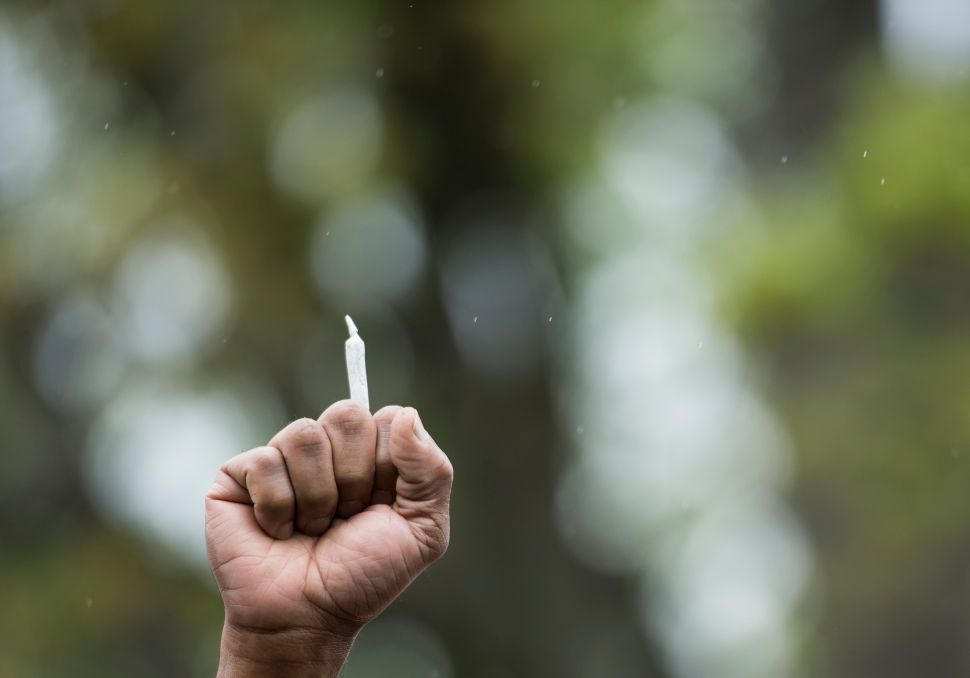 New Jersey is a step closer to legalizing the recreational use of marijuana after a joint legislative committee on Monday approved a plan to regulate and tax weed use.
The Senate budget committee and Assembly appropriations committee both approved the marijuana legalization measure on the same day that committees also approved plans to expand the state's medical marijuana program and to make it easier to expunge criminal convictions for marijuana-related crimes.
But legalizing marijuana in the state is still far from a done deal. Senate President Steve Sweeney told The Record Monday that he won't put the measure up for a vote in the upper house until it receives the endorsement from Gov. Phil Murphy.
Murphy and Sweeney have been at odds over how much the state should tax marijuana sales, with Sweeney pushing for a 12 percent rate and Murphy hoping for the state to take an even bigger bite.
Sweeney says the 12 percent rate — which would be one of the lowest in the country — is needed to discourage black market sales.
The bills must next be voted on by both houses in December, though it's unclear if the measures have the support needed to gain full legislative approval.
Quote of the Day: "I believe in raising the minimum wage. I don't believe in showboating and doing press conferences. If you want to get something done, then sit down with the principals and have a conversation," — Senate President Steve Sweeney, on Gov. Phil Murphy's calls for an increase in the state minimum wage.
NJ Marijuana Legalization Clears Another Hurdle
New Jersey is one step closer to legal weed after a rare joint panel of lawmakers from the Senate and Assembly approved a bill on Monday to regulate, tax and legalize marijuana.
The Record Read more
Federal Report on Climate Change Has Grim Warnings for NJ
Heat waves, coastal flooding, warmer oceans, and rising sea levels threaten the Northeast region's environmental and economic systems, jeopardizing the health and safety of its residents, according to the latest climate report by the federal government.
NJSpotlight Read more
Expungement Effort for Marijuana-Related Crimes Moves Ahead
A package of legislation that legalizes recreational marijuana for adults in New Jersey is moving forward.
NJ101.5 Read more
Here's What New NJ Driver's License Bill Looks Like
After months of negotiations, lawmakers and immigrant rights advocates drafted a new bill that would create a federally compliant Real ID license and a "standard" one for unauthorized immigrants, certain senior citizens and others who lack documentation.
The Record Read more
NJ College Rejects On-Campus Chick-fil-A Over Company's Anti-LGTBQ Stance
A New Jersey college gave its students the chance to pick which new restaurant they wanted on campus — so long as it wasn't Chick-fil-A.
NJ.com Read more
Henry Hudson Students Without ID Barred From White House Visit
Three seventh-grade students from the Henry Hudson Regional School, living in the United States on visas, were denied entry to the White House during a class trip because they didn't present identification, according to a report in the New York Post.
Asbury Park Press Read more
Murphy Says NJ Needs to Pass $15 Minimum Wage Now
With time running out in the 2018 New Jersey legislative session, Gov. Phil Murphy is imploring lawmakers to pass legislation that would raise the minimum wage in the Garden State.
NJ101.5 Read more
NJ's Top Lawmaker Blasts Murphy for 'Showboating' on $15 Minimum Wage Debate
New Jersey's most powerful state lawmaker accused Gov. Phil Murphy on Monday of "showboating" on the issue of whether to raise the state's minimum wage to $15 an hour.
NJ.com Read more
Atlantic City Democrats Denounce Mayor, Councilman After Casino Nightclub Fight
The Democratic Committee has distanced itself from the mayor and an at-large councilman in the wake of the officials' involvement in a melee outside a casino nightclub earlier this month.
Press of Atlantic City Read more
State AG Looking Into Complaint Prosecutor Hid Evidence, Committed Mortgage Fraud, 
The New Jersey Attorney General's Office is looking into a complaint accusing Atlantic County Prosecutor Damon Tyner of hiding evidence, committing mortgage fraud and more, sources tell NJ Advance Media.
NJ.com Read more
Kean Hasn't Ruled Out Challenge to Malinowski
Senate Minority Leader Tom Kean on Monday told The New Jersey Globe he has not ruled out a House run in the seventh congressional district in 2020.
New Jersey Globe Read more
Legal Settlement: Millions for Jersey City, New Home for PATH Substation
Jersey City would collect millions in tax payments from the Port Authority of New York and New Jersey under a proposed settlement of the city's four-year-old lawsuit against the bi-state agency.
NJ.com Read more
What You Should Know About Jersey City's New Business Tax
Jersey City's council adopted the new payroll tax on Nov. 20. Here's what you should know about the plan.
NJ.com Read more
Governor's Council Releases NJ End-of-Life Care Improvements in New Report
A state advisory council made immediate and long-term recommendations to improve end-of-life care in New Jersey in a report released Friday.
Press of Atlantic City Read more
VA-Backed Loans Surge in NJ
Veterans Administration-backed loans for New Jersey veterans and military service members have spiked over the past five years.
NJ101.5 Read more
Lakewood Couple Pleads Not Guilty in Welfare Fraud Case
A Lakewood couple indicted on welfare fraud and other counts following raids last year pleaded not guilty to the charges Monday.
Asbury Park Press Read more
New Jersey Racetrack Continues Sports Betting Lawsuit
The New Jersey racetrack that led the push to overturn a federal sports betting ban isn't giving up in its attempt to get monetary damages from the sports leagues that opposed the effort.
Inquirer Read more