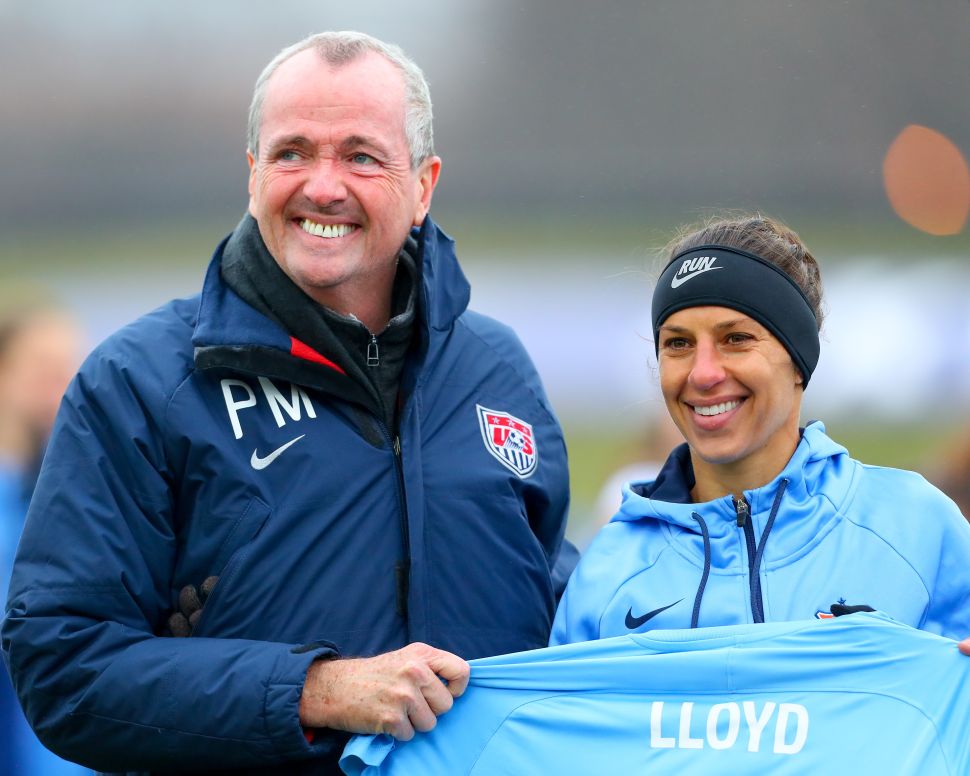 Gov. Phil Murphy is a millionaire soccer fan who owns his own soccer team. Environmentalists aren't thrilled with plans to build that team a new stadium in a forested area of Jackson Township that they say is one of the most environmentally sensitive areas in the state.
Politico reports that Trophy Park is scheduled to open in 2020 and will serve as the headquarters of Sky Blue FC, the professional woman's soccer team Murphy owns.
But environmentalists say the plan would involve clearing about 200 acres of trees that is linked to the Pinelands National Preserve, but isn't under the same strict protections, according to Politico.
The proposed site is just south of Six Flags Great Adventure theme park in Jackson, the website said.
When queried, a spokesman for the governor's office referred questions to the Sky Blue, which said it was interested in the development, but did not have an ownership stake, Politico reported.
Quote of the Day: "There may well have been larger, more outrageous scandals in the course of New Jersey political history, yet for sheer hubris exhibited, the so-called 'Bridgegate' scandal will be hard to top," — Asbury Park Press editorial board, calling for prison time for Bridgegate convicts Bridget Anne Kelly and Bill Baroni.
Developers Plan to Level Acres of Forest Land for Stadium Hosting Murphy's Soccer Team
Developers plan to build a massive sports complex in Jackson, N.J., to host a soccer team co-owned by Gov. Phil Murphy, causing concern for environmental advocates who say it will involve clearing thousands of trees.
Politico Read more
See How Often Police in Your Town Use Force, and How They Compare to Others
For the first time, you can now search to see how often your local police officers use any kind of force—from punches and kicks to baton blows and shootings—against someone.
NJ.com Read more
For 17 Years, N.J. Had the Chance to Stop Potentially Dangerous Cops. The State Failed.
Behind every baton blow and broken bone, every compliance hold and gunshot wound, there are piles and piles of paperwork.
NJ.com Read more
The Battle Over an N.J. College's China Campus Just Got Really Ugly
Kean University already had a fight on its hands after local union officials complained about treatment of faculty members at a satellite campus in China.
NJ.com Read more
Honeywell Plans to Move World HQ Out of N.J.
Just over three years after getting a $40 million tax credit to stay in New Jersey, the Industrial conglomerate Honeywell International Inc. is now leaving the Garden State to move to North Carolina, a source familiar with the deal said Thursday.
Associated Press Read more
NJ Has New Sanctuary State Rules for Cops, Illegal Immigration
More than a year after New Jersey voters elected a governor who campaigned on a platform of protecting the state's immigrant residents, the state's top prosecutor released a list of rules governing cooperation by state and local police with federal immigration authorities.
NJ101.5 Read more
New Jersey Cops Can't Bust Residents Over Immigration Status Under New State Rules
Attorney General Gurbir Grewal unveiled a new directive Thursday that restricts local law enforcement from participating in federal immigration operations, delivering a rebuke to the aggressive immigration policies of the Trump administration while attempting to improve trust with local police.
The Record Read more
Report: Guadagno Says Legalizing Prostitution Would Be Preferable To Legalizing Pot
In an interview on NJ101.5 with Bill Spadea, former LG Guadagno says that she'd rather see the legalization of prostitution than the legalization of pot.
InsiderNJ Read more
Vaccine Rules Under Fire From State Lawmakers
In 2014, a New Jersey lawmaker introduced a bill that would allow certain children under age 6 to attend school without getting vaccinated against hepatitis B, falsely asserting that the vaccine raised the risk of autism.
Inquirer Read more
Legal Weed or Medical Marijuana? N.J. Medical Dispensaries Skirt Nonprofit Law
When New Jersey lawmakers authorized the state's first medical marijuana dispensaries in 2010, they assured a skeptical public that the new law "will not do anything but help sick people." The six dispensaries were required to operate as nonprofits to alleviate concerns that legal weed would become a cash grab.
Daily Record Read more
Lawmakers Launch Effort to Combat Hunger and Cut Food Waste
It's an uncomfortable reality in New Jersey: Food waste is rampant even as hundreds of thousands of residents lack access to an adequate, consistent supply of food.
Asbury Park Press Read more
Activists on Hunger Strike Push for Licenses for Undocumented Immigrants
A group wants to make sure the New Jersey Legislature understands the importance of licenses for people not in the country legally.
NJ101.5 Read more
Speculation That Layton Will Retire as Burlington GOP Chairman
Burlington County Republican Chairman Bill Layton is expected to step down within the next few weeks, ending an eleven-year run as head of one of New Jersey's most effective county political organizations.
New Jersey Globe Read more
Lyndhurst School Board Member-Elect Bows Out After News of Arrest Goes Public
Vincent Tunnero, less than a month after he was elected to the Lyndhurst Board of Education, announced he will not accept the seat after news of his October arrest on theft-related charges was made public.
The Record Read more
N.J. to Campers, State Park Visitors: Stay Away for Now
Many of the roads around the state's largest and most popular park, Wharton State Forest, are so underwater that the New Jersey Park Service is warning visitors to simply stay away.
Inquirer Read more
Editorial: Despite Court Relief, Bridgegate Actors Still Guilty of Serious Crimes
Two conspirators in the 2013 lane-closing scandal known as "Bridgegate," got a bit of relief from a federal court of appeals in Philadelphia on Tuesday, but Bridget Anne Kelly and Bill Baroni will long live in infamy.
Asbury Park Press Read more
Rockaway Township Council Chooses Joseph Jackson to Fill Vacant Seat
Joseph Jackson joined the Rockaway Township Council Tuesday night. He was one of three names put forth by the Republican County Committee to fill the seat vacated by Mayor Michael Puzio.
Daily Record Read more