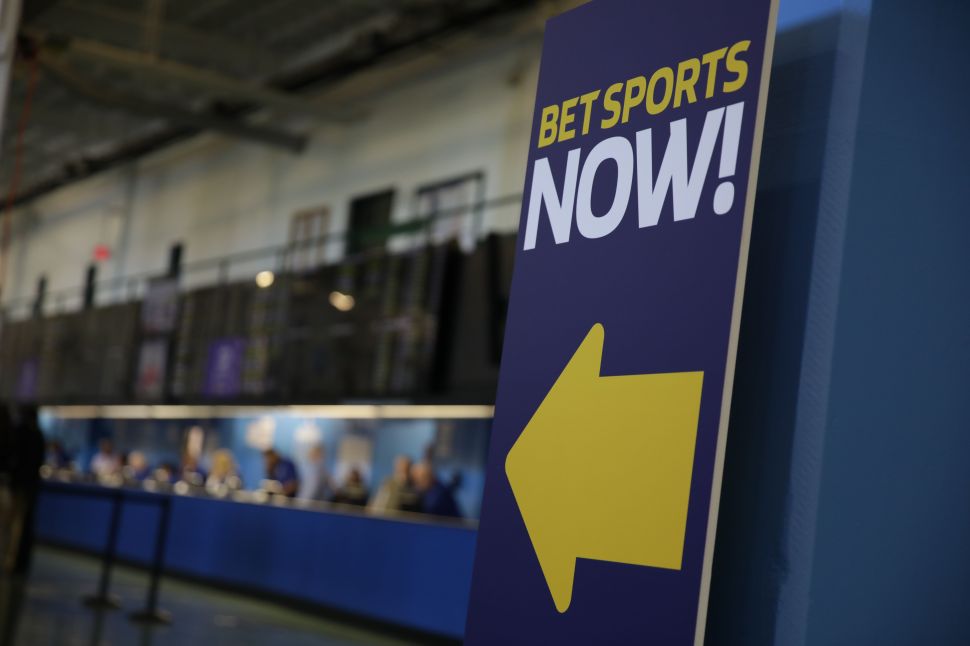 How much do New Jersey residents like to bet on sports?
About six hundred million dollars was wagered in the Garden State in the first four and a half months of legalized sports betting here, according to a report by the Associated Press.
That pace of betting is likely only to increase as the state's sports betting industry hits its stride, industry insiders tell the news service.
It's not surprising that football and baseball accounted for most of October's bets, as residents picked and bet on favorites in the playoffs and World Series.
FanDuel, which operates the sports book at the Meadowlands Racetrack in East Rutherford, said the company saw bets increase more than two a half times over the previous month, the AP reports.
New Jersey's casinos and racetracks have brought $52 million in revenue from sports bets, although that money also includes bets on such future events as the Super Bowl, which might require payouts.
Quote of the Day: "The numbers continue to be impressive," — Joe Asher, CEO of bookmaker William Hill US, on New Jersey sports betting.
Garden State? Try Gambling State! NJ Races to $600M in Sports Bets Made Since June
New Jersey's red-hot sports betting market blew past the half-billion dollar mark in October, with nearly $600 million worth of bets having been made in just four and a half months.
Associated Press Read more
Murphy Takes Victory Lap, Big-League Jabs at Christie During Conference in Atlantic City
A day after former Gov. Chris Christie stole the spotlight in Atlantic City at an annual event that draws thousands of officials, lobbyists and business leaders, current Gov. Phil Murphy took a victory lap and some swipes at his predecessor.
NJ.com Read more
Murphy Touts NJ's 17-Year Low Unemployment Rate
Gov. Phil Murphy announced Thursday that New Jersey's unemployment rate in October hit a record low.
ROI-NJ Read more
4 in 10 New Jerseyans Undecided on Murphy
A new Rutgers-Eagleton poll finds 42 percent of state residents are undecided on Gov. Phil Murphy, and 29 percent say they don't have an opinion on his overall performance as governor.
NJ101.5 Read more
If Sweeney Wants to Legalize Weed, He'll Need NJ's Mayors in His Corner
State Senate President Steve Sweeney has drawn a line in the sand regarding adult-use marijuana legalization, but local leaders have their own recommendations and concerns.
NJSpotlight Read more
NJ's Tax Amnesty Starts Thursday and Runs Through January 15
On Thursday New Jersey launched the 2018 tax amnesty program to provide individuals and businesses with the opportunity to pay back taxes or file past returns with no penalties and reduced interest.
Inquirer Read more
NJ Catholic Church Gets Subpoenaed by State, Revving Up Priest Abuse Investigation
New Jersey's attorney general has begun issuing subpoenas to force the state's Catholic dioceses to turn over records and files related to its clergy sexual abuse investigation, church officials said.
NJ.com Read more
Commentary: Mayors Baraka and Fulop: Gov. Murphy Must Ensure Cannabis Jobs Come to Our Cities
New Jersey is going to soon legalize recreational marijuana use. While not every state resident is excited by this step, we believe legalizing what are regularly occurring activities makes sense.
NJ.com Read more
State Directs Tobacco Tax Money to Fight Teen Vaping
New Jersey has joined a growing national movement seeking to curb what experts consider the epidemic increase in "vaping" among young people, investing about $7 million to reduce the use of these electronic tobacco-delivery devices in the Garden State.
NJSpotlight Read more
After 6 Year Legal Fight, NJ Will Officially Recognize Native American Tribe
After years of fighting, a New Jersey Native American tribe is once again officially recognized.
NJ.com Read more
GoFundMe Scam Leads to Charges Against Johnny Bobbitt, Kate McClure, Mark D'Amico
Johnny Bobbitt Jr. and the Burlington County couple who launched a campaign that raised $400,000 to help the homeless man have all been arrested and charged with fabricating the feel-good story that prompted thousands to open their wallets for the former Marine at the start of last year's holiday season.
Inquirer Read more
Rep. Tom MacArthur Concedes to Andy Kim as NJ Race is Called
After a hard-fought race against a two-term Republican congressman, Democrat Andy Kim was officially declared the winner of New Jersey's Third Congressional District seat in his first bid for public office, and his opponent, Rep. Tom MacArthur, said Wednesday night that he had called Kim to concede.
Inquirer Read more
The Rutgers Professor Who Said 'F—' White People Has Been Cleared of Wrongdoing
The white Rutgers University professor who wrote "f— white people" in a scathing social media rant said he has been cleared of wrongdoing in a reversal of the university's original ruling.
NJ.com Read more
NJ College's Professors Must Now Report to the Chinese Government, Union Charges
Professors hired to work for a New Jersey college at its satellite campus in China have been told they are now effectively employees of the communist Chinese government, union leaders say.
NJ.com Read more
MVC Office in Toms River Closed Because of Measles Outbreak
A measles outbreak in Ocean County has resulted in the closure of an MVC office in Toms River.
State health officials on Thursday reported that the outbreak grew to a 12th confirmed case.
NJ101.5 Read more
Demarest Councilwoman Set to Become Borough's First Woman Elected Mayor
Councilwoman Melinda Iannuzzi was elected mayor in this year's election, making her the first woman in the borough's history to be elected to that office.
The Record Read more